SanerNow vs. Rapid7 InsightVM
SecPod SanerNow Automates Patching for Windows, Mac, Linux, and 400+ Unique Third-party Applications from One Console. Contact our solutions team to get a thorough comparison done with Rapid7 InsightVM.
| Use Cases | SanerNow | Rapid7 InsightVM |
| --- | --- | --- |
| Daily Visibility to IT Infrastructure | Offers continuous and real-time visibility to IT asset exposures, manage licenses, discover outdated and rarely used apps, and blacklist malicious apps | Provides continuous visibility into IT asset |
| Deeper intelligent visibility & normalizing risks | Provides holistic & Deeper Visibility over IT infrastructure. Detects deviations, aberrations, outliers, and anomalies in IT. Eliminates the most obvious attack vectors and normalize risks. | Doesn't Provide visibility into deviations, outliers and anomalies |
| Rapid and continuous vulnerability discovery | Performs continuous and automated vulnerability scanning at industry's fastest time in under 5 minutes. | Supports continuous vulnerability scanning |
| Discovery of vulnerabilities beyond CVEs | Discovers software vulnerabilities, misconfigurations, IT asset exposures, missing patches, security control deviations, and posture anomalies. | Focuses primarily on vulnerabilities that have CVEs assigned |
| Network Scanning to discover vulnerabilities and security risks | Endpoint Agents take up the role of network scanner. No investment on additional hardware is required. | Network scanning integrated into agent. |
| Prioritizing vulnerabilities for smarter remediation | Prioritizes vulnerabilities based on risks, exploitability level, and high-fidelity attack mapping using the world's first SSVC-based framework. | Limited Patch Prioritization based on risks |
| Remediating discovered vulnerabilities | Provides seamless remediation with integrated patching for all OSs and 400+ third-party apps | Remediation is available, but limited 3rd party application support for patches |
| Mitigating Vulnerabilities | Mitigates vulnerabilities with 100+ security remediation controls | Only patches are available. Lacks additional security controls to mitigate other risks |
| Fix Misconfigurations and configurations drifts | Not stopping at CVEs, it provides detection and remediation capabilities to harden your system from configuration drifts or misconfigurations. | Only mitigation for software vulnerabilities with limited support to fix misconfiguration. |
| | Completely and continuously automate the vulnerability management process with natively integrated and automatable solution | Offers Automation o workflows. |
| | Achieves continuous compliance for HIPAA, PCI, NIST, & SOC-2, and custom security policies. | Supports compliance enforcement. |
| | Keeps you audit-ready anytime with 100+ pre-built customizable reports. Provides a comprehensive risk assessment report and insightful patching impact report. | |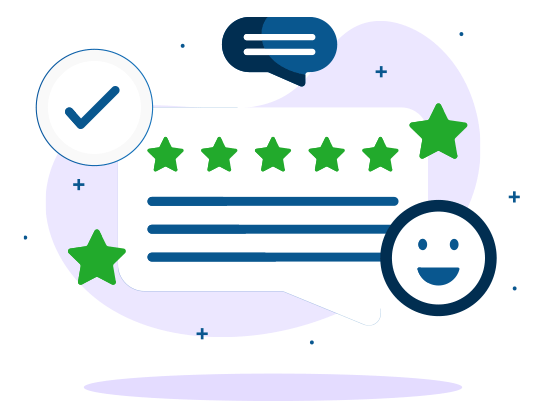 Best value in vulnerability and patch management
SanerNow has multiple modules like patch management, vulnerability management, compliance management, EDR, software deployment. Today, with rise of cyber risks it's very important to have a single tool/console to get a visibility into all modules. It's easy to identify, detect, and patch at the same time.
– Sumit Birajdar 
Infosec Manager, Acko General Insurance

What makes SanerNow the Best Rapid7 InsightVM Competitor?
Seamless and Quick Vulnerability Detection and Patch Deployment
Detection and remediation of security risks must be continuous and without delay. Delays in patching the security risks can put your organization at risk and prone to cyberattacks. SanerNow, with its integrated and automatable detection and remediation, minimizes the security gaps due to delayed deployment. Speed is key, and SanerNow provides rapid support for the latest patch updates within 24 hours for a faster deployment cycle. Rapid7 alternatives generally take longer hours to support the latest patches and are not fully automated, giving SanerNow an edge over other solutions  
Achieve Continuous Compliance to Security Policies
Continuous compliance is key to reducing the attack surface, avoiding fines, and other benefits. Be it HIPAA, PCI, NIST, or other policies, it is necessary to keep a close eye on deviant devices that need to be patched and remediated against security risks. Ensuring the devices are patch-compliant will enhance security and help organizations avoid hefty regulatory fines. SanerNow helps organizations achieve continuous patch compliance with its misconfiguration detection and fully automated patch management. Further, SanerNow provides the necessary reports to measure the compliance status of your networks. 
Cost-effective Security Based Risk Remediation
Different tools to detect risks and patch and mitigate them are inefficient and expensive. By consolidating and unifying detection, remediation, and everything in between, SanerNow simplifies the process of remediating risks and achieving compliance. You can also confirm if the mitigation is properly applied by initiating a quick vulnerability scan and verifying it. SanerNow's truly integrated solution minimizes the cost of purchasing and maintaining numerous tools, helping IT and Security teams reach their IT security goal with a single solution. As an alternative to Rapid7, SanerNow fits right into your IT budget by doing the job of multiple tools.
Achieve Blazing-fast, Continuous, & Automated Patching with SanerNow Patch Management
Unified Vulnerability Management to Detect & Mitigate Risks On-time
Accurate detection of risks and quick mitigation is critical, and  SanerNow's integrated vulnerability and patch management runs quick and accurate vulnerability scans to discover the vulnerable loopholes in the network and quickly mitigate them. Once the risks are detected, SanerNow swiftly applies patches or mitigations to remediate them from the same console. Additionally, you can verify the elimination of risk by initiating a quick scan and confirming it. With SanerNow, you can mitigate vulnerabilities on time and reduce the attack surface efficiently. Further, integrated vulnerability scans and remediation elevates it from the competition.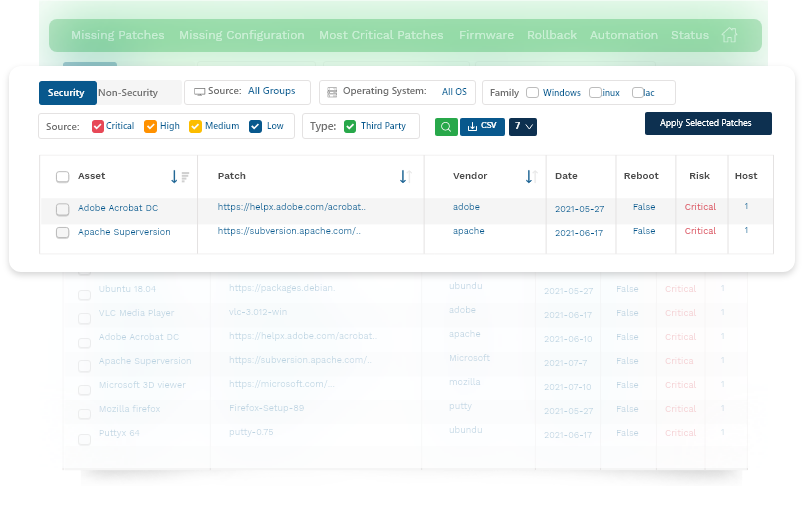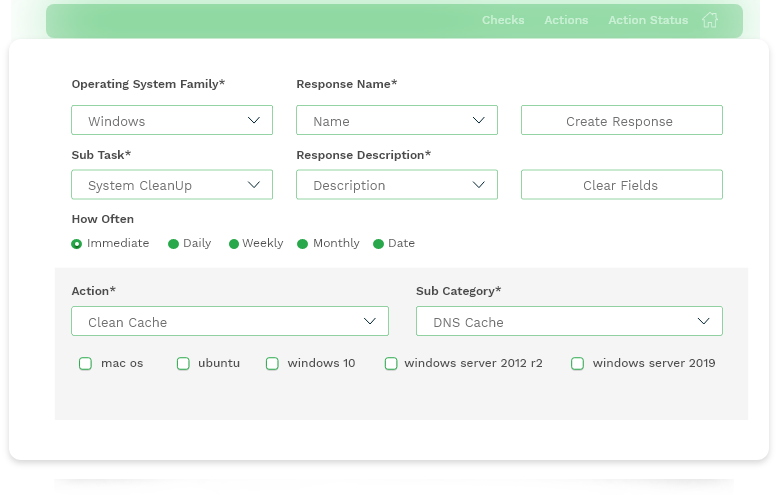 Extensive Patching for All OSs and 450+ Unique Third-party Apps
SanerNow, with its integrated Patch Management, can apply to all major operating systems like Windows, Mac, and Linux. Further, with patch support for over 450+ unique third-party applications, its extensive support database is the most in the industry. So instead of using different tools to detect and apply patches, you can just use one! Unlike other Rapid7 alternatives, SanerNow supports a wide range of OS versions and flavors to implement seamless cross-platform patchin
Automated Detection and Remediation of Risks for Swift Attack Surface Reduction
Manual detection and remediation of risks can be time and effort-consuming. SanerNow automates the entire process of vulnerability detection and patch management process, from scanning to patching. By simply creating automation jobs for detection and patching, you can make the entire process automatic without the need for manual efforts. Additionally, it also helps streamline all IT Security operations. Other Rapid7 alternatives in the market only have a partially automated solution which gives an edge to SanerNow over others.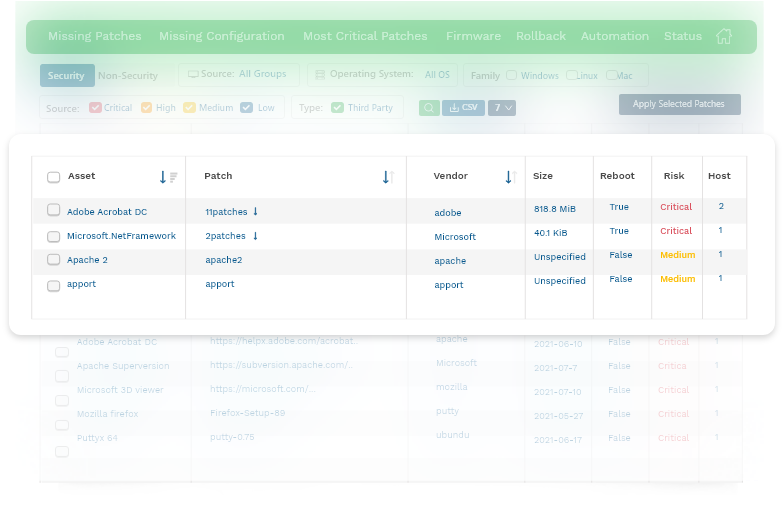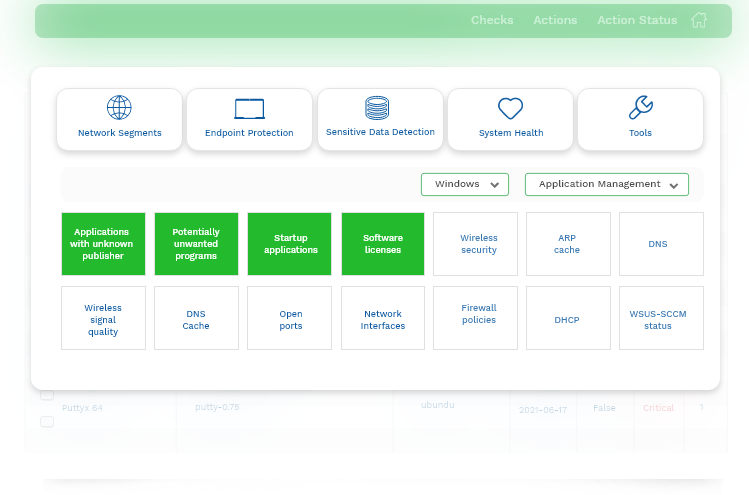 Security Controls Beyond Patching to Mitigate more than just Software Vulnerability​
Not all risks have patches and it is critical to have security controls beyond patching to effectively mitigate the risks. With more than 100+ security controls under its belt, SanerNow provides complete security for your IT infrastructure. SanerNow can block applications, install or uninstall apps when needed, manage licenses, etc. No other Rapid7 alternatives provides additional security controls for risk mitigation, elevating SanerNow over other vulnerability and patch management tools.
Experience the Instant Impact of SanerNow Advanced Vulnerability Management
Request a product walkthrough demo with one of our solution experts.