Just What You Need for Complete Control Over Distributed Devices
The first truly unified OS-agnostic cyberhygiene platform
Get all security risk and compliance controls in one platform like never before. Multiple tools don't cut it anymore in the current world of increasing attacks.
Innovations that make a real difference to your security
Leverage our homegrown, world's largest vulnerability intelligence feed (160,000+ checks). Perform the industry's fastest scans in 5 minutes to detect vulnerabilities and risks and automate all tasks from a single console.
One agent, one console to rule them all
Saner Agents installed in heterogeneous endpoints perform all tasks assigned to them without consuming excessive bandwidth and system resources. Control and monitor every activity from one centralized view.
Remote and scalable cloud-based platform
Secure, monitor, and manage your distributed devices from a centralized cloud-based console. Onboard new devices with ease and scale to any number of devices.
One Platform for Security Risk, Compliance, IT Management and Beyond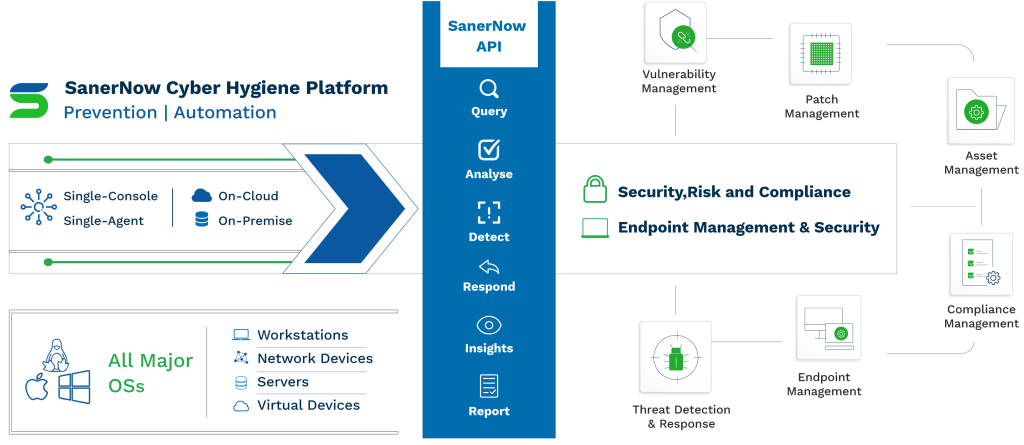 All the Tools You Need to Build a Strong Defense
Choose what you need from the ever-growing, vast collection of tools on the SanerNow App stack and stay ahead of attackers.
Stop security breaches by automatically identifying critical vulnerabilities, assessing the risks and exploitation potential, prioritizing crucial vulnerabilities based on their severity, and remediating them instantly using patching.
Harden your system configurations to reduce your threat exposure. Abide by popular industry regulatory standards such as HIPAA, PCI, ISO, and NIST. Remotely scan and address any vulnerable or deviant endpoints to proactively remediate risk.
Safeguard your systems by quickly applying all crucial patches. Automate patch management, cross-platform patching, third-party applications patching, and a lot more.
Get clear visibility on all hardware and software assets available in your network. Effectively assess and manage enterprise assets regularly to ensure effective usage for the business.
Monitor and manage your endpoints and strengthen your security posture with real-time monitoring of 100+ endpoint metrics. Ensure system health with ongoing checks and updates to address security posture anomalies.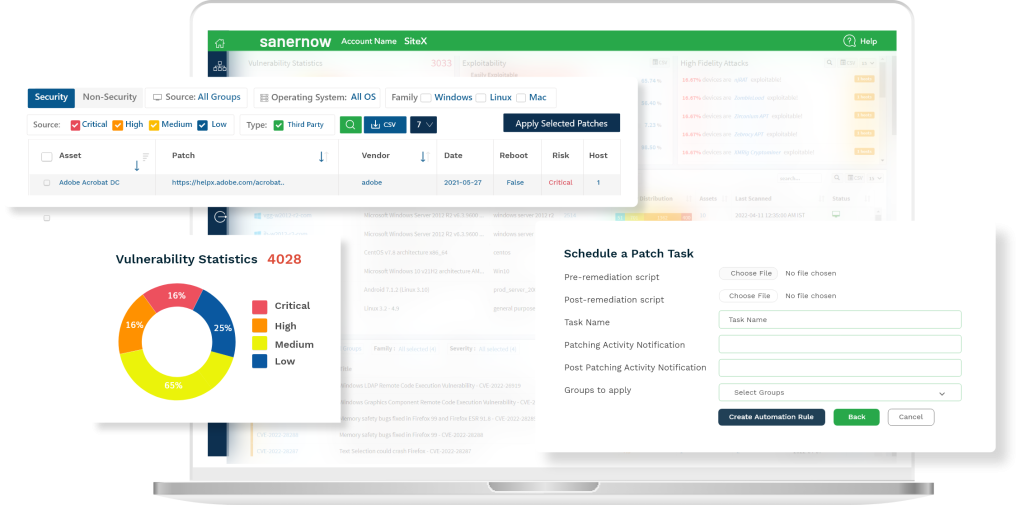 Global Enterprises trust SanerNow to Secure their Dynamic IT Environment
SanerNow is a comprehensive endpoint security suite with a well-designed dashboard for administrators to oversee and manage all their endpoint devices connected to the Internet. We're happy with using all the applications on the SanerNow platform. It provides a single-pane view for administrators and CISOs.
– Pradeep B
Consultant, NCIIPC, Govt. of India
SanerNow is a fully packed solution that deals with internal threat giving you 360 degrees view of your environment. It is easy to use, has solid features, and timely customer support. The pricing is so cool.
– Ernest Darko Mensah
Managing Director, Spearhead Networks MSP
SanerNow has multiple modules like patch management, vulnerability management, compliance management, EDR, software deployment. Today, with rise of cyber risks it's very important to have a single tool/console to get a visibility into all modules. It's easy to identify, detect, and patch at the same time.
– Sumit Birajdar
Infosec Manager, Acko General Insurance
Out-of-box Capabilities of SanerNow CyberHygiene Platform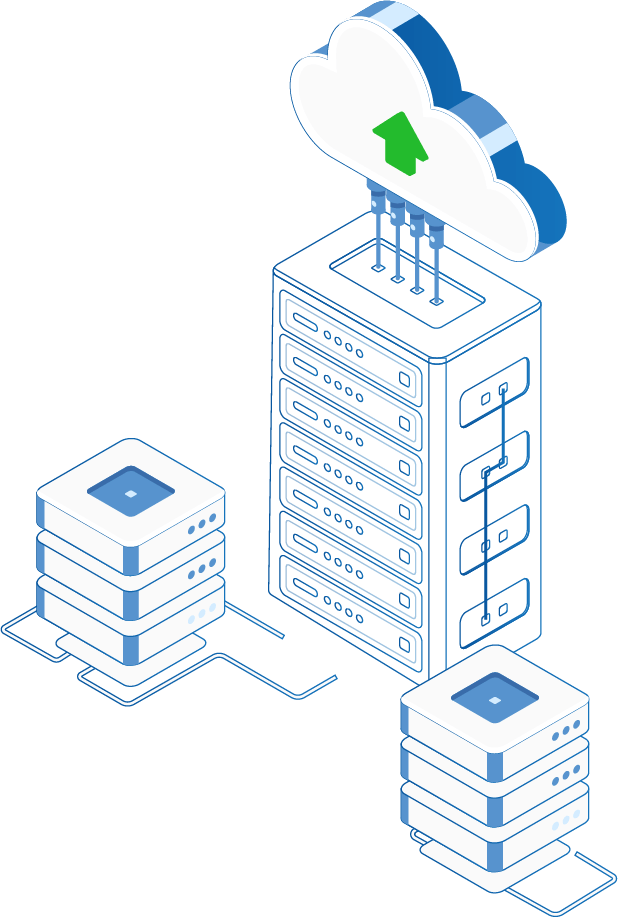 Supports Natural Language Search Queries
The innovative metadata model of the platform supports instant searches using unstructured natural language queries. SanerNow is the only fully compliant platform with well-established standards like SCAP & SOC II.
Multi-tenant Support With Segregated User Data
Efficiently manages multiple business units and system users with a single server. Neatly segregates business users' data and offers the ability to create various user roles with defined access rights to manage different areas of a corporate network.
Seamless Integration and Interoperability
The flexible architecture of the platform allows integration with various systems. The REST APIs enable access to all collected data from endpoints and supports search queries.
High Performance Scalable Architecture
The platform is highly scalable with a BigData architecture, efficiently supporting the management of a large number of devices through a single server without performance degradation.
Protects BYOD, Remote Office and Transient Devices
Ensures security of organizations' devices across perimeter limits. Provides efficient protection and control of transient, remote, and BYOD devices from a centralized console.
Robust, Natively Built, and Truly Integrated Solution
SanerNow Cyberhygiene platform is built completely in-house to provide a truly integrated solution. All security tasks can be easily performed from a single place without having to juggle different tools.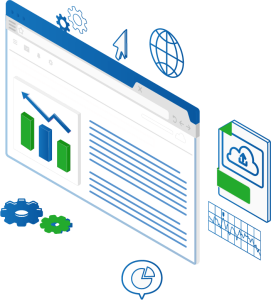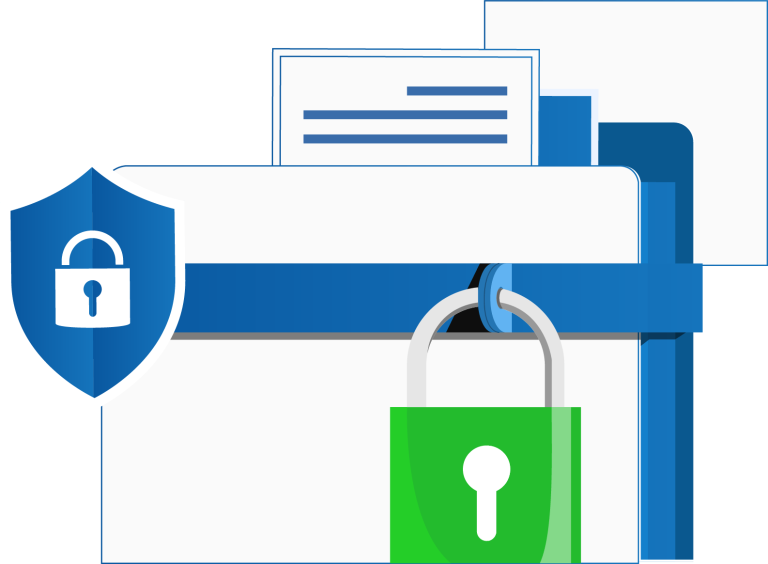 Provides Multi-factor Authentication
The platform provides multi-factor authentication to protect the SanerNow account and add an extra layer of security.
Operates on a lightweight Agent
SanerNow platforms work on a single, lightweight, multifunctional agent which weighs less than 20MB and executes all the tasks. The agent also takes up the role of network scanner and saves cost on performing additional hardware.
Real-time Communication with Distributed Devices
SanerNow allows you to talk and respond to your devices anytime and anywhere in real-time. You can run on-demand operations and establish real-time communication with your organizational devices.
Rapid, Continuous, and Automated Operations
With SanerNow, you can run the industry's fastest scans in less than 5 minutes and automate all security tasks end-to-end and achieve continuous operations.
Leverage cloud or on-premise solution as per requirement
SanerNow supports operations on both cloud and on-premise variants. You can opt for either of the ones which suits your business needs.
Easy Setup and Onboarding
SanerNow can be set up in less than 30 minutes, and you can kick start your operations in no time. SanerNow offers multiple modes to deploy agents seamlessly across your network.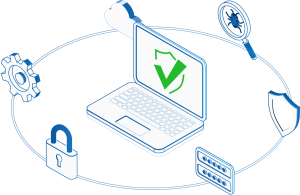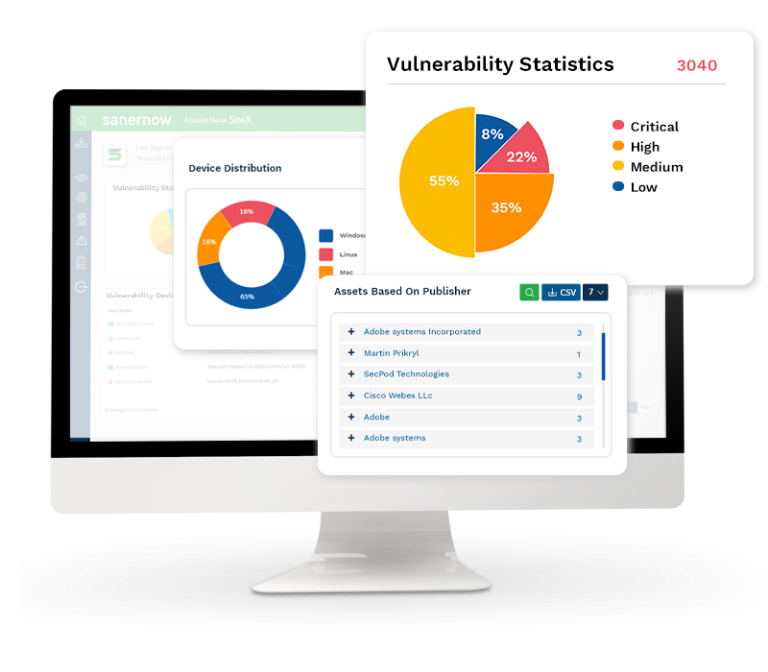 Boost Cyber Immunity & Productivity of Your IT
Get free access and try it yourself.