Your Risk Prioritization Solution to Handle Million Security Risks
World's first solution based on the SSVC framework, SanerNow Risk Prioritization helps you rapidly combat an exponentially rising number of security risks for faster attack surface reduction
Implement the World's First SSVC-Based Vulnerability Prioritization
Harness the power of SSVC, CISA's risk prioritization framework, in combination with SecPod's vulnerability management platform, to effectively and rapidly prioritize security risks. Understand, evaluate, and handle millions of vulnerabilities with ease with SanerNow Risk Prioritization.
Gain Exhaustive Visibility into Risks to Reduce Exploitable Attack Surface
Millions of vulnerabilities make up the exploitable attack surface, and SanerNow Risk Prioritization pin-points the dangerous ones. Rapid reduction of your attack surface is critical to prevent cyberattacks, and Risk Prioritization is key to understanding and mitigating vulnerabilities quickly and effectively.
Prioritize Risk with a Lethal Combination of Exploitability Business Impact and Data Analysis
Leverage an effective amalgamation of exploitability, vulnerability intelligence, business impact, and context to choose and remediate the risks affecting your organization. Speed up your vulnerability management process with integrated vulnerability detection and prioritization.
Streamline Remediation with Ease with Powerful SanerNow Vulnerability Mitigation Engine
Eliminate vulnerabilities and multiple tools to handle them. Unify detection, assessment, and prioritization to remediate security risks with SanerNow's natively integrated vulnerability management solution. Control and conquer your vulnerabilities with ease and strengthen your security posture.

Manage Million Risks & Secure your Cyber-Posture with Cutting-edge Risk Prioritization Features
Experience World's First SSVC-Based Risk Prioritization
Leverage the latest risk prioritization technology and combat cyberattacks effectively. SanerNow Risk Prioritization classifies security risks into Act, Attend, Track*, and Track based on the SSVC framework developed by CISA, USA, to combat and effectively mitigate the millions of security risks. It combines exploitability, automatability, technical impact, and mission prevalence to categorize and simplify prioritization.
Automate Prioritizing Risks in Real-Time
Move away from manual prioritization with the power of automation. With integrated and automated scanning, natively built-in, SanerNow Risk Prioritization continuously assesses newly detected vulnerabilities and automatically prioritizes them effectively. By combining the SSVC framework with machine learning, prediction, kill chain validation, and more, SanerNow further improves vulnerability and risk prioritization.
Harness Data Analysis & Prediction-based Risk Modeling
By understanding, assessing, and crunching vulnerability and risk data and by using SecPod's Prediction-based modeling, SanerNow Risk Prioritization harnesses bleeding-edge technology to effectively and rapidly prioritize risk to speed up the vulnerability management process as a whole.
Mitigate Risk with Integrated Vulnerability Remediation
Eliminate multiple tools and broken solutions and replace them with SanerNow Advanced Vulnerability Management. Leverage SecPod's powerful integrated remediation engine to quickly combat dangerous security risks with ease and unify and smoothen the vulnerability management process.
Gain Powerful Insights into Security Risks
Often, a lack of information regarding vulnerabilities and security risks can be a reason for ineffectiveness in prioritizing risks. With SecPod world's largest vulnerability intelligence integrated into SanerNow Risk Prioritization, it provides unprecedented insights into security risks, allowing you to improve your organization's security posture.
Configure and Customize Prioritization based on your Organization
Every organization has a different structure, and generalizing business impact reduces the efficacy of risk prioritization. SanerNow Risk Prioritization can configure and customize risk prioritization based on your organization's structure and calculate the business impact to tailor-make risk prioritization and significantly reduce the attack surface.
Seamlessly Prioritize Vulnerabilities and Other Risks
Why stop at software vulnerabilities? SanerNow Risk Prioritization not only detects, assesses, and prioritizes CVEs, it can also do the same for misconfigurations and other security risks. With a combination of SSVC and SecPod's proprietary intelligence, SanerNow risk-based vulnerability management or rbvm makes the process of prioritization seamless and fast. This helps improve resilience and allows you to laser-focus your remediation efforts to improve the security posture of your organization swiftly.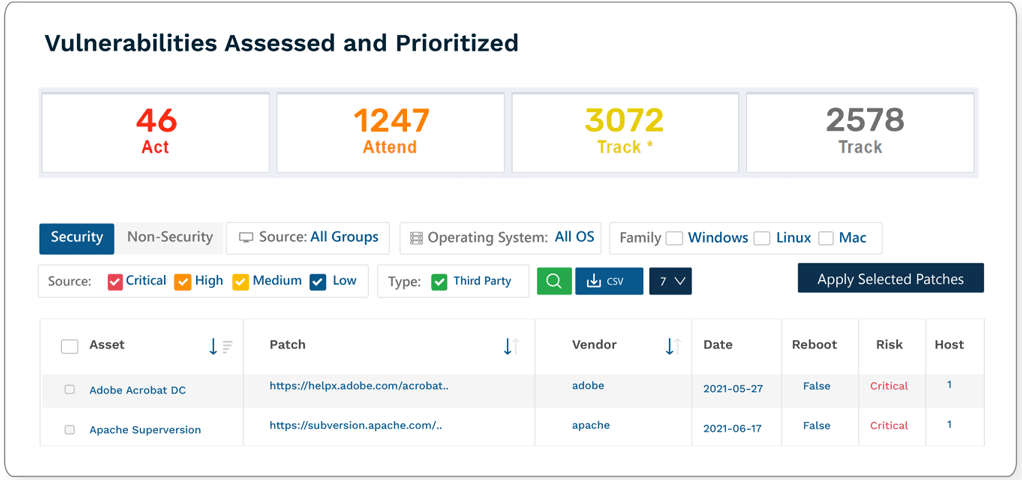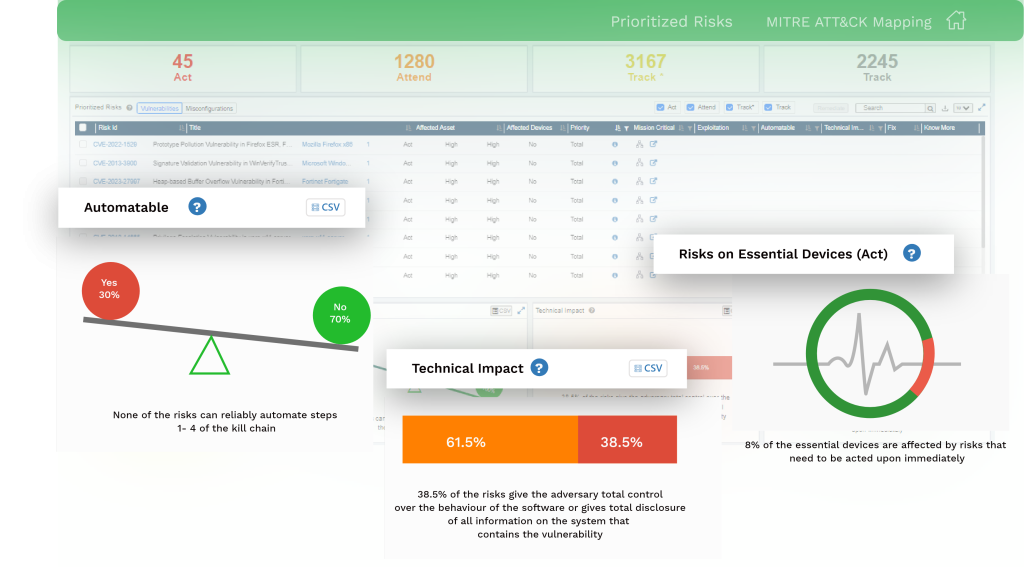 Get Unprecedented Insights Customization for Better Prioritization
An ideal risk prioritization tool must provide adjustments and customizations to fit the organization's requirements. Further, it should also boast an intelligent and comprehensive database. SanerNow Risk Prioritization allows for granular customizations and combines them with advanced security risk data to improve prioritization and, consequently, vulnerability management as a whole.
Remediate Risk that Matters with Integrated Remediation
Misaligned remediation efforts can have a drastic negative impact on your organization's security posture, and it is critical to remediate risks that pose a real threat. With SanerNow risk-based vulnerability management/RBVM Prioritization natively integrated with SecPod's remediation engine, mitigating risks becomes easier, faster, and simpler. Additionally, it also unifies the vulnerability management process and makes it continuous and automated.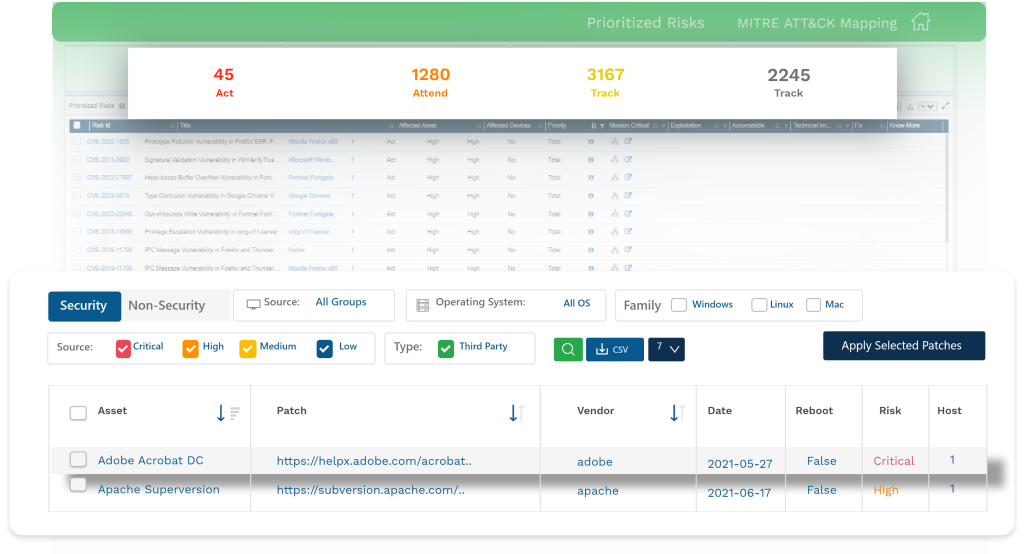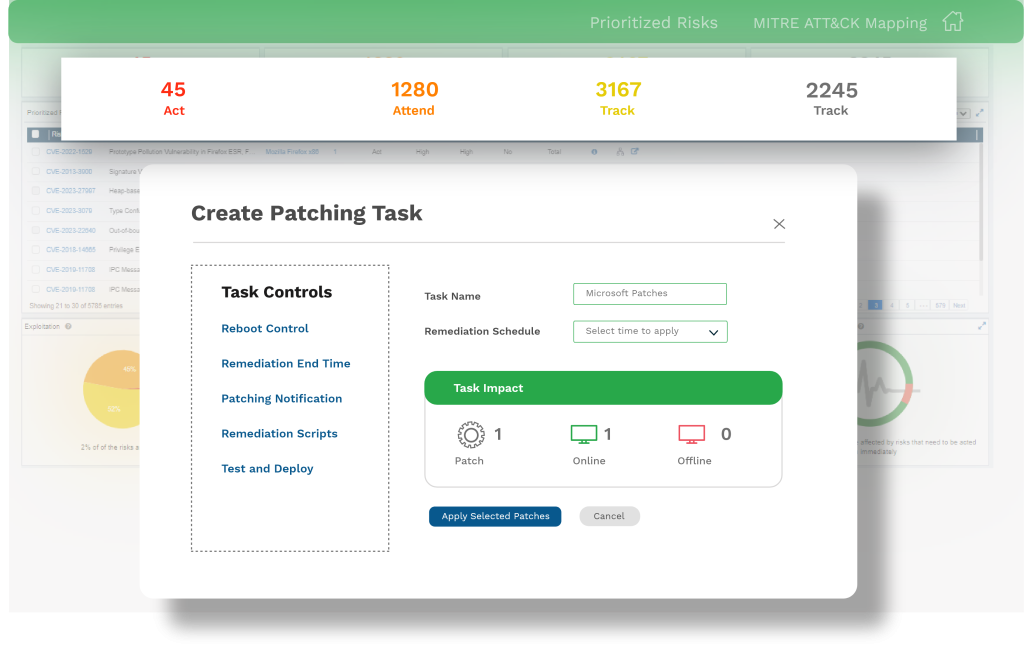 Minimize Attack Surface to Maximize Organizational Security
Remediation reduces the attack surface and minimizes the chance of a vulnerability being exploited. SanerNow risk-based vulnerability management (RBVM) speeds up remediation and improves its effectiveness to rapidly and holistically strengthen your organization's security.
Harness EPSS & SecPod's Unique Risk Categorization
Modern cyberattacks need a modern defense. Go beyond CVSS with a lethal combination of SecPod's vulnerability intelligence and improved Exploit Prediction Scoring System (EPSS) to prioritize risks, predict potential cyberattacks, and prevent them effectively from breaching your network.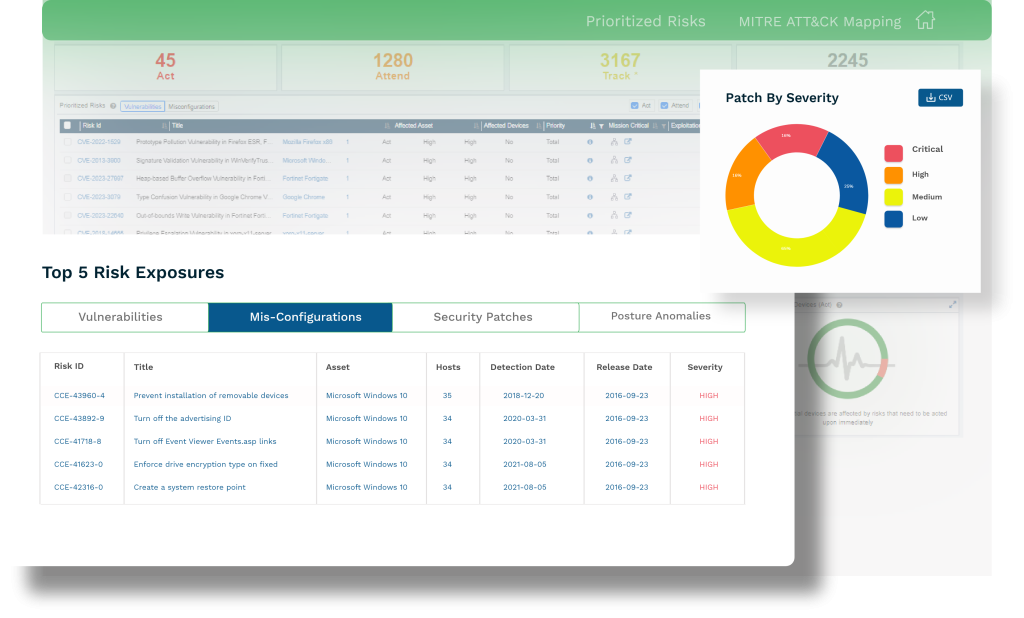 Global Enterprises trust SanerNow to Secure their Dynamic IT Environment
"A great endpoint security & management platform"
Easy to setup. Easy to gain visibility about your endpoint security. Easy to deploy updates to endpoints. A good dashboard that provides visibility across your environment. Doesn't take up a lot of resources/time.
– Santhosh M. | Founder & CTO
"Best value in vulnerability and patch management"
High-quality vulnerability & patch management solutions seemed expensive solutions from Qualys and Tenable. Thankfully we found high quality & affordable alternative with SecPod's SanerNow.
– Norm M. | Chief Security Officer
"Know your info security posture with SanerNow"
SanerNow has features like Automated Patching, Software Deployment, Vulnerability Management, Hardening, etc. I would even compare its patching feature with Big Fix and at a low budget, this is even better.
– Ghanshyam R. | Security Consultant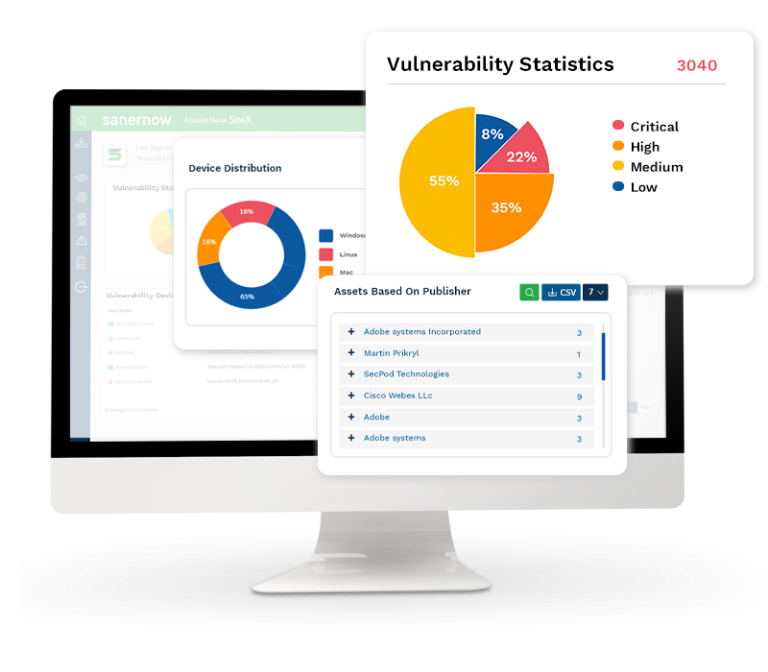 Streamline Your Vulnerability Management with Industry Leading Prioritization Technology
Get free access and try it yourself.
Level up Your Vulnerability Management Game with SanerNow AVM