Proactive System Hardening to Steer Clear of Security Breaches and Regulatory Fines
Achieve System Hardening While Aligning with Major Industry Compliance Benchmarks
SanerNow supports major system hardening standards for PCI, HIPAA, ISO, and NIST. You can readily scan and detect the non-compliant devices in your network.
Strengthen Security Strategy with 500+ Security Compliance Parameters
You can strengthen system hardening measures with 500+ security compliance parameters offered by SanerNow. Create custom security policies and uniformly execute system hardening across all devices.
Meet All Your Security Obligations with a Unified Console and an Intelligent Agent
Use our lightweight, easily deployable, multifunctional agent to remotely orchestrate all system hardening tasks. With a cloud-based console, take control of your organization's risk exposure and compliance remotely.
Extensive Support to Harden All Major OSs, Applications, and Servers
With SanerNow, orchestrate strict configuration hardening measures on your heterogeneous operating systems, servers, and enterprise applications to minimize your organization's threat exposure.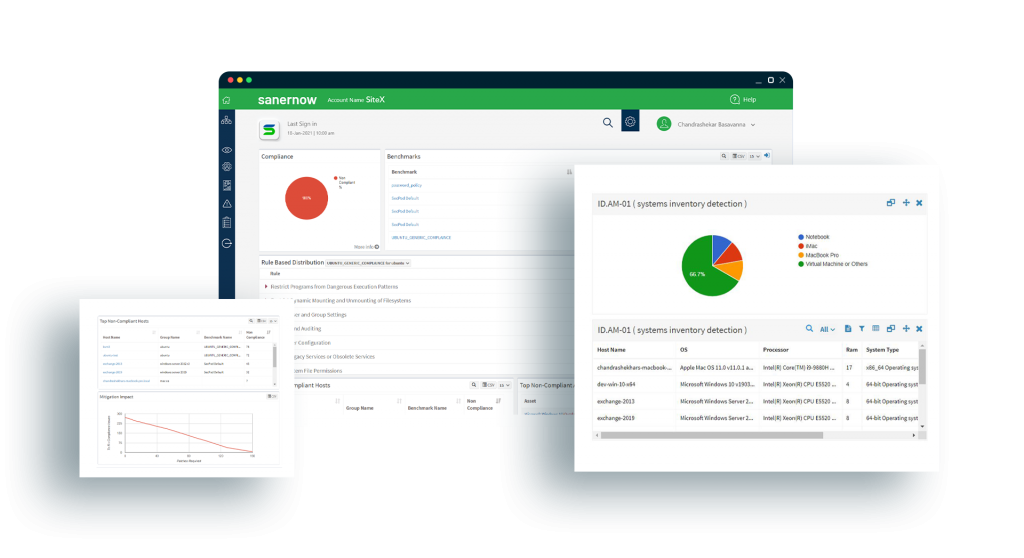 Achieve System Hardening Seamlessly Across All Devices
Scan and Identify Deviation from System Configurations and Detect Non-Compliant Devices
SanerNow scans for and reports non-compliant devices. It also provides instant remediation suggestions according to system hardening standards. It supports continuous scanning to detect system deviations that result in an increased attack surface and non-compliance.
Rapid, Effective, and Advanced Automation Techniques to Implement Continuous Security Compliance
Minimize team fatigue and improve productivity. Implement continuous security compliance and prevent future threats in your network through the industry's fastest and effective automation technique, with minimal impact on the network bandwidth usage.
Control Account, Lockout, Application Installation, Firm Password Policies, and more System Hardening Configurations
SanerNow's in-built security features such as account control, lockout settings, application installation policies, password policies, etc. help you harden system configurations. All these measures are supported across multiple OSs on Windows, MAC, and Linux.
Customize your Security Policy Based on Available System Configurations
SanerNow supports 500+ customizable industry-standard configurations out-of-the-box supporting PCI, HIPAA, ISO, NIST 800-53, and NIST 800-171. Create customized policies to enforce specialized industry or organizational compliance.
Execute System Hardening with Custom-Built Remediation Scriptlets
Make use of the custom-built remediation scriptlets to align your deviant devices with strong system hardening measures and manage threat exposure effectively.
Comprehensive, Insightful Reports with Customization
Assess your system hardening task updates with customized and insightful reports that can be automated, reducing effort and time spent. Ensure audit readiness for your IT environment and systems.
Achieve Flawless System Hardening of Enterprise Devices
Get free unlimited access and try it yourself.