Get all Patching and Vulnerability Management Controls in One Place
Execute the complete cycle from scanning to remediation in one cloud-based console
Get all scanning and vulnerability remediation tools in one unified cloud-based console. You can do detection and vulnerability remediation remotely with ease.
Leverage the world's largest vulnerability intelligence feed with 160,000+ security checks
SecPod hosts the world's largest SCAP vulnerability database with over 160,000 security checks and vulnerabilities. With the best database to detect security risks, your security posture increases multifold.
Orchestrate all cyberhygiene routines using one powerful, multifunctional agent
Blazing-fast automated vulnerability scans run across all devices on low network bandwidth without affecting the productivity of users.
Automate the entire patching and vulnerability management workflow
SanerNow runs automatic vulnerability scans according to your schedule. It also supports end-to-end automation for patching Windows, MAC, Linux, and 200+ third-party applications.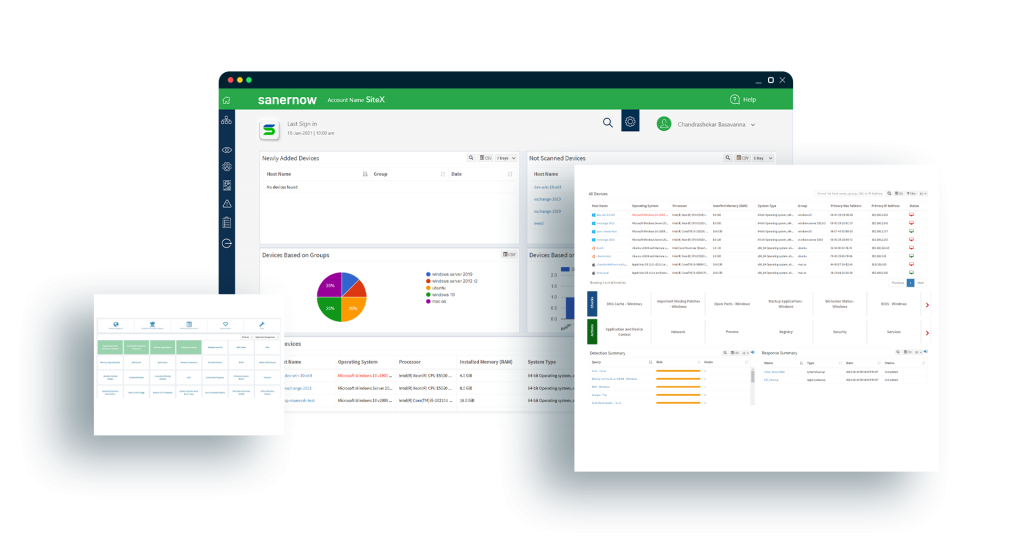 Implementing a healthy cyber hygiene routine is an essential doctrine for all organizations
It is fundamental for any organization to take care of its brand name and reputation. This cannot be easily achieved unless regular cyber hygiene measures are practiced within the enterprise network. As the number of cyber-attacks and security threats are increasing at an alarming rate, it has become crucial for enterprises to implement healthy cyber hygiene routines in place.
37% of organizations admitted that they don't even scan for vulnerabilities
"Since 2002, the total number of software vulnerabilities has grown year on year by the thousands"
Detect and Remediate a Vulnerability from the Same Console
Perform rapid and continuous vulnerability scans
Scan and detect the vulnerabilities in your devices in less than 5 minutes with SanerNow's intelligent scanning algorithm.
Execute all patching and vulnerability management with intelligent multi-functional agents
Use the lightweight, powerful, and multi-functional agents installed in your devices to perform all tasks from scanning up to remediation.
Leverage perimeter-less cloud-based management
Efficiently manage vulnerabilities and patches across your remote workforce with a single, centralized, cloud-based console.
Get accurate prioritization with high-risk vulnerability identification
Use SanerNow to thoroughly identify vulnerabilities and prioritize them based on their severity level going beyond just CVSS scores.
Automated and integrated patch management
Instant software vulnerability remediation using an automated and integrated patch management approach. Eliminate the complexities of using swivel chair interfaces to execute different vulnerability management tasks using in-built vulnerability remediation tools.
Get seamless cross-platform and third-party applications patching with quick support for latest patches
Get the latest patches for all three operating systems (Windows, Mac, Linux) and 200+ commonly used third-party applications. All within 24 hours of patch release by the vendor.
Implement 360-degree security posture visibility with unified insightful dashboards
Experience the ease of risk discovery based on severity, age, device type, and exploit potential level with SanerNow's continuous vulnerability management. Stay ahead of the threat curve, view, and eliminate risks with SanerNow's comprehensive and actionable dashboard.
Ensure zero-disruption patching with pre-tested and verified patches, with ability to rollback
SanerNow can test patches on customized test groups before deploying them to devices on the entire network. Uninstall faulty patches with a handy rollback feature to guarantee near-zero downtime.
Automate cyber hygiene in a few simple steps with SecPod SanerNow
Cyber hygiene routine does not stop with regulating proper patching methods. Enterprises must go beyond patching to orchestrate a healthy cyber hygiene measure. Along with effective patching techniques, SecPod SanerNow enables organizations to automatically scan, detect, analyze, prioritize and remediate vulnerabilities, proactively monitor and assess system health, instantly block malicious and threatening applications and devices, etc., all from a centralized console.
SanerNow is all you need to seamlessly orchestrate good cyber hygiene measures
Unpatched applicated are often the gateway for most of the critical vulnerabilities. Most of the times patches are already available for such vulnerabilities but organizations might have missed to deploy it. SecPod SanerNow automates the entire tasks of patching in few simple steps and helps organizations stay ahead of security exploits. It also helps organizations prioritize the patches based on the severity and urges them to patch it instantly.
Leaving any vulnerabilities unnoticed will pave way for attackers to exploit the enterprise network. SecPod SanerNow automates the whole vulnerability management process right from scanning the devices, identifying the vulnerabilities, assessing the potential exploits details, prioritizing them based on the severity to remediating them through integrated patching technique. All in a matter of a few minutes, making vulnerability management a simple daily routine.
To orchestrate a healthy cyber hygiene doctrine, it is necessary to go behind traditional patching and vulnerability management techniques. SecPod SanerNow Endpoint Management allows organization to take complete control of the enterprise devices ensuring advanced security. Using this feature, you can monitor the system health regularly, perform any system or registry settings, identify deviations in system services, process and provide fixes, block any malicious applications, USB or other peripheral devices, install and uninstall any software applications etc., from a centralized console.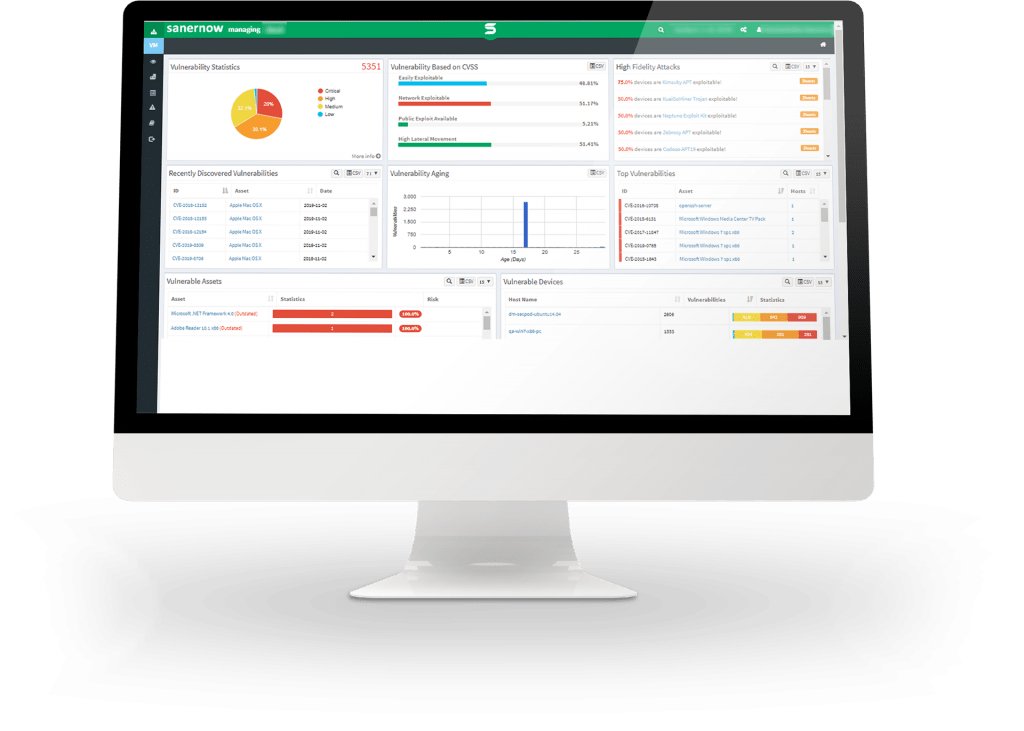 Effectively Cyber Hygienize Your Devices now
Get 1-month free unlimited access and try it yourself!
Effectively Patch Your Vulnerabilities Now
Get 1-month free unlimited access and try it yourself.