Reduce Risk Exposure at Scale with a Wide Range of Security Controls
Application & Device Control
Get Everything you Need to Keep Devices Productive and Secure
100+ security controls, endpoint health monitoring, system troubleshooting, software deployment, application and device control, and more.
Monitor and Assess 100+ Endpoint Health Controls in Real-time
Ensure the best health across your endpoints with live monitoring of hundreds of endpoints settings and configurations.
Implement an Array of Security Actions and Eliminate Attack Surface
Uninstall software, block applications and devices, stop or start services and processes, apply security controls, configure kernel and firewall settings, deploy software, execute remote scripts, quarantine devices, and more.
Multi-platform Management that Supports All Major OSs from a Cloud-Based Console
Execute and automate all security control activities across all major OS platforms like Windows, Mac, and Linux devices from a centralized cloud-based console.
Integrated Patch Management to Mitigate All Security Risks at Once
Leverage integrated patch management along with security controls and mitigate numerous security risks, including vulnerabilities, misconfigurations, deviation in security controls, IT asset exposure, and security posture anomalies.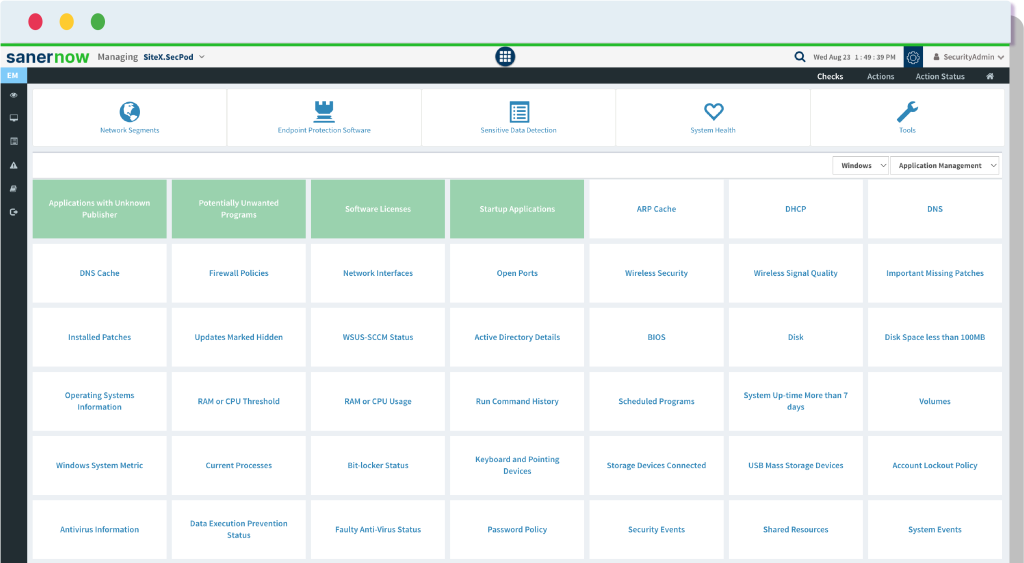 Go a Step Beyond Patching and Remediate Security Risks with the Out-of-Box Capabilities
Easy Software Deployment with SanerNow's In-Built Software Repository
Schedule and deploy software remotely on multiple computers from a pre-built software repository. SanerNow's software repository hosts hundreds of applications supporting all major operating systems like Windows, MAC, and Linux. Additionally, SanerNow supports customized software deployment tasks and uninstallation of the software.
System Health Monitoring with Comprehensive Security Checks
Implement continuous monitoring on all endpoints. Track 100+ security controls and fix deviations and posture anomalies. SanerNow provides security controls for monitoring antivirus deployments, the status of important system services and files, registry keys, rogue processes, and much more to keep your devices secured.
Apply Strong Security Controls and Strengthen your Endpoint Security Posture
Tighten security across your endpoints and execute strong security measures. Enable firewall policies and other security checks, quarantine or isolate devices or networks, perform sensitive data discovery, and much more. Get superior endpoint visibility and control.
Block Malicious Applications and Reduce the Attack Surface Instantly
Block rogue applications and evade potential threats. SanerNow helps detect all the available applications in your network and block the malicious ones. Based on your organization's security policy, you can choose and restrict the applications and ensure intact security.
Tune-Up Systems for Better Performance
Improve system performance with regular audits and disk clean-ups, including purging unused or rarely used files. Optimize cost and usage with regular maintenance and updates across systems.
Block or Disable Rogue Devices to Prevent Security Breaches
Based on organizational policies or compliance requirements, disable or block rogue, unauthorized devices from connecting to your network, including USB and other peripheral devices. Implement a strong device control measure to prevent insecure or unauthorized access.
Execute Scripts on Remote Devices
Automate day-to-day endpoint management, including remote execution of scripts to update, manage, or troubleshoot your systems. SanerNow allows you to run scripts like PowerShell, bat, or shell across remote computers from its centralized console.
Build Queries to Get Instant Visibility Over Security Risks
Automate and schedule reporting and audits to ensure timely Build queries from a list of 190+ probes and 1450+ attributes and detect the security risks present in the network endpoints. You can run these queries anytime to get instant visibility over your endpoint activities. effective actions to regulate endpoint management.
Build Responses to Fix Deviation and Anomalies
Build responses to fix the deviation and anomalies found in the query results. You can build responses from 100s of available response statements, instantly mitigate the security risks, and protect your network from potential attacks.
Extensive Reporting and Audit Logs
Automate and schedule reporting and audits to ensure timely and effective implementation of security controls across endpoints. Get comprehensive insights from a wide range of customizable reports.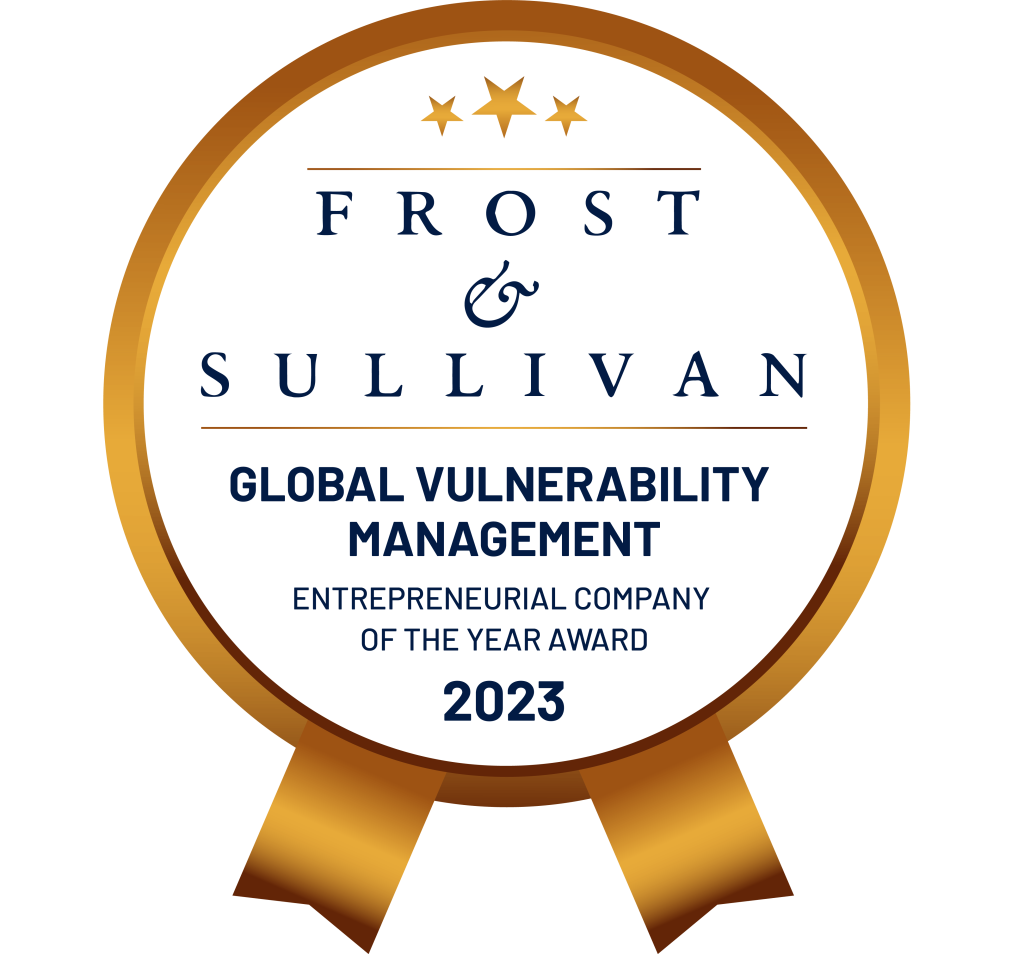 "SanerNow's patch management capabilities stand out from the competition since it can patch all the discovered vulnerabilities and perform other system-hardening actions. Even if no direct remediation is available, SanerNow applies security controls that provide workarounds for the vulnerabilities."
– Swetha Krishnamoorthi, Senior Industry Analyst, Cybersecurity, Frost & Sullivan
Comprehensive Security Controls to Remediate Risks Across Endpoints
Along with integrated patching, SanerNow offers a wide of security controls to fix deviations and aberrations in security activities. Numerous security risks prevail in the network, starting from vulnerabilities, misconfigurations, IT asset exposures, security control deviations, and posture anomalies. The security controls available in SanerNow will help mitigate these risks and safeguard the network from attacks.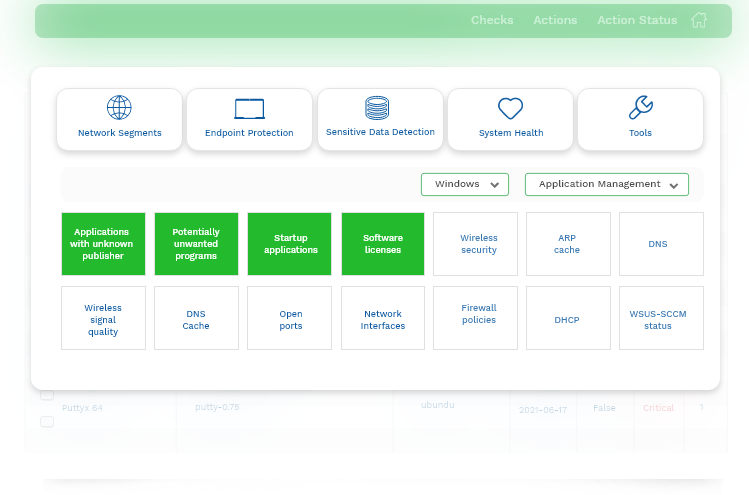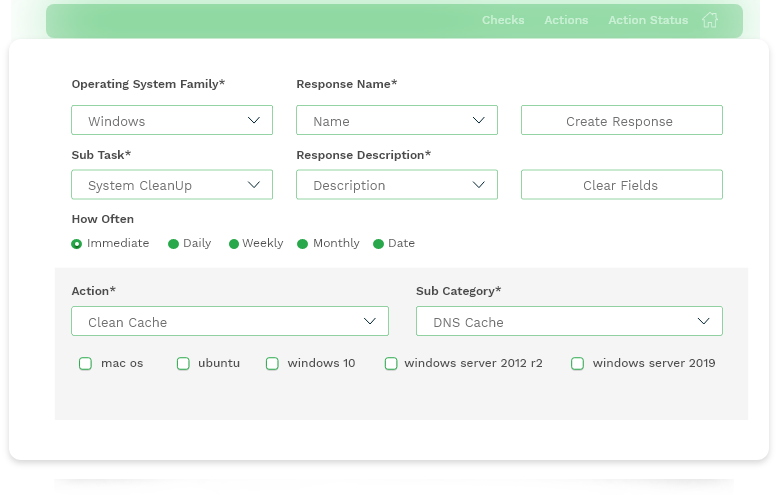 Application and Device Control Simplified and Unified
Implementing a robust application and device control is an ardent security need. SanerNow enables you to look for malicious applications and devices in your network that pose a threat to your organization's security and block them instantly. You can block rogue applications and disable untrusted devices connected to your network, including USB and peripheral devices. Likewise, you can orchestrate numerous security controls and reduce risk exposure using SanerNow.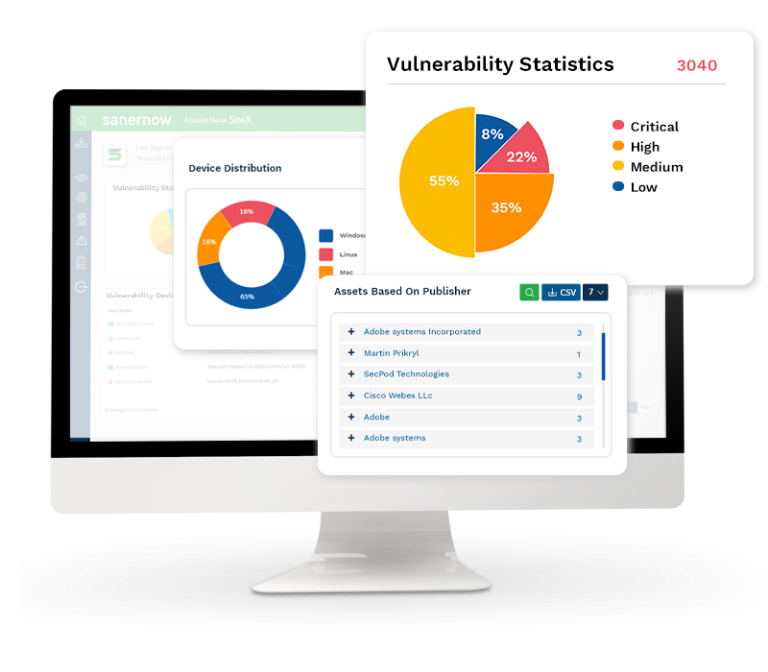 Boost Cyber Immunity & Productivity of Your IT
Get free access and try it yourself.