Vulnerability Management Software Like You've Never Seen Before
Vulnerability management Software built for the modern enterprise to fight the growing threat landscape with impeccable capabilities to Scan, Assess, Prioritize and Remediate vulnerabilities on devices.
World's largest built-in vulnerability database with 160,000+ software vulnerability checks
Mitigate risks with comprehensive scans based on our homegrown, industry-renowned SCAP feed with over 160,000 vulnerability checks.
Smart, lightweight multi-functional agent for all tasks
Leverage our lightweight and multifunctional agents across all endpoints to monitor, manage and remediate any software vulnerability or risk.
The only vulnerability manager running the fastest automated vulnerability scans in less than 5 minutes
Reduce your attack surface with real-time, on-demand, and continuous scans with SanerNow's intelligent scanning algorithms you need in vulnerability management tools.
Integrated patch management for vulnerability remediation to mark the end of the process hand-in-hand
Complete your vulnerability management process up to the final step of remediation with integrated and automated patch management.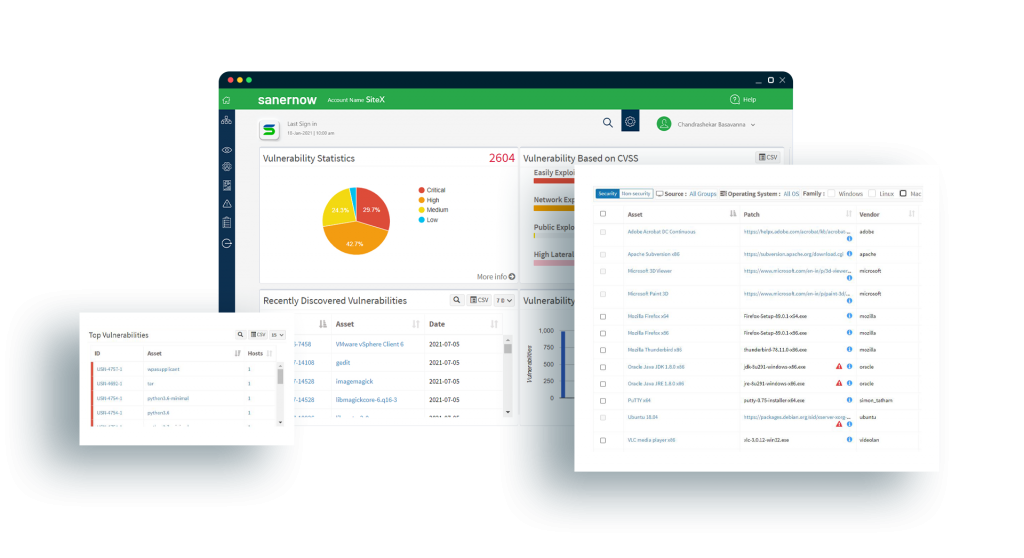 Smartly Designed Features to Ease Manage Vulnerabilities and Keep Your Devices Free from Risks
Vulnerability scanning and detection in your devices in less than 5 minutes
Get a rapid and continuous vulnerability scanner with SanerNow's intelligent scanning algorithm running on low network bandwidth. Vulnerability checks across the entire network of devices within 5 minutes.
Automate patch remediation comprehensively across your IT assets
Integrated and automated patch remediation solutions supporting all major Windows, Mac, Linux OSs and 200+ third-party applications with the Vulnerability Management Software.
Efficiently manage vulnerabilities with a cloud-based console
Enables perimeter-less cloud-based vulnerability management software across your globally distributed organization.
Close the gap between vulnerability assessment and vulnerability prioritization
Get vulnerability assessment and prioritization based on their severity level. Risk-based vulnerability prioritization is the way of the future!
Stay ahead of the threat-curve with 360-degree visibility
Eliminate risks with insightful, actionable dashboards and tools. Get the complete picture all the time.
Ensure real-time vulnerability management with intelligent multi-functional agents
Light-weight, multifunctional, powerful agents help manage and remediate vulnerabilities in real-time with SanerNow Vulnerability Management Software.
Predictive analysis on possible vulnerability exploits
With SanerNow Vulnerability Management Software reduce risk exposure by detecting details including historic occurrence and probability of recurrence.
Stay audit-ready with standardized and customizable reports
Provides detailed end-to-end metrics regarding each vulnerability with comprehensive reports. A vulnerability management tool that's truly comprehensive in all aspects.
Automated Vulnerability Scans
Organizations cannot rely on just one periodic vulnerability scan per week or month, or worse, a year. With the increasing number of threats everyday, vulnerability checks need to happen on a continuous basis every day. With SanerNow, you can configure an automated vulnerability scan that runs automatically on networks consuming low network bandwidth.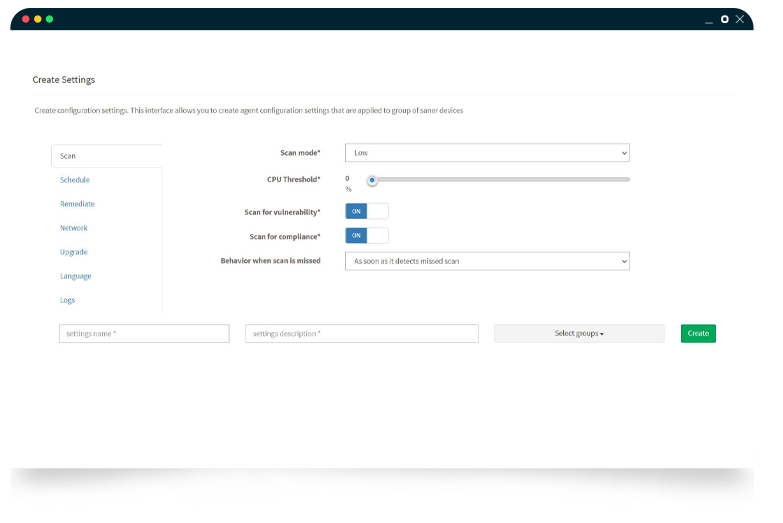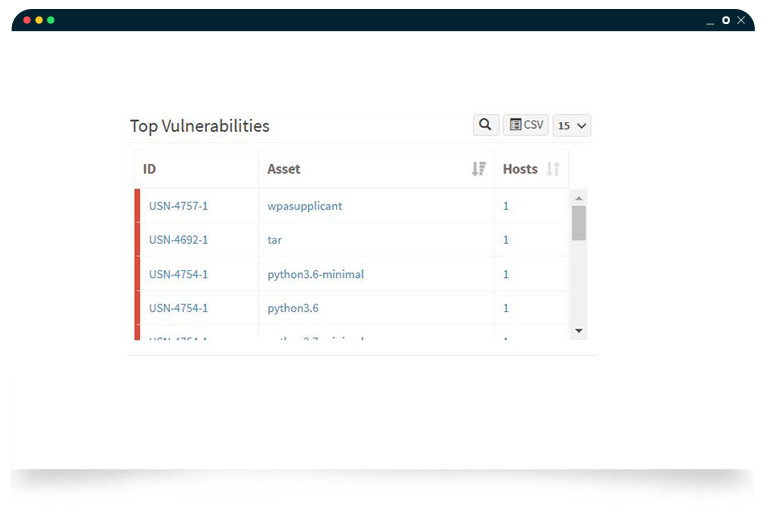 Vulnerability Prioritization
Internal and external factors influence the live threat landscape across the organization. Vulnerability management and vulnerability assessment have to go beyond tools that just show CVSS scores. You need to take into account other factors like exploit activity, age, business criticality, and more. SanerNow accurately prioritizes vulnerabilities based on risk so you spend time remediating risks that matter right now.
Remediate Software Vulnerabilities
An ideal vulnerability manager not only points out all vulnerabilities and misconfigurations in IT assets but also has vulnerability remediation tools built-in as solutions. SanerNow automatically correlates a software vulnerability with it's respective patch within SanerNow. Integrated and automated patch management takes care of the rest.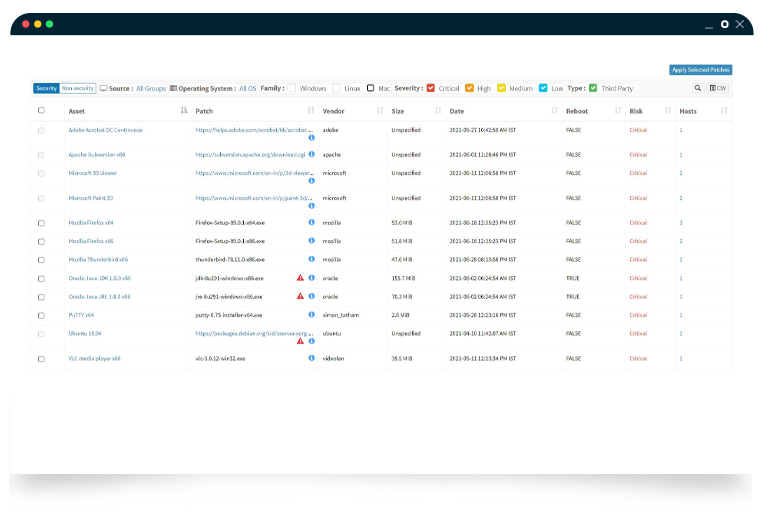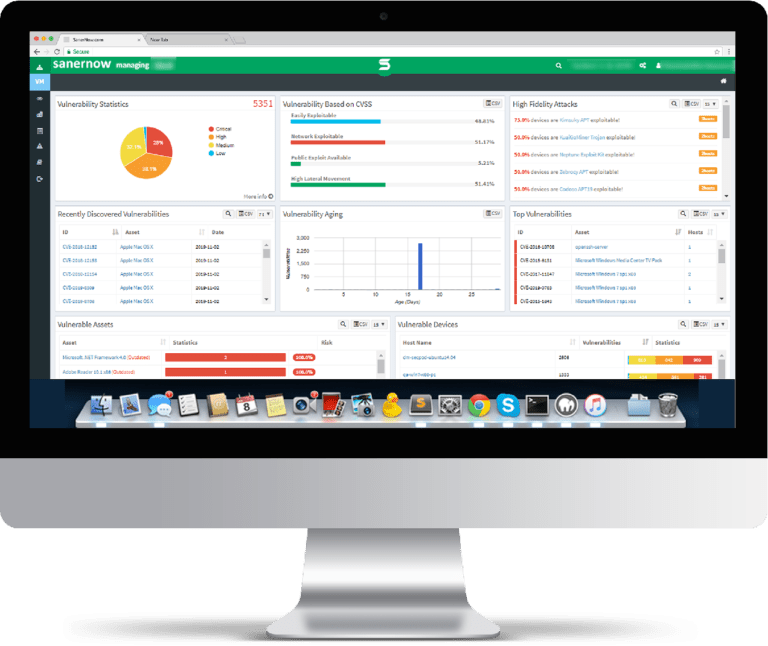 Start Managing and Securing Your Devices Efficiently
Get 1-month free access and try it yourself.
Get notified
about our latest updates
View all our articles keep
your security up to date