SecPod SanerNow Automates Patching for Windows, Mac, Linux, and 400+ Unique Third-party Applications from One Console. Contact our solutions team to get a thorough comparison done with BigFix.
| Use Cases | SanerNow | BigFix |
| --- | --- | --- |
| Daily Visibility to IT Infrastructure | Offers continuous and real-time visibility to IT asset exposures, manage licenses, discover outdated and rarely used apps, and blacklist malicious apps | Its single intelligent agent technology provides real-time visibility into the state of endpoints |
| Deeper intelligent visibility & normalizing risks | Provides holistic & Deeper Visibility over IT infrastructure. Detects deviations, aberrations, outliers, and anomalies in IT. Eliminates the most obvious attack vectors and normalize risks | Doesn't provide deeper visibility into IT to discover hidden anomalies |
| Rapid and continuous vulnerability discovery | Performs continuous and automated vulnerability scanning at industry's fastest time in under 5 minutes | Does not perform rapid and continuous vulnerability discovery |
| Discovery of vulnerabilities beyond CVEs | Discovers software vulnerabilities, misconfigurations, IT asset exposures, missing patches, security control deviations, and posture anomalies | Does not discover vulnerabilities beyond CVEs |
| Network Scanning to discover vulnerabilities and security risks | Endpoint Agents take up the role of network scanner. No investment in additional hardware is required | Does not support Network Scanning |
| Prioritizing vulnerabilities for smarter remediation | Prioritizes vulnerabilities based on risks, exploitability level, and high-fidelity attack mapping using the world's first SSVC-based framework. | BigFix applies Fixlets to high priority vulnerabilities that are identified and sent by QRadar Vulnerability Manager to BigFix. |
| Remediating discovered vulnerabilities | Provides seamless remediation with integrated patching for all OSs and 400+ third-party apps | Provides remediation for vulnerabilities and supports third-party application by Adobe, Google and Microsoft. |
| Mitigating Vulnerabilities | Mitigates vulnerabilities with 100+ security remediation controls | BigFix Insights for Vulnerability Remediation helps mitigate vulnerabilities. |
| Fix Misconfigurations and configurations drifts | Not stopping at CVEs, it provides detection and remediation capabilities to harden your system from configuration drifts or misconfigurations | Provides no support to fixing configurations. |
| | Completely and continuously automate the vulnerability management process with natively integrated and automatable solution | Offers Automated Patching, software deployment, compliance, etc. |
| | Achieves continuous compliance for HIPAA, PCI, NIST, & SOC-2, and custom security policies. | Provides continuous compliance for CIS and DISA STIG. |
| | Keeps you audit-ready anytime with 100+ pre-built customizable reports. Provides a comprehensive risk assessment report and insightful patching impact report. | Provides Web Reports with a convenient, compact, and timely overview of your IBM BigFix network. |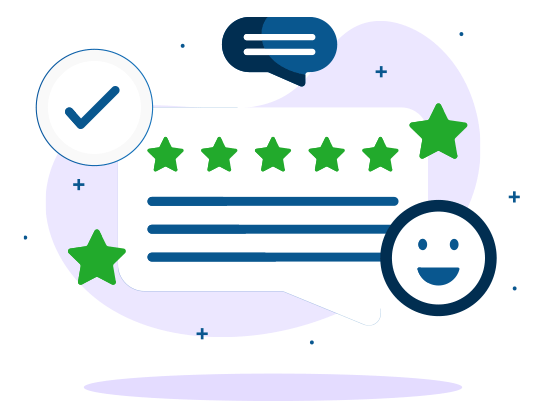 Best value in vulnerability and patch management
High-quality vulnerability & patch management solutions seemed expensive solutions from Qualys and Tenable. Thankfully we found high quality & affordable alternative with SecPod's SanerNow.
– Norm Messenger, Chief Security Officer, Inspirage
What makes SanerNow the Best BigFix Competitor?
When we find vulnerabilities in our systems, it's crucial to fix them quickly by applying the necessary patches. If we delay or take too long, it leaves a door open for potential attacks. SanerNow's patch management feature can help by instantly and automatically applying these patches without causing any disruptions to our operations. This process can even be scheduled, making it a seamless and continuous way to keep our systems secure.
Continuous Vulnerability Discovery
SanerNow is really good at finding and fixing vulnerabilities in your IT system quickly and continuously. It takes less than 5 minutes to scan for vulnerabilities and helps keep your digital enviroment safe. On the other hand, BigFix doesn't focus as much on finding vulnerabilities. It's more about managing devices and software. So, if you want a tool that's fast at finding and fixing vulnerabilities, SanerNow is the better option for you.
Supports patching for over 400+ third-party applications
SanerNow is a great tool for keeping all your software up to date and secure. It can handle over 400+ different applications, making sure they are patched and safe. On the other hand, BigFix focuses on a smaller set of applications, mainly from big companies like Adobe, Google, and Microsoft. So, if you want to manage the security of various software, SanerNow is the better choice since it can handle a wider range of applications.
Achieve Blazing-fast, Continuous, & Automated Patching with SanerNow Patch Management
Comprehensive Vulnerability Management for Timely Mitigation
Managing patches is really important for fixing vulnerabilities. SanerNow does this by quickly and accurately scanning for weak points in your network. Once it finds these weaknesses, it gives you the patches you need to fix them, all in one place. After you've fixed things, you can double-check with another scan to make sure everything is secure. This way, you can reduce the risk of problems and stay on top of vulnerabilities. SanerNow's approach is unique because it combines patch management with vulnerability scans, which other options like BigFix don't have.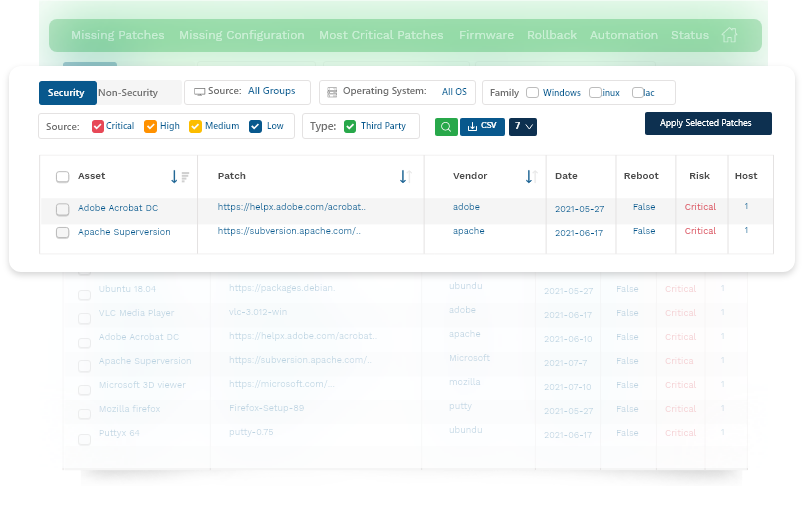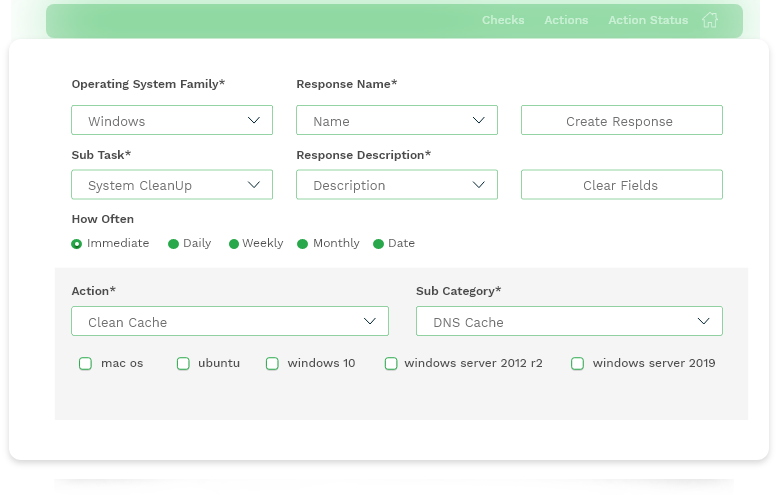 Supports Patching for All OSs and Around 400+ Third-Party Applications
SanerNow Patch Management is great because it can update all the big operating systems like Windows, Mac, and Linux. It can also update more than 400+ third-party applications, which is more than what most other tools can do. The best part is, you don't have to juggle multiple tools to update different systems and apps, you can do it all in one place. Unlike other options like BigFix, SanerNow works with various versions and types of operating systems, making it super easy to keep everything up to date.
Quick Automated Patch Management
Manually updating software takes a lot of time and effort, sometimes even weeks. SanerNow makes this task much easier by doing everything automatically, from checking for updates to installing them, and it does it all much faster. With SanerNow, you can set up automatic updates for different groups in your organization, so you don't have to do it all by hand. This helps make your IT operations run smoother and more efficiently. While many options like BigFix offer partly automated solutions, SanerNow is ahead of the game with its full automation.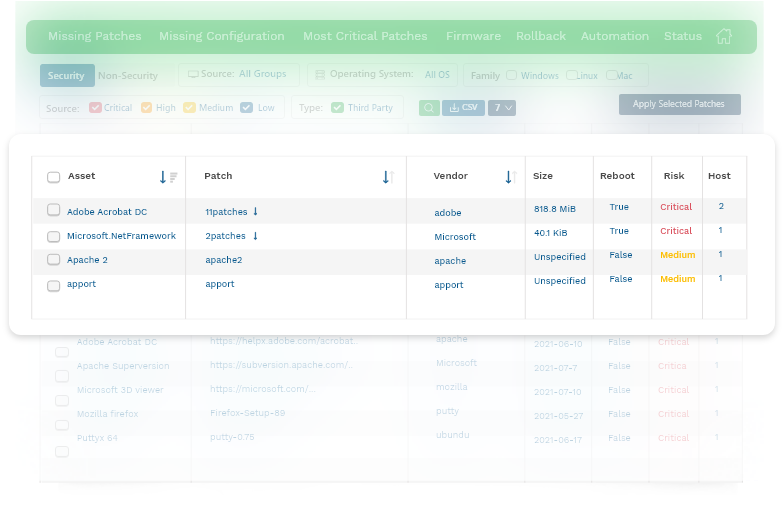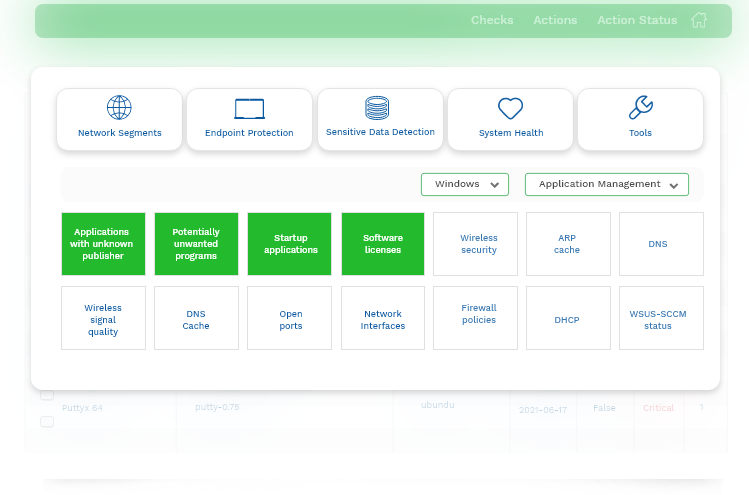 Comprehensive Vulnerability Mitigation Methods
Fixing problems isn't just about updating software. There are various security measures needed to address different issues. SanerNow offers many of these security controls to reduce different security risks. With SanerNow, you can do things like install or remove software, block apps and devices, start or stop processes, adjust firewall and registry settings, clean up your computer, and more. These security controls are not found in many options like BigFix, which makes SanerNow different from other tools for managing updates and security.
Experience the Instant Impact of SanerNow Advanced Vulnerability Management
Request a product walkthrough demo with one of our solution experts.