Ensure Continuous Compliance Across All Devices
Rapid, effective, and advanced automation to implement continuous compliance
Automate compliance scans, risk prioritization, and the entire patching process to ensure quick and effective security compliance.
Align with major compliance standards and meet security obligations from the cloud
Comply with HIPAA, ISO, PCI, and NIST frameworks right out of the box. Create custom security policies and map all devices to them. All from a cloud-based console.
One smart, multifunctional agent for all compliance tasks
Implement all security compliance management tasks with one smart, lightweight, multi-functional agent that ensures continuous compliance monitoring and remediation actions.
One console to rule them all
Eliminate the complexities of using multiple solutions and implement a continuous compliance framework from a single console.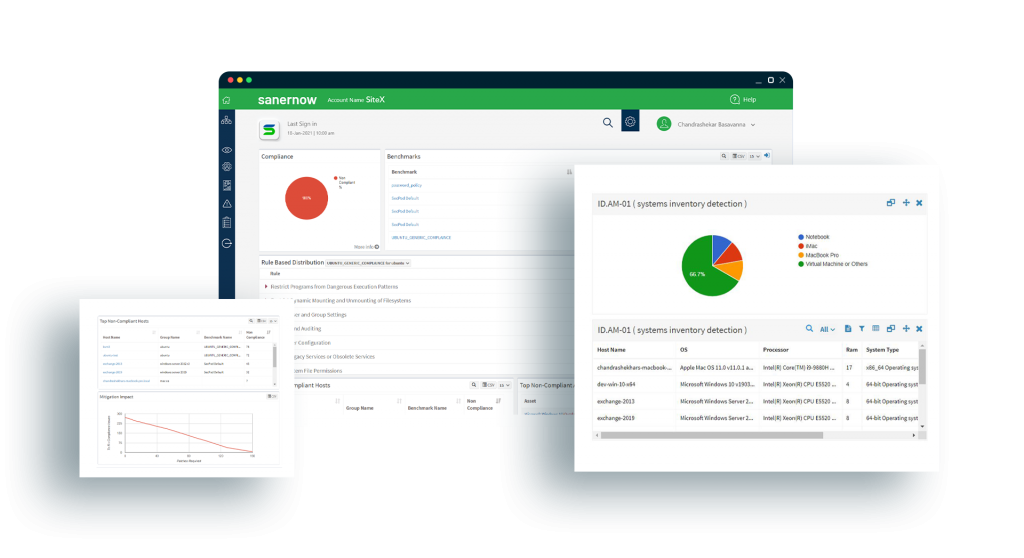 To tighten IT Security, organizations must abide by various security guidelines. Even though organizations have sufficient details of their IT assets, they must maintain control over the device's system settings, software updates, configurations, and programs. Oversight on these critical system settings and configuration deviations leads to security breaches. Organizations must ensure systems are adhering to security guidelines at all times.
Businesses spent $1.3 million on average to meet compliance requirements and are expected to put in an additional $1.8 million.
"61% of companies have over 500 accounts with non-expiring passwords."
With SecPod SanerNow, you can ensure continuous security compliance of your endpoints. Implementing an effective IT security policy must including managing vulnerabilities, applying patches, managing security controls, detecting and responding to ongoing threats, managing assets, and security hardening of all endpoints. Achieve it efficiently using SecPod SanerNow.
Ensure security compliance and gain absolute control over your organizations risk exposure using SanerNow
Visibility to IT assets is the primary requirement for securing the systems. Gaining continuous visibility is very critical in this dynamic and ever-changing IT environment. SecPod SanerNow provides details of the hardware and software applications, helps identify unwanted and rogue apps, licenses policy violations, and understands risks and the risk exposures.
Gain complete visibility and control over the critical vulnerabilities prevalent in your enterprise network. SecPod SanerNow automates the whole vulnerability management process from scanning, assessment, prioritization to remediation through integrated patching. This continuous and effective vulnerability management prevents cyber-attacks.
Abiding by industry security standards is an essential step in securing devices. SecPod SanerNow allows organizations to detect non-compliant systems and enforce compliance. It supports all major industry benchmarks such as HIPAA, PCI, ISO, NIST 800-53, and NIST 800-171. It also allows organizations to create and enforce their security policies.
SanerNow automates endpoint management routines like installing patches, discovering and managing IT Assets, managing software licenses, monitoring software usage statistics, managing USB device usage, taking control of remote desktops, and more. SanerNow provides complete visibility into the status of the device systems and equips you with hundreds of built-in checks. SanerNow identifies deviations in services, protocols and daemons and ensures compliance by blocking or allowing services, setting network rules, setting password policy, starting, stopping or blocking processes, and enabling or blocking hardware on devices. It checks the status or health of endpoint protection software such as installed antivirus programs. SanerNow blocks unwanted programs or applications and installs or uninstalls software remotely.
Patching applications on time is a crucial security practice. SecPod SanerNow automates the entire task of patching in a few simple steps and helps organizations stay ahead of security exploits. It also allows organizations prioritize the patches based on the severity and urges them to patch them instantly.
SanerNow assists organizations to control and prevent the likelihood of any security breach from succeeding with intelligent threat detection and response techniques. SaerNow helps analyze the device and identify indications of attack and compromise. Along with this, SecPod SanerNow also offers advanced actions to respond to the indicators.
Hear From Our Happy Customers
"SecPod's SanerNow platform helps our customers get and stay compliant with many of today's standard frameworks. By monitoring for vulnerabilities, compliance misconfigurations and threat indicators, it allows us to focus on our customers' most critical risks. The included instructions help take the guesswork out of how to keep an organization secure."
JOHN RILEY | COO – OMNISTRUCT
Seamlessly Regulate Security Compliance and Manage Risk Exposure
Gain real-time IT assets visibility and control
Run continuous/on-demand IT asset scans and gather detailed hardware and software inventory. Detect outdated and rarely used hardware and software, and instantly detect the entry of vulnerable IT assets, blacklist and whitelist applications.
Rapidly discover your device vulnerabilities with over 160,000+ vulnerability checks
With the world's largest SCAP feed with over 160,000 vulnerability checks and 500+ configuration checks per OS, and SanerNow's intelligent scanning algorithm, vigorously scan your devices, precisely discover vulnerabilities, and analyze your cyber risk potential efficiently.
Reduce risk exposure with integrated and automated patch management
Remediate software vulnerabilities instantly using SanerNow's integrated and automated patch management. Automate patching across all endpoints running Windows, MAC, Linux, and third-party applications.
Scan and identify deviation from standards, and detect non-compliant devices
SanerNow CM runs continuous scans to detect non-compliant or deviant devices and provides instant remediation suggestions. It monitors system deviations in real-time to ensure continuous compliance.
Support all major industry compliance benchmarks and enables creation of customized security policies
SanerNow supports industry-standard requirements on policies and configurations out-of-the-box for HIPAA, PCI, ISO, NIST 800-53, and NIST 800-171. Further, it allows creation of customized policies to enforce specialized industry or organizational compliance policies. Build a continuous compliance framework with all security policies.
Strengthen your endpoint security posture and keep your endpoints healthy
Monitor antivirus deployments, the status of important system services and files, registry keys, rogue processes, etc., to keep endpoints healthy. Enable firewall policies and other security checks, quarantine or isolate devices or networks, discover and protect sensitive data, etc.
Block malicious applications and devices, reduce attack surface instantly
Block any suspicious or malicious or unwanted applications and devices on your network. Implement effective application and device control across your endpoints and prevent security breaches to safeguard your network from emerging cyberattacks.
Detect and respond to threat incidents without leaving any security gaps
Actively hunt for incidents of threats in your network and respond to them immediately. SanerNow allows you to detect any indications of attacks and system compromise across your devices and enables you to act upon them immediately.
Gain end-to-end visibility of your enterprise endpoints and control them instantly!
Get 1-month free unlimited access and try it yourself.