SanerNow vs. ManageEngine
SecPod SanerNow Automates Patching for Windows, Mac, Linux, and 400+ Unique Third-party Applications from One Console. Contact our solutions team to get a thorough comparison done with ManageEngine.
| Use Cases | SanerNow | ManageEngine |
| --- | --- | --- |
| Daily Visibility to IT Infrastructure | Offers continuous and real-time visibility to IT asset exposures, manage licenses, discover outdated and rarely used apps, and blacklist malicious apps | Discovers and Analyzes IT assets, Does not provide continuous visibility |
| Deeper intelligent visibility & normalizing risks | Provides holistic & Deeper Visibility over IT infrastructure. Detects deviations, aberrations, outliers, and anomalies in IT. Eliminates the most obvious attack vectors and normalize risks. | Doesn't Provide visibility into deviations, outliers and anomalies |
| Rapid and continuous vulnerability discovery | Performs continuous and automated vulnerability scanning at industry's fastest time in under 5 minutes. | Doesn't support continuous vulnerability scanning |
| Discovery of vulnerabilities beyond CVEs | Discovers software vulnerabilities, misconfigurations, IT asset exposures, missing patches, security control deviations, and posture anomalies. | Focuses primarily on vulnerabilities that have CVEs assigned |
| Network Scanning to discover vulnerabilities and security risks | Endpoint Agents take up the role of network scanner. No investment on additional hardware is required. | Limited support for network scanning |
| Prioritizing vulnerabilities for smarter remediation | Prioritizes vulnerabilities based on risks, exploitability level, and high-fidelity attack mapping using the world's first SSVC-based framework. | Patch prioritization based on CVSS only |
| Remediating discovered vulnerabilities | Provides seamless remediation with integrated patching for all OSs and 400+ third-party apps | Provides remediation of vulnerabilities but has limited access to third-party applications |
| Mitigating Vulnerabilities | Mitigates vulnerabilities with 100+ security remediation controls | Mitigation feature is not supported |
| Fix Misconfigurations and configurations drifts | Not stopping at CVEs, it provides detection and remediation capabilities to harden your system from configuration drifts or misconfigurations. | Does not fix misconfigurations |
| | Completely and continuously automate the vulnerability management process with natively integrated and automatable solution | Offers continuous and automated Patch management |
| | Achieves continuous compliance for HIPAA, PCI, NIST, & SOC-2, and custom security policies. | Limited features of compliance management |
| | Keeps you audit-ready anytime with 100+ pre-built customizable reports. Provides a comprehensive risk assessment report and insightful patching impact report. | |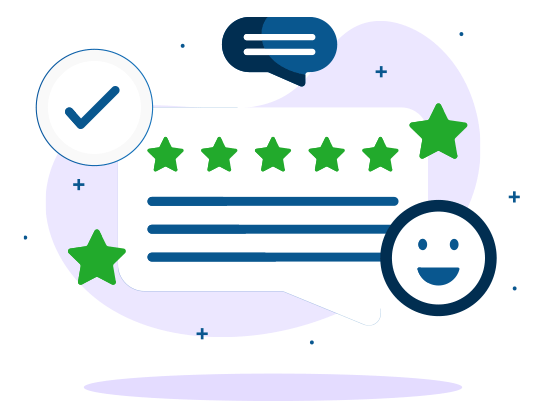 Best value in vulnerability and patch management
High-quality vulnerability & patch management solutions seemed expensive solutions from Qualys and Tenable. Thankfully we found high quality & affordable alternative with SecPod's SanerNow.
– Norm Messenger, Chief Security Officer, Inspirage
What makes SanerNow the Best ManageEngine Competitor?
Detects Vulnerability Beyond CVEs
Attackers these days are getting more and more advanced and the attacks are getting more complicated. Just sticking to CVEs for detection is no longer helpful. There are other vulnerabilities such as posture anomalies, security deviations, misconfigurations, and much more.
SanerNow's automated vulnerability and continuous posture anomaly management helps in detecting all the hidden risks and most obvious attack surface risks keeping your organization much safer. ManageEngine alternatives generally don't support vulnerabilities beyond CVEs and the detection process won't be continuous, giving SanerNow an edge over other competitors.  
Instant Patch Remediation
Vulnerabilities when detected will be assigned their respective patches. Taking too long to remediate these patches or applying patches late will only be a loophole for attacks. SanerNow patch management has a feature for instantly remediating the patches without causing any operational deficiency. It is a completely automated and continuous process that can be scheduled too.  
Intact Patch Prioritization
There are millions of vulnerabilities detected in a day. Not having a process that can help you make informed decisions and streamline the patch management process is a necessity. Following the traditional way of prioritizing based on CVSS score is no more efficient. Secpod's CISA-SSVC-based world-first risk prioritization model helps in taking a step forward with its business context, vulnerability intelligence-based prioritization. As an alternative to ManageEngine, SanerNow fits right into your IT budget.
Achieve Blazing-fast, Continuous, & Automated Patching with SanerNow Patch Management
Strength Organization Security Through Integrated Vulnerability Management
Effective patch management plays a vital role in addressing vulnerabilities. SanerNow's integrated vulnerability management streamlines the process, swiftly and accurately scanning for vulnerabilities within your network. Once vulnerabilities are pinpointed, SanerNow offers the required patches directly from the same platform for immediate remediation. Following remediation, you can conduct instant vulnerability scans to confirm that the network is free from vulnerabilities. This approach enables timely vulnerability mitigation and significantly reduces risk exposure. Notably, SanerNow's Patch Management also includes integrated vulnerability scans, setting it apart from alternatives like ManageEngine.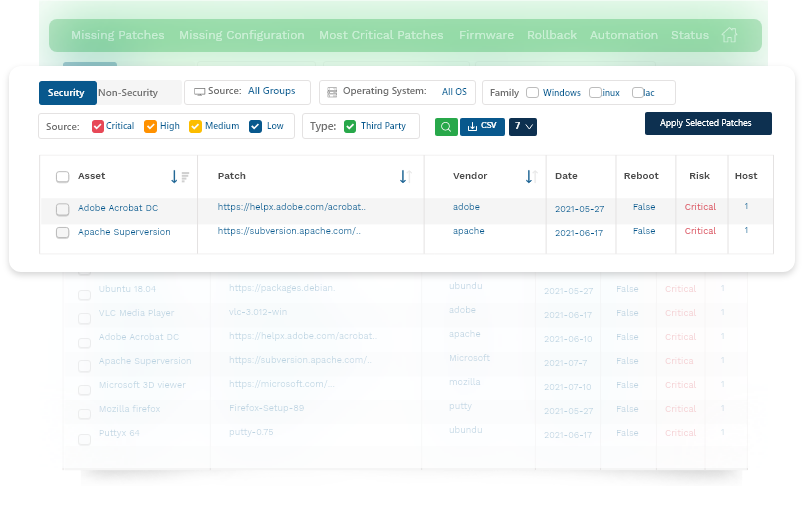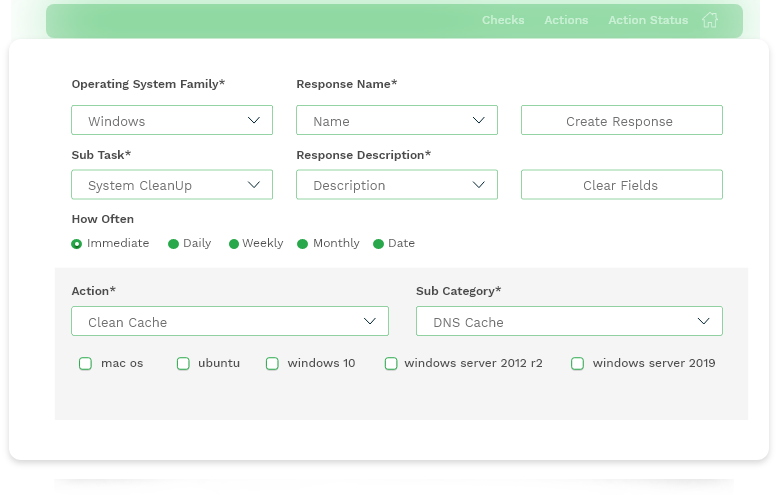 Securing Multiple OSs and 400+ Third-Party Apps through Patching
SanerNow Patch Management offers comprehensive patching support for major operating systems, including Windows, Mac, and Linux. Moreover, it stands out in the industry by providing patching for over 400 unique third-party applications. This means you can simplify your patching process significantly, eliminating the need for multiple tools to address different OSs and third-party applications. Unlike other alternatives to manageengine, SanerNow accommodates a wide range of OS versions and variations, enabling seamless cross-platform patching.
Automated and Continuous Patch Management for Faster Patching Cycle​
Manual patching is a time-consuming process, often taking weeks and requiring significant effort. SanerNow revolutionizes patch management by automating the entire process, from scanning to deployment, and also making it continuous. With SanerNow, you have the ability to create automation jobs tailored to various groups within your organization, effectively making the patching process hands-free. This streamlines operations and leads to a substantial increase in ITOps efficiency. While many alternatives to ManageEngine offer non-automated or non-continuous solutions, SanerNow takes the lead by providing complete automation, setting it apart as a superior patch management solution.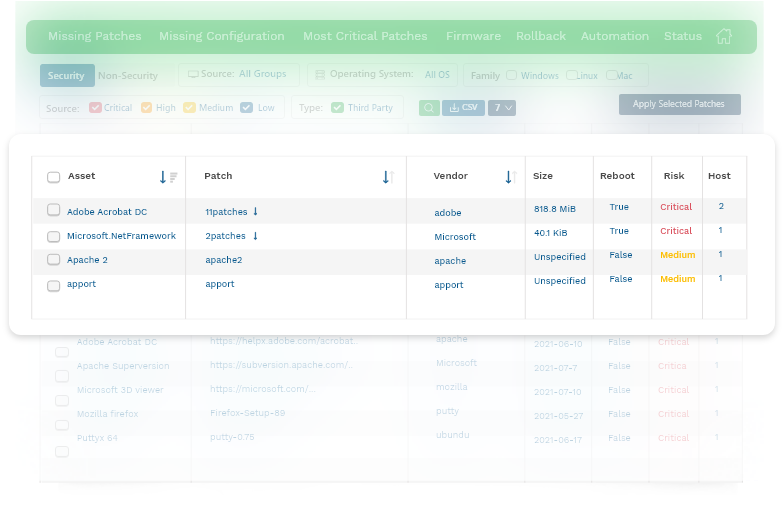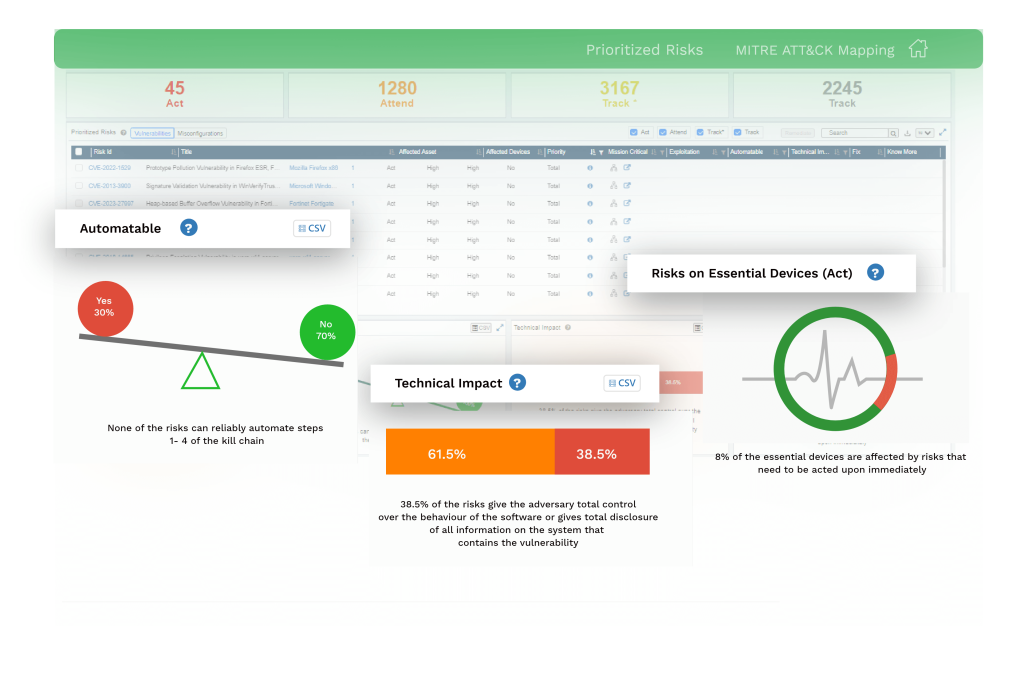 Streamline Zillion to Zero Risk Journey
Millions of vulnerabilities detected should be sorted in an accurate manner so that the most-critical vulnerabilities or zero-day vulnerabilities get immediate attention. SanerNow Risk Prioritization is the world's first CISA-SSVC-based risk prioritization model that prioritizes vulnerabilities based on business context, exploitability, high-fidelity attack mapping, and its very own in-house vulnerability intelligence. It also provides an improved version of EPSS that speeds up the prioritization process. Whereas other ManageEngine alternatives provide prioritizes only based on the traditional CVSS score
Experience the Instant Impact of SanerNow Advanced Vulnerability Management
Request a product walkthrough demo with one of our solution experts.