Brad and Smith are security administrators of an enterprise with 2000 devices. One of their prime responsibilities is to manage vulnerabilities in their network. With only two people at work and 2000 devices spread across multiple remote locations, both Brad and Smith had a hard time. Brad takes up the task of scanning devices for vulnerabilities and often ends up with inaccurate detection with many false positives. At the same time, Smith handles the remediation part and faces numerous challenges in remediating the vulnerabilities on time.
During the monthly review, Brad and Smith had a hard time explaining to their CISO why there is a lag in the vulnerability management process. There were a lot of vulnerability management use cases that they had difficulty in resolving. With pressure from their CISO and crucial security audits scheduled every month, the pile of vulnerabilities prevailing in the network became the worst nightmare for Brad and Smith.
The kind of vulnerability management tool Brad and Smith need
If we look closely, they'd have challenges across different steps of vulnerability management. Scanning data is not accurate, and this easily lets down the whole process. On the other hand, remediation is taking a long time leading to more security gaps. One major disadvantage is they use different tools for handling each step of vulnerability management and manually execute each step. A multiple-point solutions approach and manual methods might only help organizations with less than 25 devices. In an organization with 2000 devices, these conventional methods will easily let down their security posture, inviting more havoc. They require a full-fledged vulnerability management solution that automates end-to-end tasks from vulnerability detection, assessment, and prioritization to remediation. The tool should help them manage all the vulnerability management use cases in short.
SecPod SanerNow Vulnerability management, the Saviour for Security Administrators
One fine day, Brad and Smith happened to encounter SecPod SanerNow while browsing the internet. SecPod SanerNow CyberHygiene Platform is built with a fully integrated vulnerability and patch management solution to manage vulnerabilities effectively. As the tool offers a unified single console approach and end-to-end automation, Brad and Smith were interested in trying their hands on it and deployed it in their network immediately. Did SanerNow help them combat their vulnerability management challenges? Let us find out in this article.
How SanerNow make life easier for Brad and Smith by handling the top vulnerability management use cases?
Automated and scheduled vulnerability scans:
With SanerNow, Brad easily scheduled and automated everyday vulnerability scans. He easily grouped his organization devices based on different departments and scheduled the scans at a specific time every day. Now vulnerability scanning is a continuous and ongoing task in his network. SanerNow provides the industry's fastest scanning in less than 5 minutes, making the job even simpler. Brad also chooses to run on-demand scans across his network and detect real-time vulnerability data. Thus, vulnerability scanning has become a simple everyday routine for him without any hassles.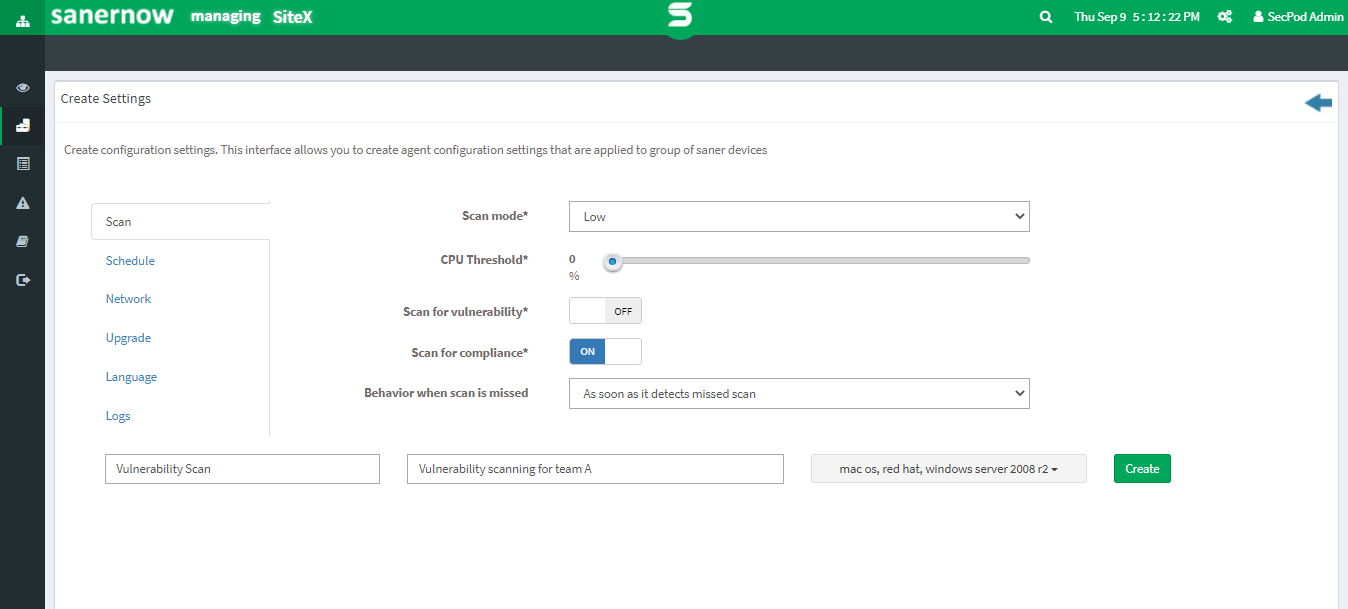 Accurate vulnerability detection with zero false positives:
SecPod SanerNow is powered by the home-grown world's largest vulnerability database with more than 160,000 plus security checks. This comprehensive and up-to-date vulnerability database results in the accurate detection of vulnerabilities with zero false positives. With this, Brad easily overcame the challenge of inaccurate vulnerability detection and successfully detected all the vulnerable loopholes across his network devices.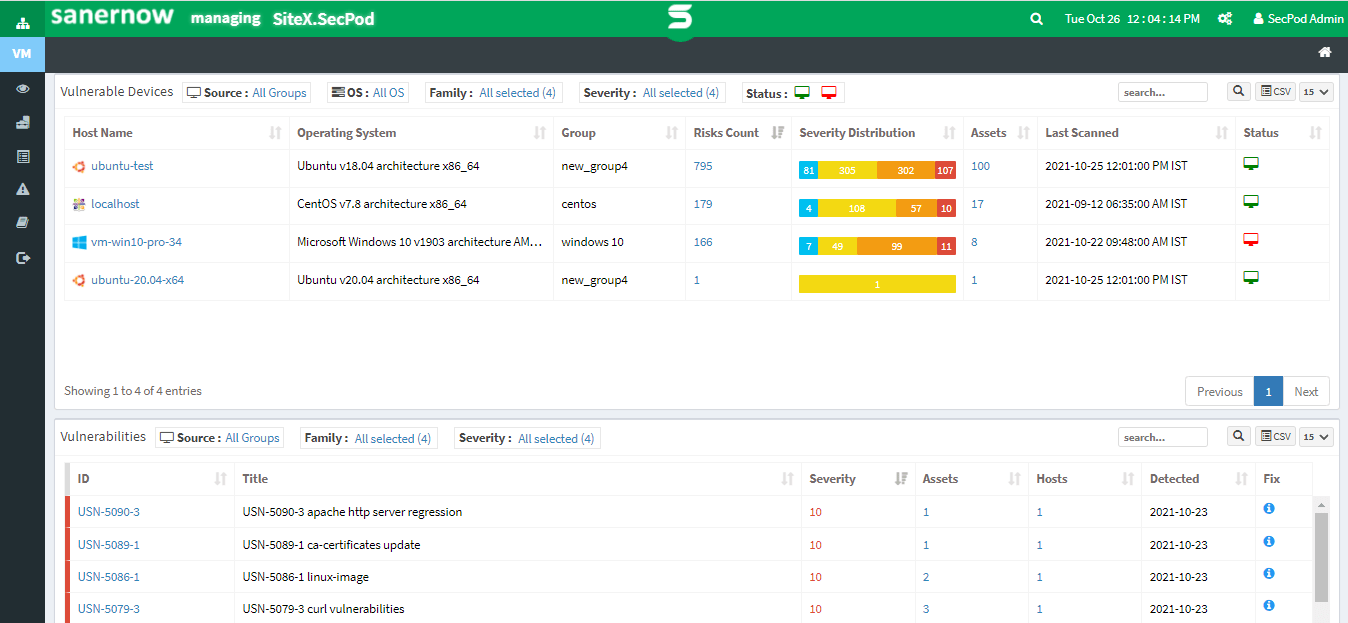 Risk-based vulnerability management with prioritization:
SecPod SanerNow automatically assesses and prioritizes the vulnerabilities based on their severity range. Instead of being stuck with a pile of vulnerabilities and not knowing what to remediate first, Smith is now happy with detailed risk insights. SanerNow groups the vulnerabilities based on their criticality level and provides data on the risk potential of each vulnerability. Smith is now fully aware of the risk insights and is taking strategic moves during the remediation process.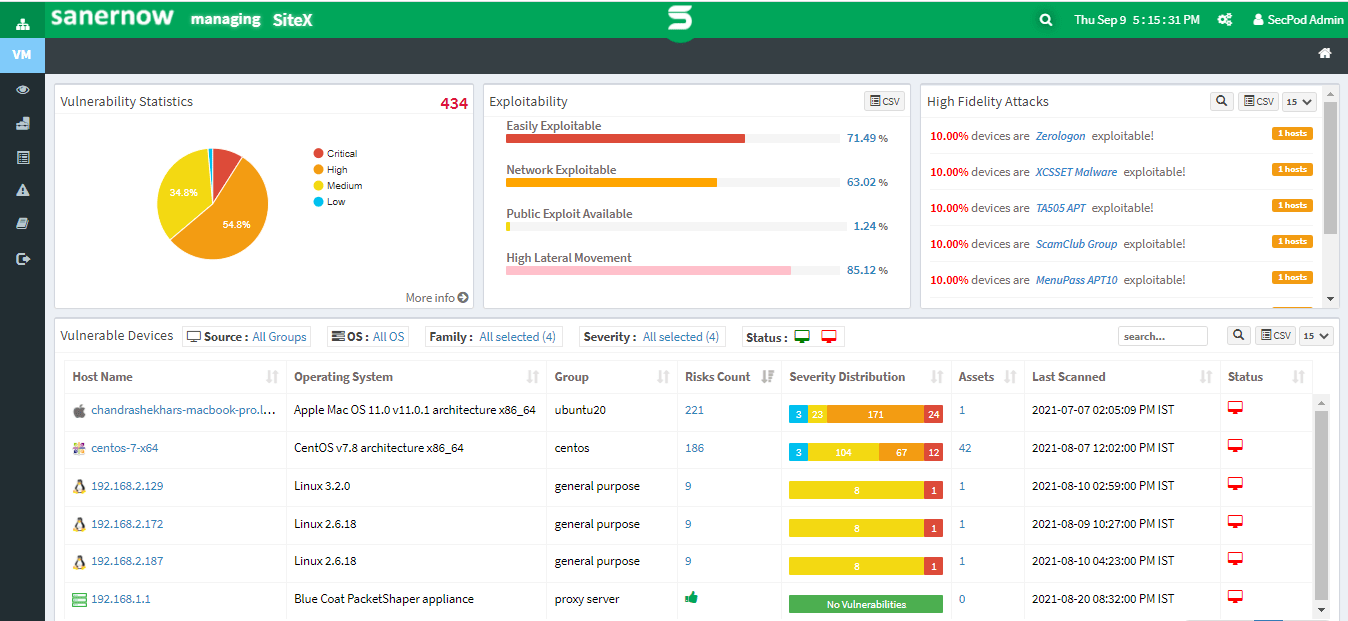 Timely remediation with integrated patch management:
Remediation is a cakewalk for Smith now. With SanerNow's integrated patch management, Smith easily remediates vulnerabilities without juggling between multiple screens and different tools. With accurate vulnerability prioritization data, he smartly remediates the vulnerabilities now with relevant patches. He automated patching across all devices in his network easily at his fingertips. SanerNow supports patch management for all major OSs like Windows, MAC, Linux, and 300+ third-party applications.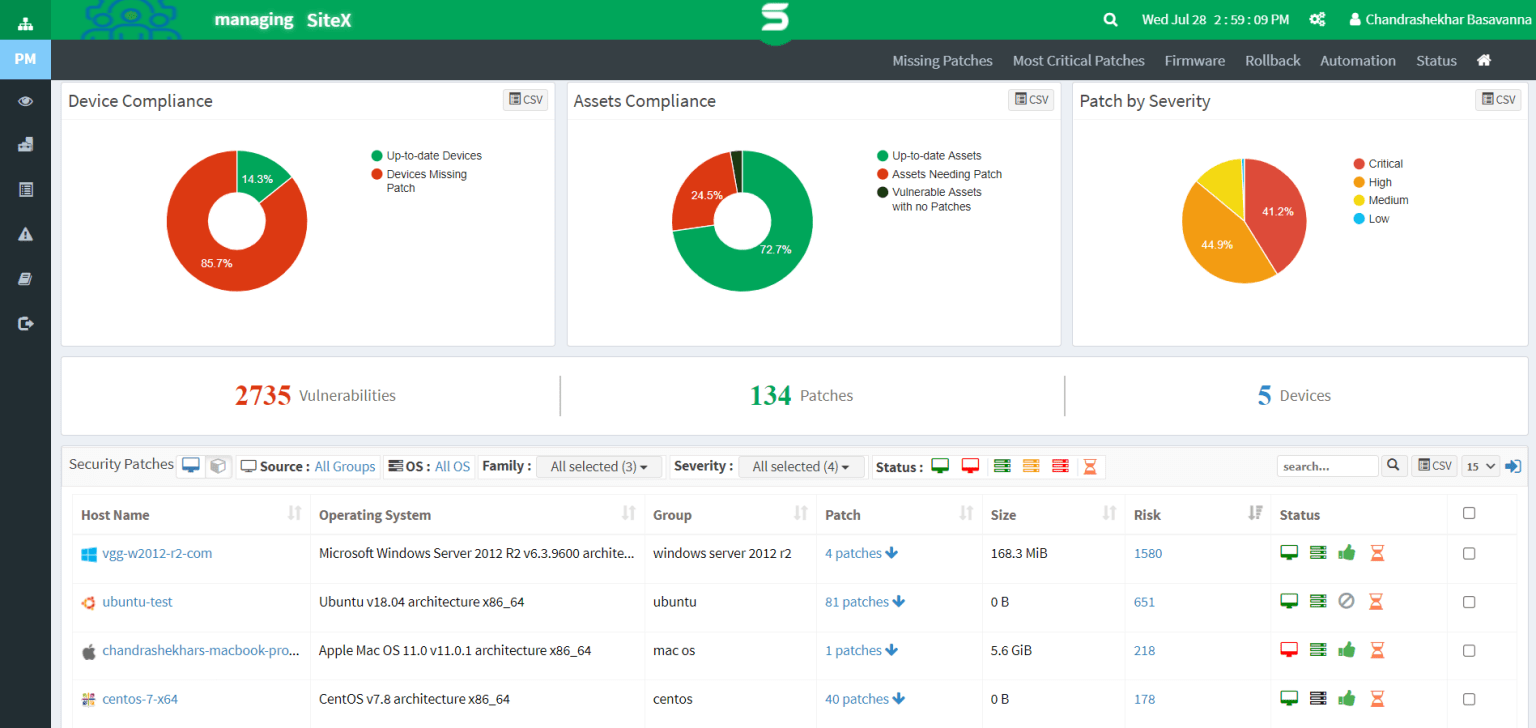 Rapid and insightful reporting for faster analysis:
Brad and Smith do not spend ages reporting their vulnerability management process now. With SanerNow, they have everything at their fingertips. SanerNow provides in-built customizable reports for each process of vulnerability management. These reports are insightful, precise, and can be scheduled to be sent to the mailbox. Brad and Smith have configured all the required reports and quickly analyze them whenever they want. They are anytime ready for security audits with SanerNow in their hand.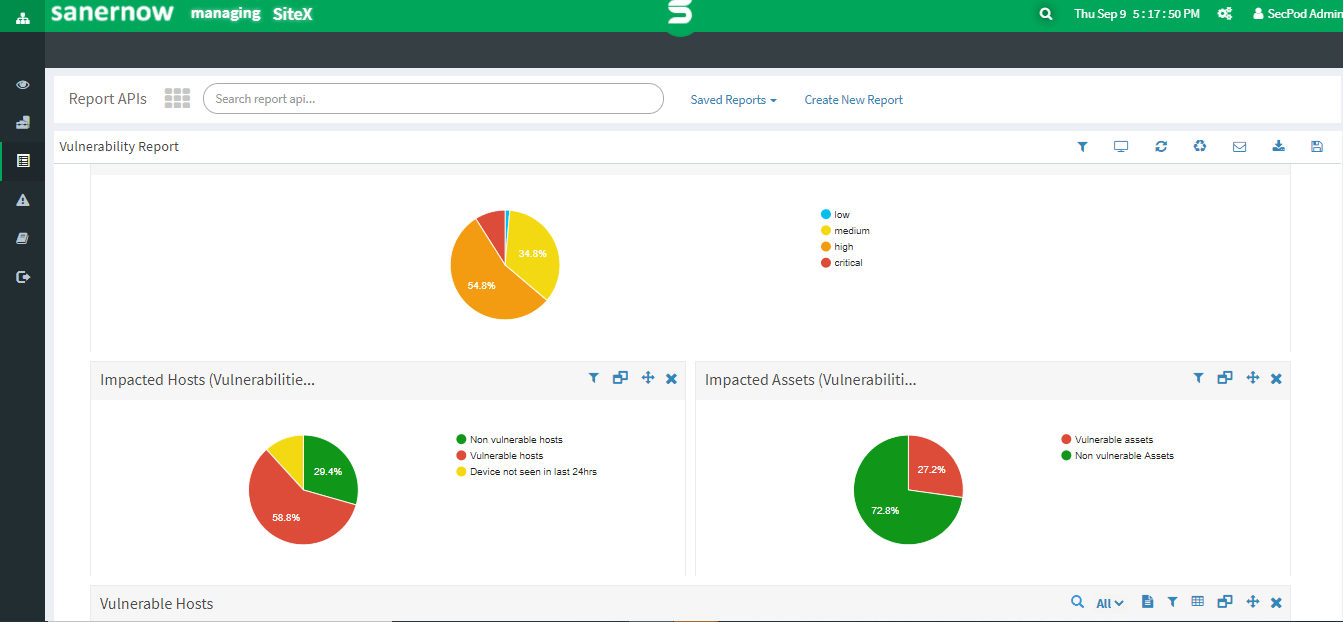 With SanerNow, Brad and Smith are Pros now at Vulnerability Management:
Brad and Smith are a happy security administrator duo now. They have aced at Vulnerability Management and impressed their CISO. What was once a daunting struggle for them has become a simple task with SecPod SanerNow vulnerability management. They have kept their network vulnerabilities under check and have successfully handled all the challenging vulnerability management use cases. They are not only more relaxed but also calmer at work, having a well-set work-life balance.
Brad and Smith are not alone. There are a lot of security administrators like them trying to implement an effective vulnerability management program in their network. If you haven't tried your hands on SanerNow yet, this is your chance.
Schedule a demo and see how SanerNow can make vulnerability management a breeze.