With another year wrapped up and the dawn of a new year, there are oceans of uncharted waters in the cybersecurity realm that need to be voyaged. Digital transformation is at its peak due to the hybrid workforce. The paradigm shift in working modules eliminates the dependency on old business models as they aren't cut out for the needs of today. Even with innovation, the workforce facing the challenges of being cyber-ready never ceases to amaze us. Hence, having a vulnerability management tool can help detect and remediate these.
Security is the backbone for any digital infrastructure to perform at its optimum. Cyber-attacks are a terrible piece of news for any industry vertical. In addition to this, leveraging new technology and innovation does make it hard for security admins to discover, assess, and remediate threats. A patch management solution can remediate vulnerabilities and secure your IT assets. Now that you're aware of the obvious of what follows next, how do you think your new plan of action will secure your network in 2022?
To kick it up a notch, we are putting forward a few fundamental action plans that we feel are feasible to strongarm your organization's digital infrastructure.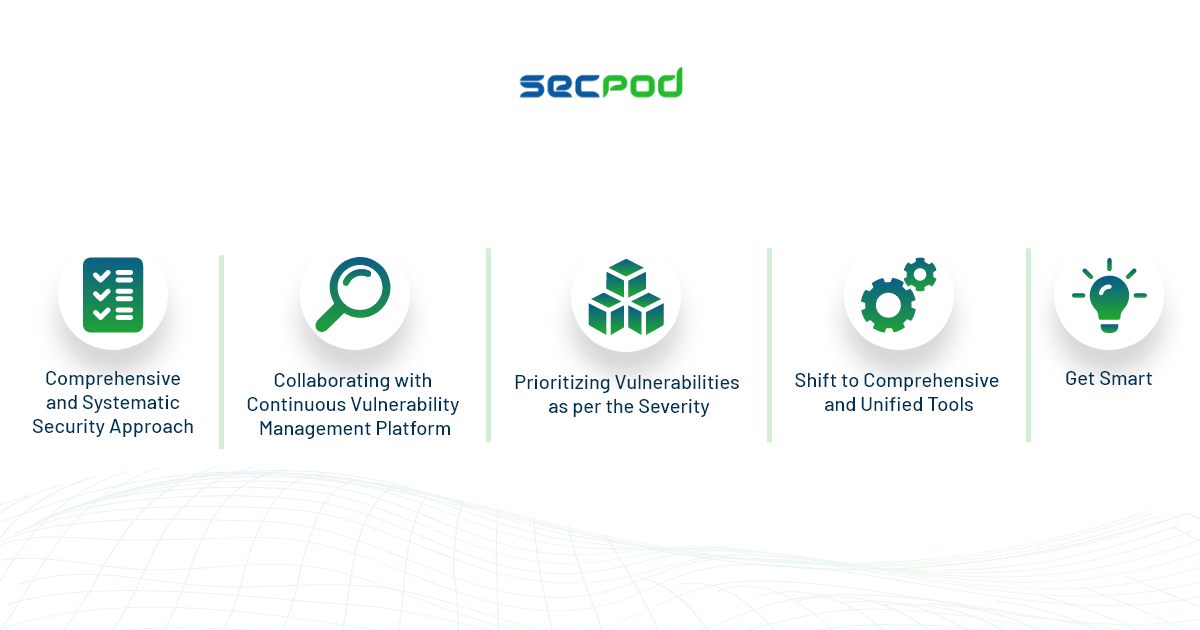 Action Plan 1: Bringing a Comprehensive and Systematic Security Approach into Effect:
A holistic approach to robust cybersecurity requires training, educating employees, running internal analysis alongside regular inspection. The practice, when enacted, will help in garnering information related to unprecedented threats and vulnerabilities to security admins. Often security admins do not consider bringing a comprehensive practice into effect from the beginning. However, curating a solid approach will help narrow down the loopholes among networks and unveil the sensitive information required to build a robust roadmap towards becoming cyber-ready.
It is quintessential for the people in an organization to be at the very core of cyber security strategy. Your workforce could prove to be your most powerful missile in the arsenal to fend off cyberattacks. For instance, 2021 witnessed massive phishing attacks as compared to others attacks. This form of cyberattack is explicitly engineered to blindside employees by tricking them into playing into the attacker's hands. The aftermath is quite disastrous, as with phishing attacks, the credentials are stolen, and systems are compromised.
Building a strategy and a culture where cybersecurity is understandable among peers has never been this important. A human firewall made out of educated employees will benefit you in the long run.
Action Plan 2: Collaborating with Continuous Vulnerability Management Platform for all-round Protection:
Once the first stage of the action plan is done and dusted, the need to search for a vulnerability management program to safeguard your networks is insurmountable. Continuous vulnerability management offers persistence discovery, assessment, and remediation of vulnerabilities lurking in the digital shadows of your IT infrastructure. The window for bad actors to breach your organization's network with continuous identification and remediation diminishes significantly.
A vulnerability management program powered by automation will enhance the rate of accuracy at the time of prioritizing vulnerabilities. Additionally, with automated vulnerability scans, you can significantly diminish human errors, increase the compliance rate, and increase the security team's efficiency.
Action Plan 3: Prioritizing Vulnerabilities as per the Severity:
Prioritization of vulnerabilities is a crucial factor when it comes to safeguarding networks. Millions of vulnerabilities lurk in networks, servers, and devices. Prioritizing might seem a little easy thing to accomplish for anyone who isn't at the forefront of protecting networks. But in reality, without a concrete strategy protecting networks is next to impossible. The CVSS score is convenient to run prioritization without any hassle.
Remediating all vulnerabilities at once without knowing their CVSS score is at times impossible, even for a team comprising of well-resourced people. According to the study by Kenna Security, the pressure of transforming businesses compels organizations to patch only one vulnerability out of 10 on the premises. Determining which exposure needs your immediate action can change your entire approach to protecting your digital infrastructure.
Action Plan 4: Shift to Comprehensive and Unified tools:
Relying on multiple solutions to execute different vulnerability management steps is an age-old method. Comprehensive and unified Vulnerability Management tools are quite crucial for your business today. Having a single platform that takes care of almost everything from securing devices to fending off attacks revolutionizes how you protect devices. For instance, if you can manage vulnerabilities and threats across a hybrid or even a distributed network, you're saving tons of resources.
Action Plan 5: Get smart:
Today the cyber security landscape has become more complicated than ever. With the threats becoming more complex, detecting and preventing attacks is quite a challenge. When you rely on everything you have at your disposal smartly and proactively will undoubtedly up your game. For instance, running scans regularly and patching software that needs remediation could change the dynamics of your cyber health. If you already have too many things on your plate, you can also opt for automated patching. Further, making things more seamless for everyone in the organization.
The need for an Intelligent Security Strategy in 2022
Smart vulnerability management does more than just updating software and OSs. Businesses should be aware of vulnerability management tools that ensure a cyclical practice to discover, assess, prioritize, remediate vulnerabilities in devices. Ideal vulnerability management for 2022 would provide you with the scope to focus on the loopholes and curate a comprehensive strategy and practice every day.
Having a one-track mind or black-and-white perspective won't solve your quirks of vulnerability management. Instead, looking at the grey areas and having an open mind would help you protect networks better. Your vulnerability management in 2022 should have a top-notch accuracy, rely on an extensive database, and work well with security admins for holistic 360-degree protection. Business and its people are always the first lines of defense. Even if you possess an intelligent vulnerability management module, it could pose a real challenge if your workforce isn't educated.
Educate your employees while encouraging them with regular training sessions must not be overlooked. Collaboration among employees leads to assessing new approaches to identify the security loopholes and keep the ecosystem safe.
With the holiday season bringing in more chaos with the infamous Log4j vulnerability, security admins and organizations should brace for more sophisticated attacks. It would be best to consider everything, implement a plan, leverage a unified solution, and set protecting your network into motion. Your resolution for 2022 should be impenetrable protection against bad actors.
Align your Security Goals this year with SanerNow
SecPod SanerNow is a comprehensive vulnerability management solution that tends to all your needs, from discovering vulnerabilities to managing them. The platform leverages the world's most significant SCAP Repository with over 160,000 vulnerability checks; making the accuracy of the SanerNow is unparalleled.
SanerNow Vulnerability Management comes with automated and continuous scanning, intact assessment and prioritization, and integrated remediation. Take a look at what you can achieve with SanerNow:
Scan vulnerabilities in less than 5 minutes
Automate end-to-end vulnerability management
Eliminate risks with 360-degree visibility with a vantage point over all the assets in your organizations
Remediate vulnerabilities based on their severity level with integrated
Generate truly comprehensive reports and be audit-ready
Abide by top industry security benchmarks like HIPAA, PCI, NIST & ISO
Manage and fix misconfigurations
To see SanerNow in action, schedule a demo today!