In the passage of time, managing IT infrastructure and addressing the complications that arise due to vulnerabilities has never been this important. In the last five years, Security Administrators have witnessed an increase in common vulnerabilities alongside exploitation. With a new number of vulnerabilities discovered each day and constant changes in the work environment after the pandemic, vulnerability management has become more challenging than ever. Security admins are keeping a close eye on the state-of-the-art vulnerability management module to drive solutions during everyday operations.
Hectic Vulnerability Management Routines and Poor Work-life Balance
To some, work-life balance is a hoax; to others, it's what keeps them going. But for a security admin, achieving a work-life balance has always been a challenge alongside managing vulnerabilities. When you're the security admin of your organization, you cannot afford to make mistakes. Single negligence can jeopardize the entire IT infrastructure and lead to a scenario where the security team will face burnout.
The remote/hybrid workforce has also become a burden as it adds more challenges to the plate of security admins. Initially, a remote/hybrid workforce offered temporary salvation for organizations to function and keep running. Over a year, the work from home working module did find its way to completely integrate into the working module. Even employers and employees are greatly benefited from this new working module. The new working module, however, has put the life of Security admins in peril. By the looks of it, Security Admins are battling and managing vulnerabilities Day-in and night-out. Still, they tend to pertain to the network.
How will SanerNow Vulnerability Management help you attain Savannah?
Security admins then have to push themselves and sit for long hours, neglecting their own needs and peace. Enlisting the appropriate ethos among the security admins is possible if a robust tool like SanerNow takes care of vulnerability management.
SecPod SanerNow offers a robust vulnerability management solution to detect, assess, prioritize, and remediate vulnerabilities from a single console. Leveraging the world's largest vulnerability database with 160,000+ security checks, the industry's fastest vulnerability scanning, and integrated patch remediation, SanerNow makes managing vulnerabilities a simple automated daily routine.
Fastest Automated Scan in the Market in less than 5 Minutes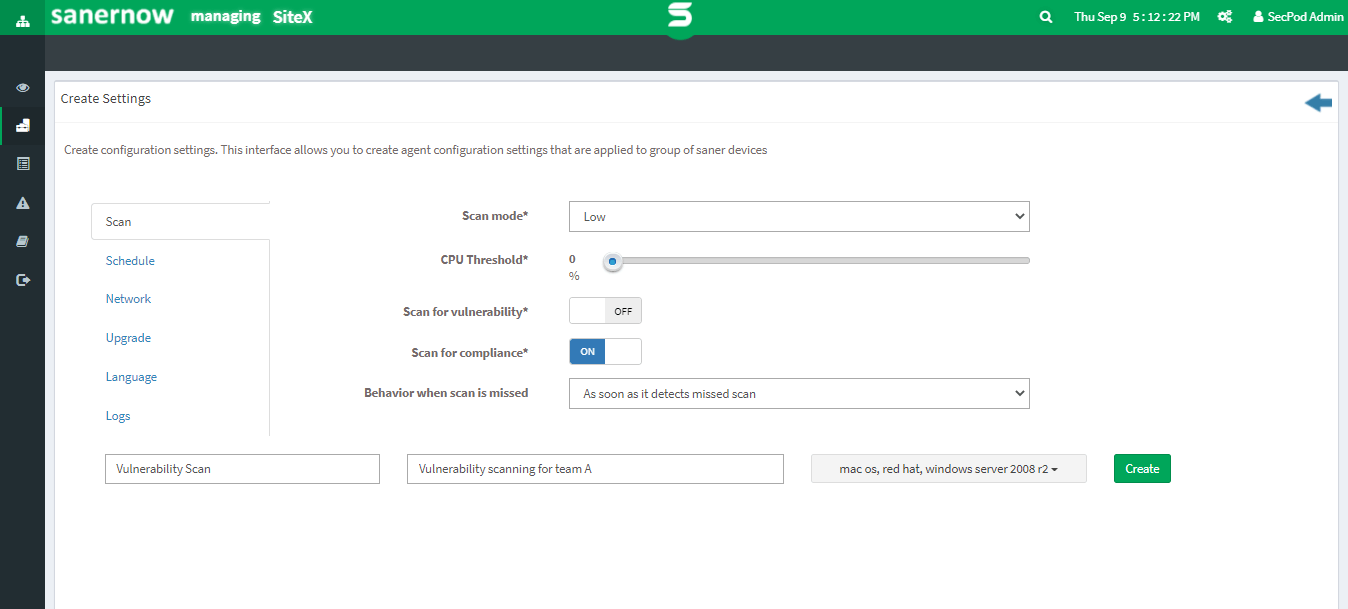 Conventional tools usually take hours to scan vulnerabilities. This prolonged scanning hour makes vulnerability management tedious and even makes security admins lethargic in scanning vulnerabilities. With Sanernow, you can find vulnerabilities lurking among 10,000 devices in less than or equal to 5 minutes. The industry's fastest scans make vulnerability discovery easy, paving the way for a seamless process.
Built on World's Largest Vulnerability Database with 160,000+ Checks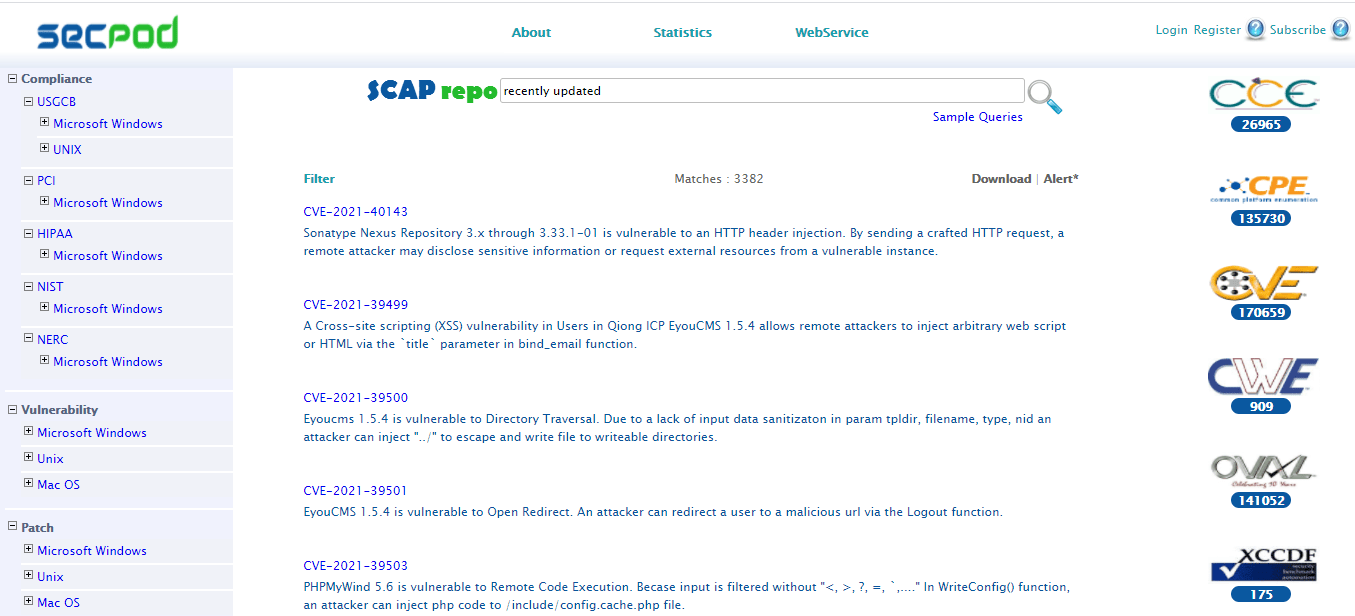 SanerNow CyberHygiene platform leverages the robust and massive Security Intelligence feed, hosting more than 160,000+ vulnerability checks. The vast vulnerability database ensures that the vulnerability detection is accurate with near to zero false positives.
Continuous & Automated Vulnerability Assessment
SanerNow comes with continuous risk assessment alongside threat identification and remediation, ensuring that devices are protected 24/7, 365 days. You can automate and schedule the entire process of managing vulnerabilities right from scanning to remediation across your network devices.
Integrated Patch Remediation
SanerNow offers an integrated patch management module to remediate vulnerabilities on time. SanerNow supports a wide array of OSs like Windows, Mac, and Linux making vulnerability remediation a walk in the park. Additionally, it also supports popular third-party applications from top vendors.
Cloud-based Unified Platform Perfect for addressing the growing Hybrid/Remote Workforce Module
The SaaS-based cloud platform makes it easier for security admins to manage globally distributed devices easily. You can easily keep a tight hold on the vulnerabilities lurking in your hybrid workforce from the centralized cloud-based console.
Light-weight Multi-functional Agent
The lightweight functionality makes it go easy on the processing of devices without having to affect productivity. The agent takes care of all the vulnerability management functions, from detection to remediation.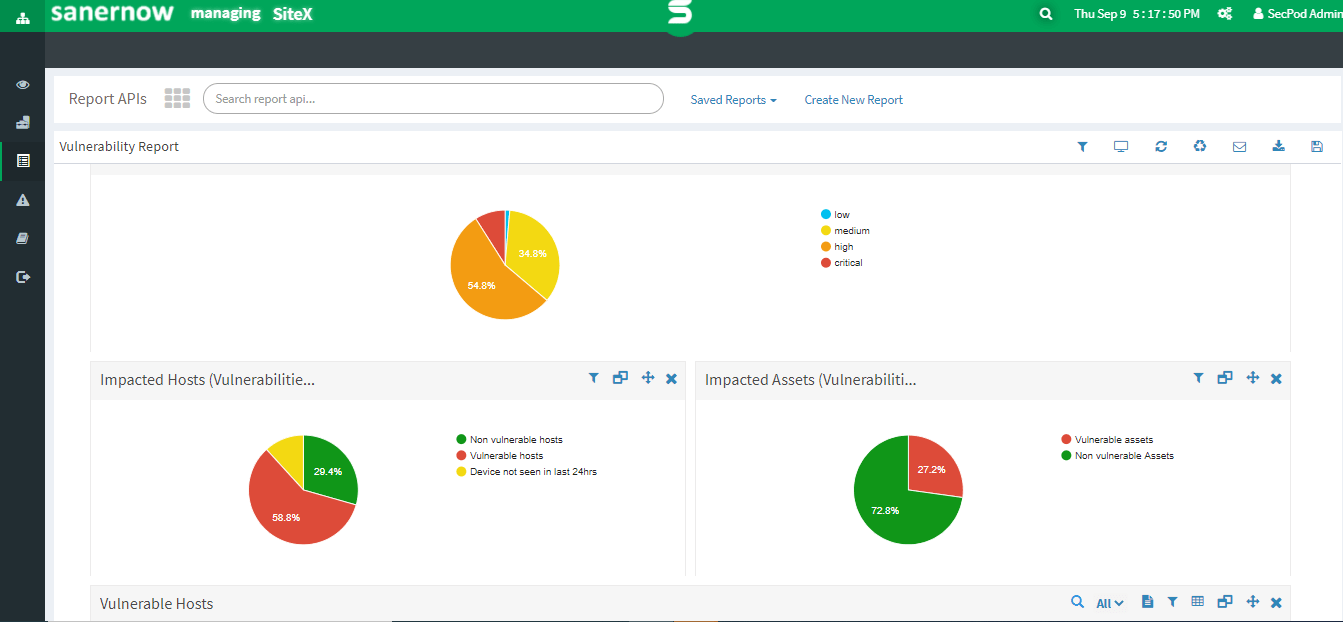 SanerNow provides insightful and customizable reports to assess the vulnerability management process. Furthermore, security admins can also opt for fully automated reports and schedule them to their mailbox.  This would allow them to reduce their efforts and the time spent in auditing and reporting. Further, eliminating the need for human input.
Make a Difference with SanerNow Vulnerability management
In the course of life where we struggle to achieve excellence at managing vulnerabilities, it is equally important to take care of the sanity of our lives. With SanerNow, you can automate the end-to-end vulnerability management process, and eliminate the daunting struggles. As security admins, prioritize your tasks and attain a proper work-life balance with SanerNow by your side.
If you haven't checked out SanerNow yet, schedule a demo here and take the first step of attaining savannah!