In the ever-evolving landscape of cyber security, cyber criminals are constantly trying to one-up IT security admins. As soon as a new threat arises, so must the fix to counter it. It is challenging for IT security admins to fix the IT environment with multiple OSs and applications. And it is impossible to keep track of these patches. As patching is tedious, and time-consuming in a diverse environment, IT security admins need a good remote patch management tool to stay clear from cyberattacks.
SanerNow is an ideal remote patch management solution for perimeter-less patching. You can deploy patches across globally distributed devices with minimal downtime and improved productivity.
Let us dive into the article to learn how SanerNow leverages a remote patch management program.
Using SanerNow Remote Patch Management Seamlessly!
Continuous patch scans to detect all the missing patches
Many IT security admins believe that periodic/irregular scans are enough to identify all the missing patches. The irregular scans keep you on the blind side and you will be unaware of missing patches. Ultimately, these missing patches create havoc in your organization.
SanerNow patch scans can be automated and scheduled daily. You are facilitated with different scan modes like a low and full throttle. Also, you can adjust the CPU threshold that will run the scan without any intervention in your work. You can also set the behaviour of the scan if it is missed.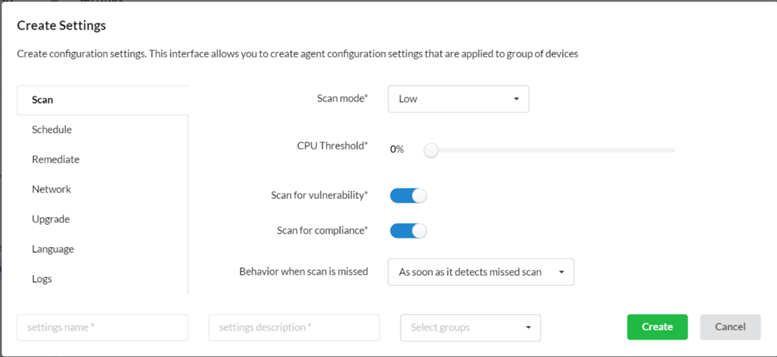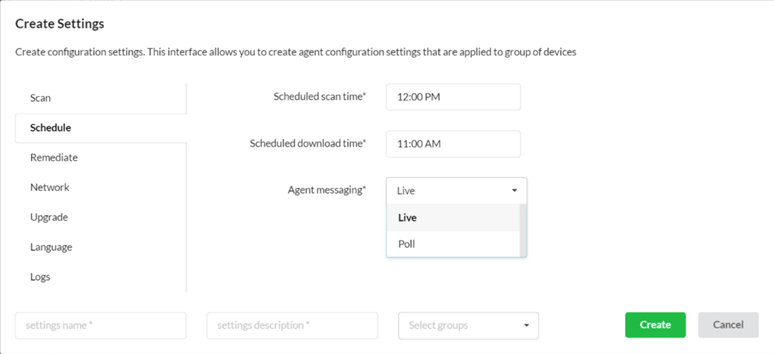 Detect and deploy missing patches instantly
When your patch scans are periodic, it is challenging to keep track of all the missing patches in your computing environment remotely.
SanerNow solves this problem. It provides a separate dashboard for missing patches with all the patch information. Also, keeps track of missing patches that involves deriving their severity, and operating system, and grouping them into security and non-security patches. In the same dashboard, you can select the desired patches to remediate or exclude.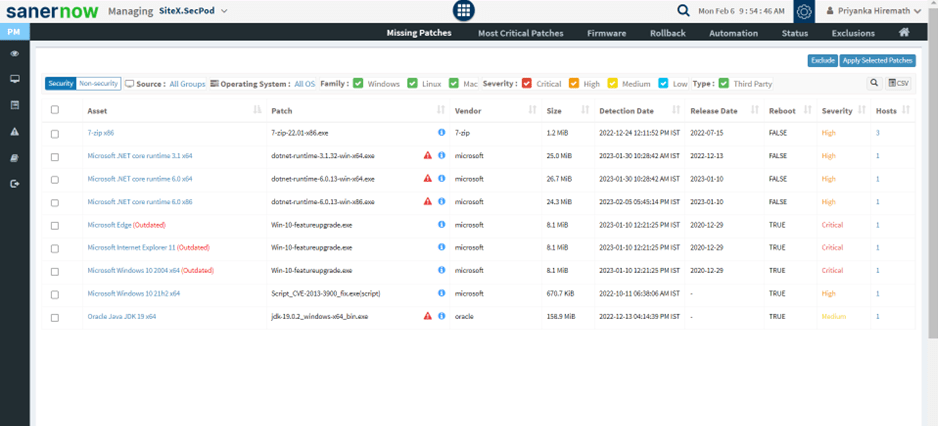 Prioritize patches to fix the most critical vulnerability first
Once all the missing patches are detected, there must be an instant fix. To instantly fix a huge pile of missing patches remotely, IT security admins are in a dilemma and do not know what to patch first.
SanerNow prioritizes the patches based on severity low, medium, critical, and high. Also, a separate dashboard for most critical patches is provided to prioritize patching for them. You can remediate them in the missing patches or most critical patches dashboard. SanerNow uses numerous methods to prioritize vulnerabilities including CVSS, exploitability level, and mapping of high-fidelity attacks.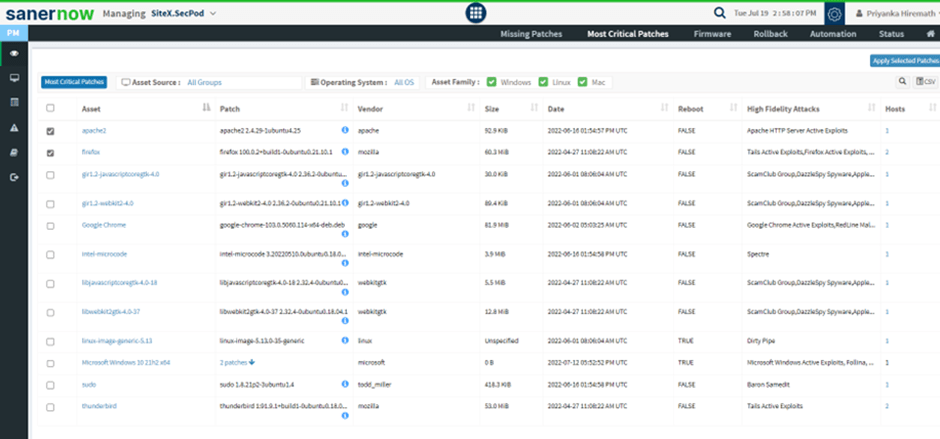 Test and deploy patches. In addition, rollback patches
In hurry to fix the missing patches, sometimes patches turn out to be incompatible and faulty. It is time-consuming to every time test and deploy patches remotely. Also, rolling back patches is hard to get the previous version of the device. In both cases, there is a potential probability of network disruption.
SanerNow allows both testing and deploying patches and rollback facilities to avoid network disruption in your IT environment. You can easily get into the previous version of any device if there are any faulty patches. It is impossible that you apply faulty patches with SanerNow, as it has a test and deploy option to test the incompatible patches.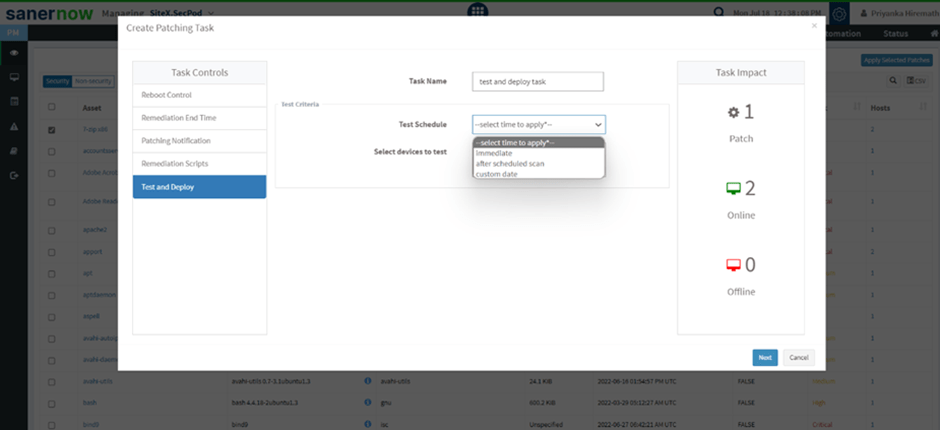 Improve features and functionality of devices remotely with firmware updates
Fetching software patches from the vendor site and fixing the vulnerability is one side. To improve device features and functionality there must be a firmware update at a specific time. It is as important as patching software patches.
SanerNow provides a separate dashboard for firmware updates, you can select the desired asset for firmware updates.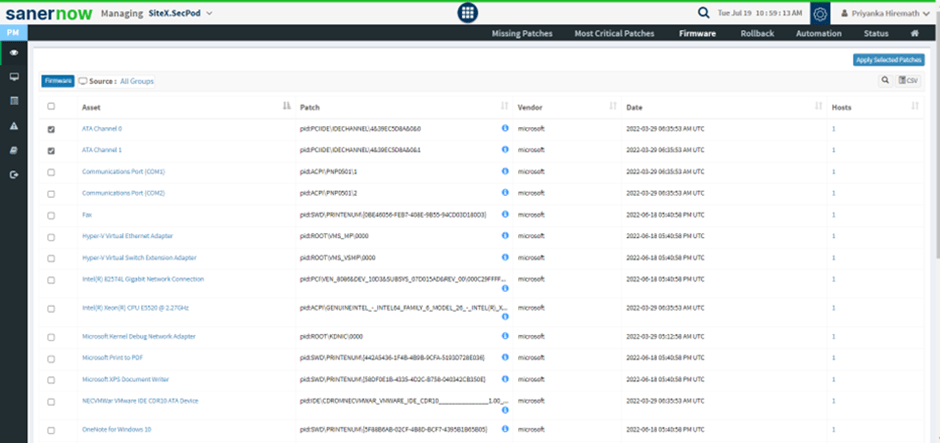 Automate the whole process of patch management
Manual patching is tedious and time-consuming. In the time you manually patch your devices, meanwhile, you get exploited. Automation is the key to minimizing time to efficiently patch your devices.
SanerNow allows patching automation, which helps IT security admins to rest back, and patching happens with zero touch.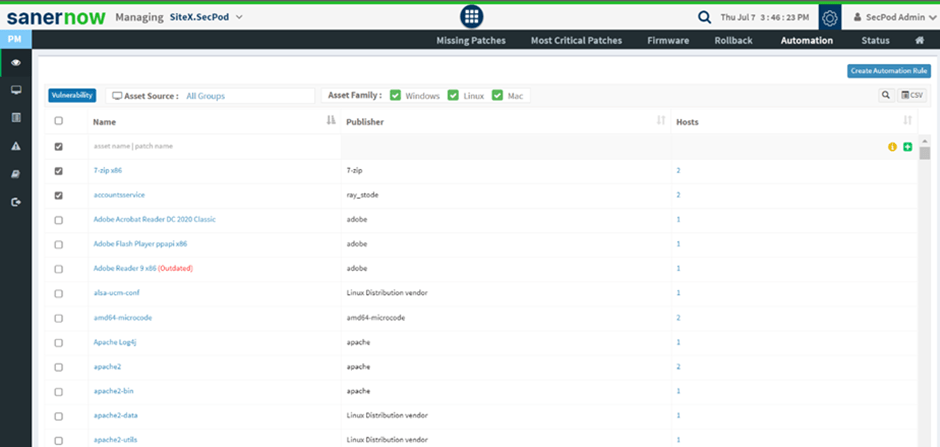 Validating the patching status for each patch
Once patches are applied, deriving the status of a patch remotely is a major issue for IT security admins. It is difficult for IT security admins to apply relevant patches and ensure that the patches are deployed. Also, IT security admins must monitor all the patches if they are successfully deployed, partially deployed, or failed.
SanerNowbrings confidence in IT security admins by ensuring the successful deployment of patches with simple patch scans. And, SanerNow provides 14 patching statuses to monitor patches. IT security admins could know if the patches deployed are,
Success
Partial success
Fail
Remediation not available
Not applicable
Schedule missed
Scheduled reboot missed
Removed from remediation task
Up to date
No action and more…
Build comprehensive patch compliance reports
During audit times, it is challenging to keep track of the number of devices that are patch compliant. This means, the number of devices that are successfully fixed against new cyber threats.
SanerNow provides patch compliance reports to easily analyze and smoothly go through audit meetings.
Generate patching reports with huge number of APIs
IT security admins lag in drawing clear insights from bulky reports. Ultimately, they miss the total summary and overview of the patching activity. As IT security admins do not get clear visibility over the threat, they cannot take preventive measures to patch the devices.
SanerNow provides a huge number of APIs to generate comprehensive patching reports. SanerNow provides canned reports and custom reports. Canned reports are in-built reports by SanerNow. Besides, you can also customize your report according to your requirements and download them in PDF format. These reports can be automated and scheduled. In addition, you can configure and receive these reports in your mailbox.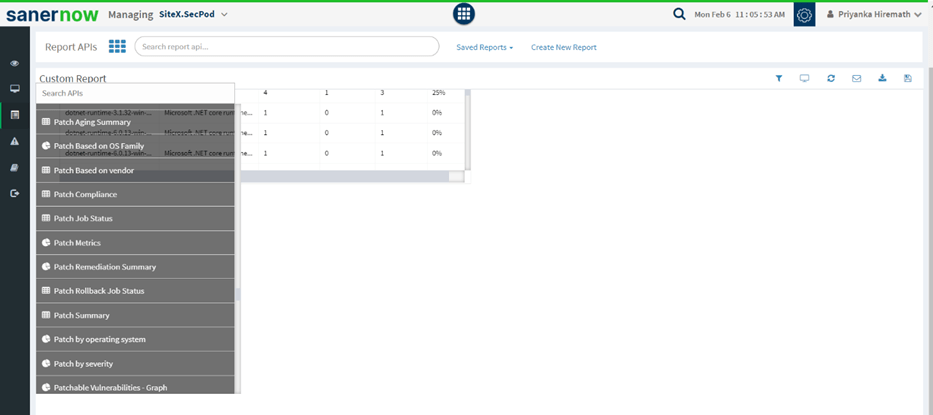 Final Thoughts
SanerNow leverages both on-premises and cloud-based patch management. It gives role-based access control for easy delegation and execution of patch management. Also, it unifies the view of your patching activity. And SanerNow can easily deploy patches from anywhere and anytime. Patch management across globally distributed devices avoids and keeps cyberattacks at bay. Click here to schedule the demo!
---