Being an IT security admin feels like you are the "Mr. Fix-It" of your organization. But we know that IT security admins are so much more than that. Vulnerabilities emerge daily, and spending your time and attention on this recurring task is not the best use of your time. You can better serve to put your expertise to solve more complex tasks.
That is why automated patch management process is essential for IT security admins ensure their devices are keeping up with latest patches. Automated patch management process can avoid tedious manual patching, save time, and keep your devices safe and secure.
In this article, you will learn how SanerNow Automated Patch Management Process can help to speed up your patching cycle.
Implement Automated Patch Management Process with SanerNow!
Manual patch management is a tedious and time-consuming task. With the SanerNow patch management, you can configure end-to-end patching tasks and deploy patches faster. In addition, SanerNow facilitates scheduling automated patching tasks according to your organization's requirement and make patch management a hands-free task. With SanerNow Patch Management:
Automate Patch Scans
With SanerNow Patch management, you can run patch scan on-demand, or you can also schedule them at a specific time. Patch scans can be run on low mode that use less CPU resources or you have the option to run robust scan with full throttle mode. In addition, you can manually set the CPU threshold.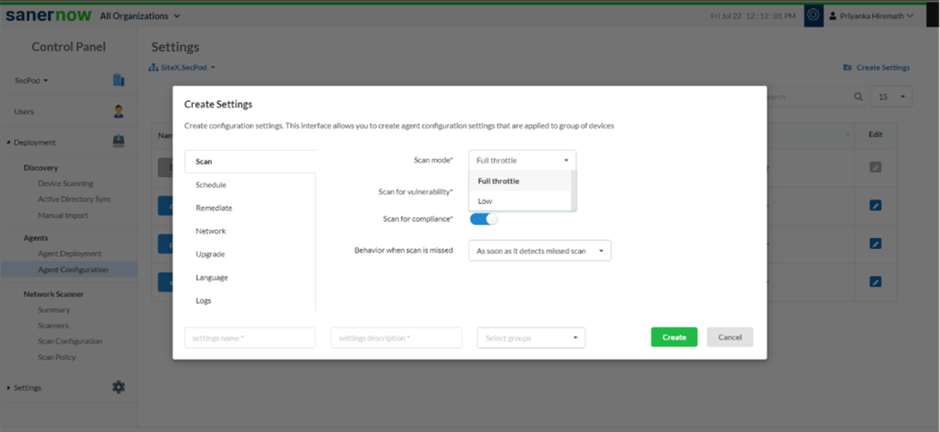 To schedule patch scans, assign "Schedule Scan Time", Download time, and agent messaging: Live or Poll. Select the devices on which the scans must run on scheduling time. After you schedule the patch scan, the Saner agent scans all the selected devices on given specific time.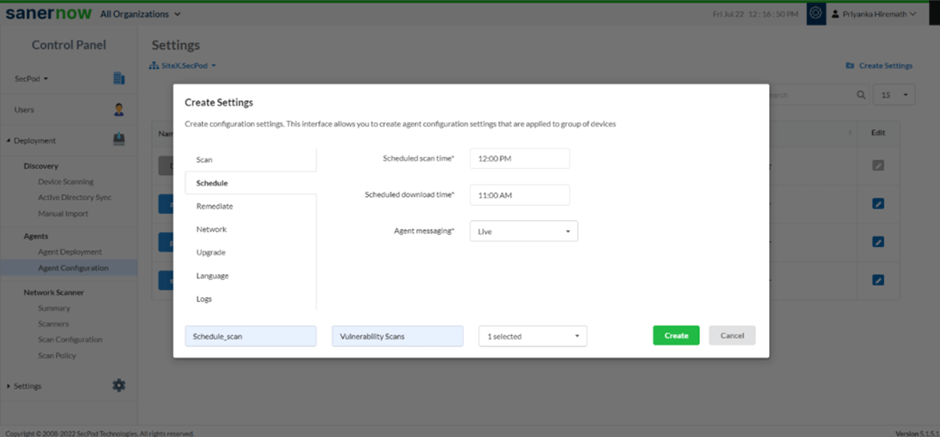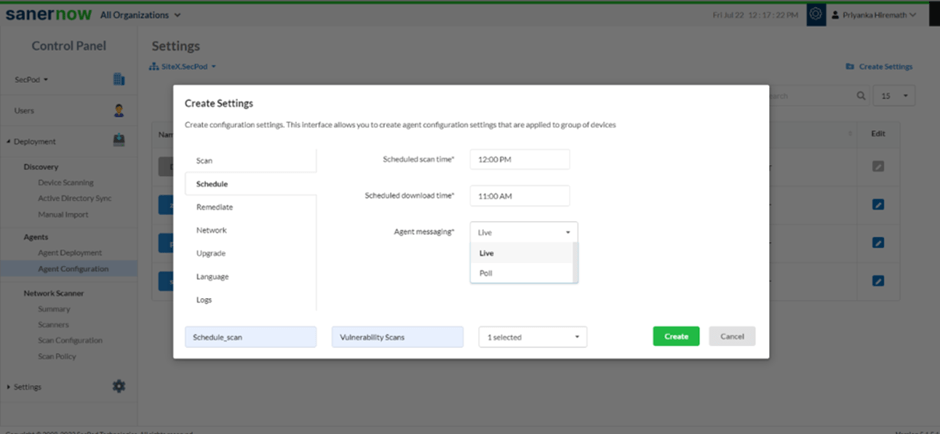 Create an Automation Rule
SanerNow Patch Management offers automation rules to remediate vulnerabilities soon after detection. You can automate the entire patch management cycle from scanning to deployment with the automation rules.
To start with scheduling a patching task, you must select the patch severity: Critical, High, Medium, or Low. SanerNow patch management provides two types of patch installation:
Only security patches
Both security and non-security patches
Also, it facilitates to include assets with same automation rule for patching.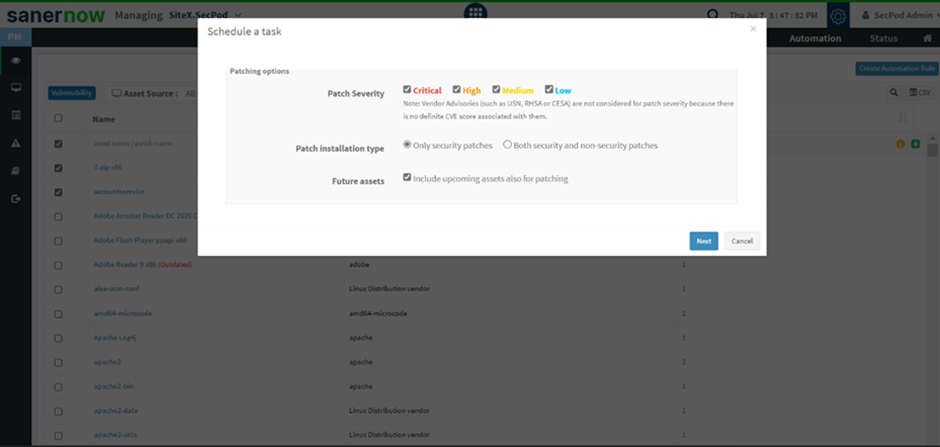 You have schedule options like how often you must automate your patching activity:
After scheduled scan
Daily
Weekly
Monthly
Also, you can schedule the reboot after patching: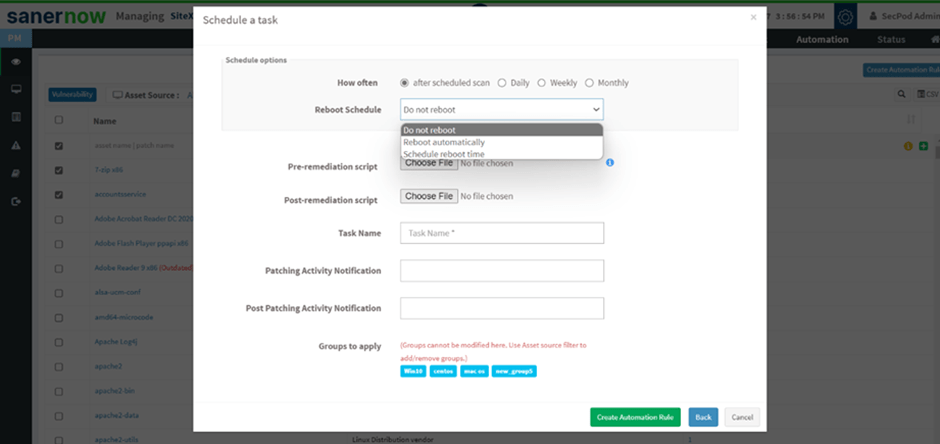 Reboot automatically: Here, you can give a reboot pop-up message before rebooting starts.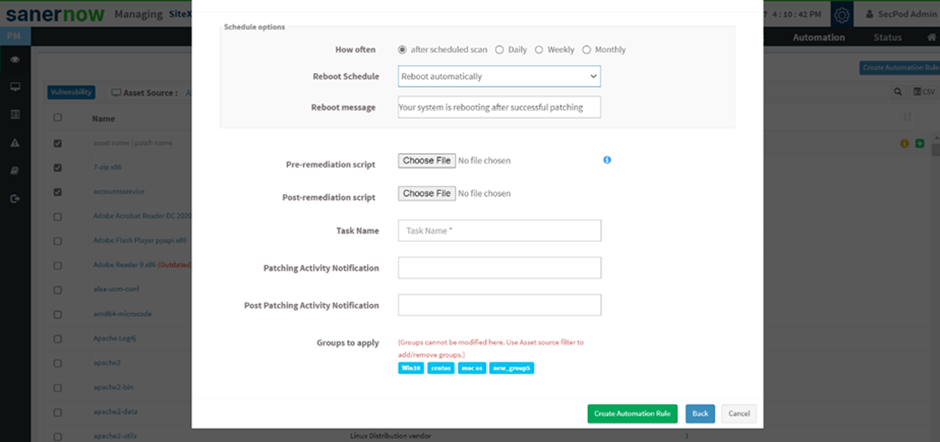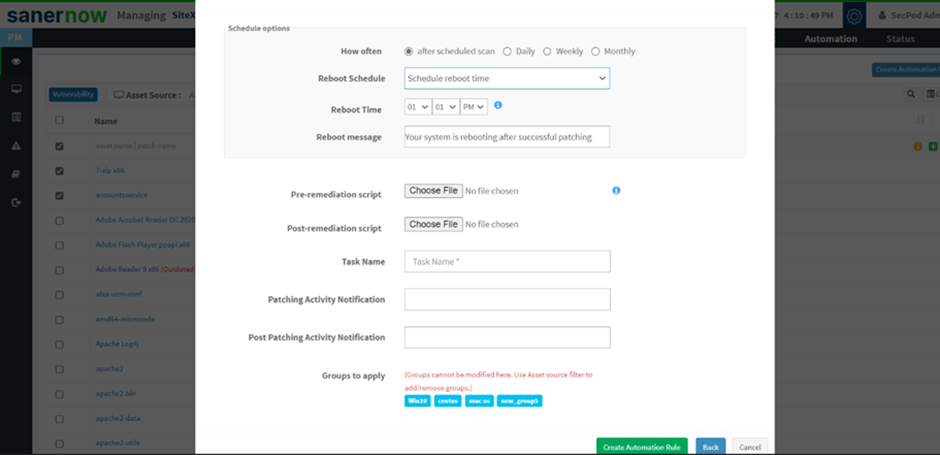 SanerNow Patch Management allows you to run Pre-remediation and Post-remediation Scripts before and after patching activity. Supported file formats in the script are:
Windows: inf, reg, ps1, bat, exe, msi, msp
Linux: sh, deb, rpm
macOS: sh, pkg, dmg (pkg, app)
With automated patch management process, you can write a customized message to notify patching activity in the Patching Activity Notification field. Once you select the asset group, the automation rule will be applied to it.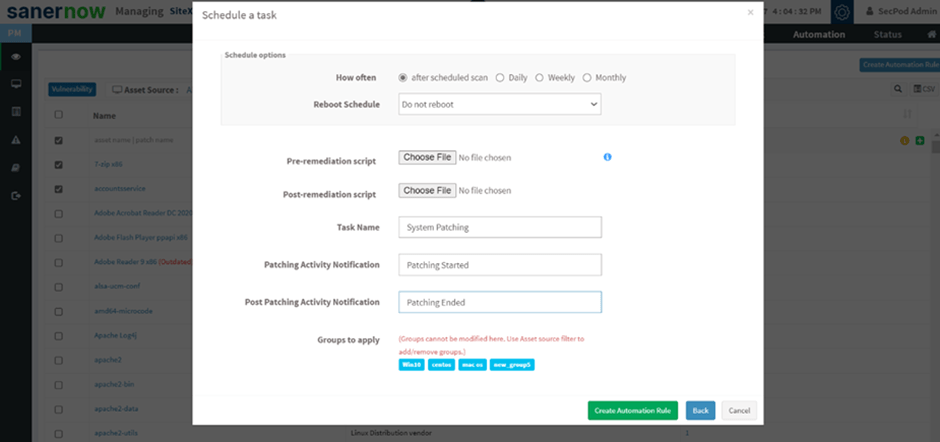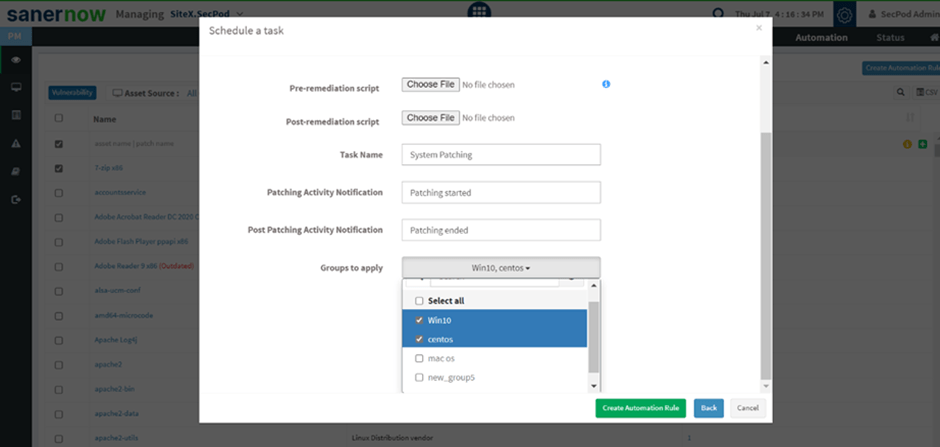 Final Thoughts
Implementing a vigilant patch management process takes time. But patch management process can be automated to improve the patching accuracy, reduce human error, and IT security admins can make best use of their time.
Try out SanerNow Automated Patch Management to avoid tedious manual patching process.
Schedule a Demo Now!