When it comes to security attacks, studies show that 70% of the security breaches originate at endpoints. The need to maintain good cyber hygiene has gone up in recent times and will only keep increasing. With the global Pandemic and changing working norms, the role of CISOs has become more prevalent in Endpoint Security than before. Deploying the right tools in place and monitoring the security risks possessed by endpoints is much more crucial than before for CISOs.
A lot of CISOs struggle between competing priorities and agendas, especially in larger organizations. Implementing more innovative strategies will make a huge difference in securing endpoints and reduce the hassles in management. We have put together some of the best CISO strategies to implement so that they can orchestrate useful endpoint security in their network.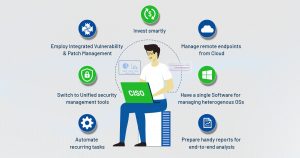 Challenges that the Pandemic brought to endpoint security
With the Pandemic came unprecedented challenges for IT professionals. The amalgamation between the old and the prevailing challenges added more complications when it comes to protecting endpoints. In the last year, IT teams also encountered new challenges like mobility due to social distancing, decline in allocated funds, remote/hybrid connectivity, building resilient digital infrastructure, and keeping all endpoints secure irrespective of their geographical location.
In 2021, we witnessed several cyberattacks on different business verticals. New Cyber Security Strategies for CISO should be implemented to address the sophisticated cyberattacks that are growing in number. From what we have conjectured, two assumptions are concrete, the Pandemic will linger, and it will evolve into an epidemic. The second hypothesis is that the hybrid workforce, which numerous organizations are currently practicing, will become permanent. This virtual workplace module will help in expanding businesses, and repercussions will be:
Increase in workload for CISO

Difficulty in assessing and estimating the damage done to endpoints
As we take you on the journey to ponder the importance of new cyber security strategies for CISO, we hope the much-needed insight will help curate better CISO strategies in 2021.
Vulnerability and Patch management are the two faces of the same coin. They must work together to reduce the attack surface. Security breaches usually occur with unapplied patches in endpoints. Thus, it is crucial for IT teams to remediate the detected vulnerabilities without any delay. To serve this purpose, you can opt for an integrated vulnerability and patch management tool
which is nothing less than
a boon to you in rapidly reducing the attack surface.
The new norm, post-COVID, is making each day in the business world more challenging. These days, organizations are focused on developing cloud-collaboration strategies to get the most out of their
work-from-anywhere
teams. Thus, moving forward, a cloud-based, remote workforce will be the foundation of how the organizations operate, compete, and succeed. It is smart to shift to a cloud-based solution instead of sticking to an on-premise control.
An enterprise will have endpoints with different OSs used for various functions. Using different tools for managing each OS endpoint will not be effective in the longer run. Hence, you must choose an endpoint security and management program that supports operations on all OSs from a single console.
CISOs always are under a tight budget. But having a dependable and sustainable security program is crucial. A tool with multiple functions and a single platform approach with embedded cloud control will help you stick around to the budget. This will also assist you in securing and managing endpoints coherently. Refer to our e-book on "Things to consider before planning your 2021's endpoint security budget" to wisely plan your investments.
For CISOs, a thorough analysis is crucial to plan a smarter security strategy. It is always advantageous for any enterprise to have an endpoint security and management program that provides you with insightful and ready-to-use reports. These handy reports will make analysis easy for you and enable you to accomplish your IT security goals.
The need of hiring talents that aligns with Cyber Security Strategies for CISO
Moreover, the new
CISO strategies
can be as powerful as a talented IT team backing them up. While building a pipeline to get new people on board, choosing the talents that align with your endpoint security goals can benefit the organization and make things seamless for everyone in different locations due to the hybrid work model.
While building an IT team that aligns with Cyber Security Strategies for CISO, the focus should be to train these fantastic IT professionals to enhance their efficiency as IT professionals. Furthermore, this will drive better identification of vulnerabilities and remediating them seamlessly.
Take a quick product tour and see how SanerNow has got everything in store for you.
PS: Want to try SanerNow yourself? Start Trial Here