10 Cyber Hygiene Challenges You Can Solve With SecPod SanerNow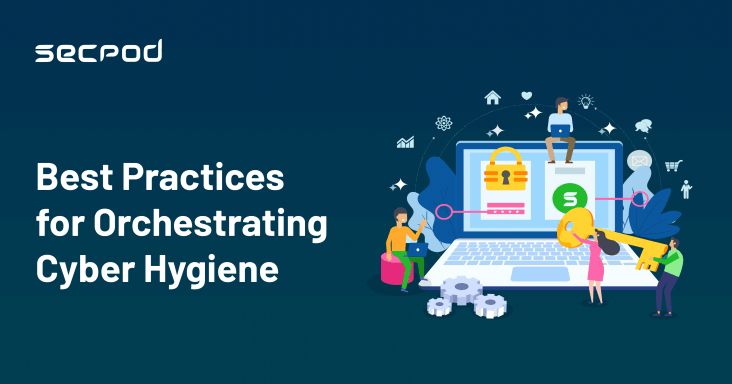 Practising healthy cyber hygiene measures are often considered a difficult task in many organizations. IT administrators try their best to implement good security practices in the network, however, it consumes a lot of effort and time. Also, these cyber hygiene measures are not just a one-time task and are needed to be performed continuously to prevent security breaches. SecPod SanerNow offers a plethora of features to help organizations make cyber hygiene a simple daily routine. Some of the major cyber hygiene challenges which can be solved using SecPod SanerNow include –
1. Scanning IT Assets continuously:
As organizations expand globally, the number of hardware and software assets used in the network increases exponentially. It is crucial for IT Teams to regularly scan and fetch the details of the hardware and software available in the network. SecPod SanerNow simplifies this by performing continuous asset scans in the network and fetching the complete details of the hardware and software inventory. This asset scan can also be scheduled according to the organizations' requirement.
2. Tracking software usage metrics, blacklisting malicious assets and regulating license violations:
Employees in organizations might use various software and it is necessary to keep a close eye on their software usage. This will help organizations detect the software which is highly used and also those that pose a threat to IT security and employee productivity. SecPod SanerNow helps organizations with software usage metrics and allows them to blacklist malicious software to prevent further usage. You can also manage the asset licenses and regulate any license violations using SecPod SanerNow.
3. Analysing system health status, user log-in details, services and processes running in the system:
In a day, multiple actions take place in the system. It is important to monitor all the services and processes running in the system to prevent malicious activities. Also, evaluating the system health on a regular basis is considered a crucial task. All of this can be easily performed using SecPod SanerNow. This centralized platform tracks the granular details of any number of endpoints without any hassles.
4. Checking updated antivirus availability:
Antivirus software is needed to be installed on all the systems in the network to secure them from threats. Also, they need to be updated on time to prevent potential security breaches. Using SecPod SanerNow, you can run a complete scan in the network and check the availability of the antivirus software. You can also perform a timely update of the antivirus software using the patch management feature.
5. Scanning and assessment of vulnerabilities:
This is one of the crucial cyber hygiene processes which is needed to be followed by the organizations. It is not a simple task to perform regular vulnerability scanning, and assessment of these vulnerabilities makes the job even more complex. SecPod SanerNow enables organizations to perform regular vulnerability scans in no time and, assesses and prioritizes the vulnerabilities based on their severity range. This helps organizations plan further remediation measures and simplifies this using an integrated patching technique.
6. Patching OSs, software and critical vulnerabilities:
Regularly identifying the missing patches and deploying patches on different software across multiple OSs is not an easy task. Studies say that many cyberattacks could have been prevented if patching was done on time. With SecPod SanerNow, you can automate patching across multiple systems irrespective of their OS from a centralized platform. The end-to-end patching tasks from scanning to deployment can be completely automated and scheduled in no time.
7. Blocking malicious applications and devices:
Organizations sensitive information are required to be protected securely. The entry of any malicious application, USB or other peripheral devices pose a severe threat to IT security. SecPod SanerNow detects the entry of such malicious applications and devices and helps organizations block them instantly.
8. Enforcing compliance and security standards:
Organizations should ensure that their endpoints abide by various compliance benchmarks and security standards. This will help them secure their IT network from possible threats and attacks. SecPod SanerNow identifies the systems which don't abide by these standards and enforces compliance benchmarks without any delay. SecPod SanerNow supports all major security and regulatory standards like HIPAA, PCI, ISO, NIST 800-53 and NIST 800-171.
9. Imposing strict password policies:
Weak system passwords are a welcome sign for attackers to invade the IT network. It is required to set strict password policies in the network to prevent various breaches. With SecPod SanerNow, you can impose strict password policies like including capital letters, numbers and special characters and determine the length of the password to be set across the systems.
10. Detecting and responding to security threats:
A few systems in the enterprise will have a deviation in important settings, which are nothing but indications of a malicious attack. Similarly, some enterprises might have systems which are already exposed to cyberattacks. It is crucial to identify these indications of attack and compromise and act upon them immediately. SecPod SanerNow assists the organization to identify these crucial indications and offers a variety of system settings and configurations to respond to them immediately.
SecPod SanerNow is the one-stop solution which will help organizations to both orchestrate and automate cyber hygiene measures. Download SecPod SanerNow, deploy the Saner agents on your enterprise computers and readily stay ahead of cyberattacks.

Dixitha. S
Product Marketing Lead