The Pandemic took the world in its clutches back in 2020 and brought several unprecedented changes that changed the world as we know it. One of the significant changes that the Pandemic brought was transitioning from traditional working culture to the hybrid one. Even in times of crisis, organizations were forced to adapt to a new culture such as 'Work from Home' and then the 'Hybrid Model' norms. Now that everyone is reaping the benefits of the new normal working model, it is reasonably evident that the change in working standards is here to stay.
Even if several organizations have begun working from the comfort of their offices to maximize productivity, others are acing productivity with the remote working model. Adapting to a hybrid model is already a challenge, but the adaptation gave IT admins more challenges. The basic yet crucial challenge for IT admins is managing endpoints in office premises and spread across different geographical locations.
Endpoint management is a crucial process that already comprises several challenges, and the change in the IT landscape for organizations has brought in several other challenges for the IT admins.
A shift in IT Landscape and Endpoint Management Challenges:
Transitioning from Conventional to Hybrid Workforce
Managing endpoints every day has always been a challenge for IT admins. Even if the endpoints are present in the closest vicinity, like office premises, managing them is tough. Today, as employees are spread throughout different geographical locations and even different time zones, the challenge has become insurmountable. Holding on to the endpoints and managing them on an everyday basis has never been this tough.
For the same reason, IT teams prioritize managing endpoints at first to embrace today's changing IT landscape and make things seamless for an organization. The adoption of a hybrid workforce played a crucial role in addressing the need for robust endpoint management.
Organizations are brimming with a dedicated team of IT admin/managers to bring in state-of-the-art infrastructure to manage endpoints remotely. IT admins have understood so far that it is curating a hybrid approach to protect endpoints, monitoring them remotely, managing system health, troubleshooting system issues, deploying software, and a lot more.
Rise in the use of BYODs:
Post-2010 marked a significant adoption of BYODs. Since the Pandemic hit last year and almost a year and a half later due to WFH, BYODs have become a new trend. Furthermore, reports suggest that the BYOD market will continue to grow by over 15% by 2026 across different verticals.
BYODs are pretty beneficial to organizations and employees collectively. Organizations need productivity to drive ROI, which BYODs are capable of doing. But here, the challenge is BYOD exposes endpoints connected to a single network to bad actors.
As said earlier, with BYOD, the challenging aspect is managing endpoints in an organization. There are several instances where the employer encourages new joiners or people who already have a well-functioning endpoint to use their own devices. Hence, IT admins have become vital to catch up with the ever-changing needs to protect endpoints at all costs.
Though the challenge might seem a little overwhelming at first, there are always numerous solutions to a single problem, such is the case with managing endpoints.
How SanerNow keeps you sane in your Endpoint Management Routines?
SecPod SanerNow CyberHygiene platform offers a robust, progressive, and completely automated solution that aids in remotely managing enterprise endpoints from a single cloud console and a smart multifunctional light-weight agent.
With SanerNow Endpoint Management, you can remotely monitor and manage endpoints of all OSs like Windows, MAC, and Linux with out-of-the-box capabilities.
Continuous Monitoring of 100+ Endpoint metrics
With SanerNow, you can monitor 100+ endpoint metrics in real-time. You can always ensure endpoints are in the best of their health by monitoring them continuously.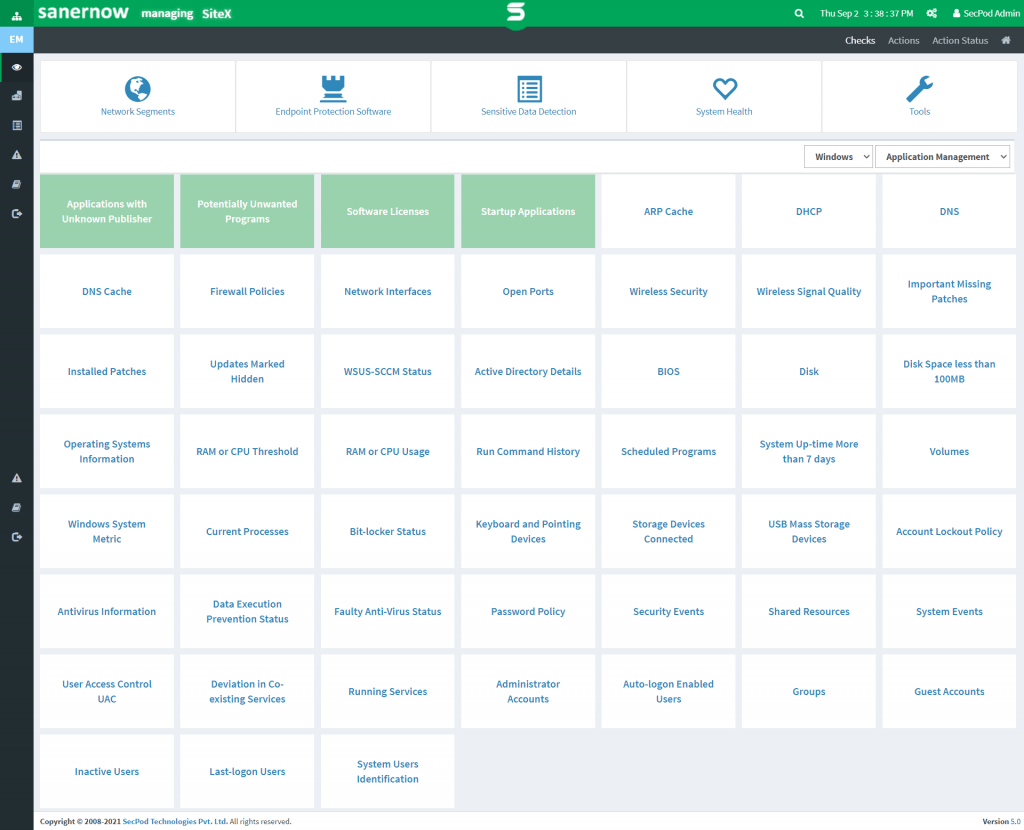 Bulk Software Deployment from pre-built Software Repository
SanerNow Endpoint Management provides an in-built software repository for the seamless deployment of applications across different endpoints. The collection of multiple software ensures zero downtime in bulk software deployment across several endpoints at once. SanerNow enables the IT admins to drag and drop any software they seem essential for endpoints to maximize productivity.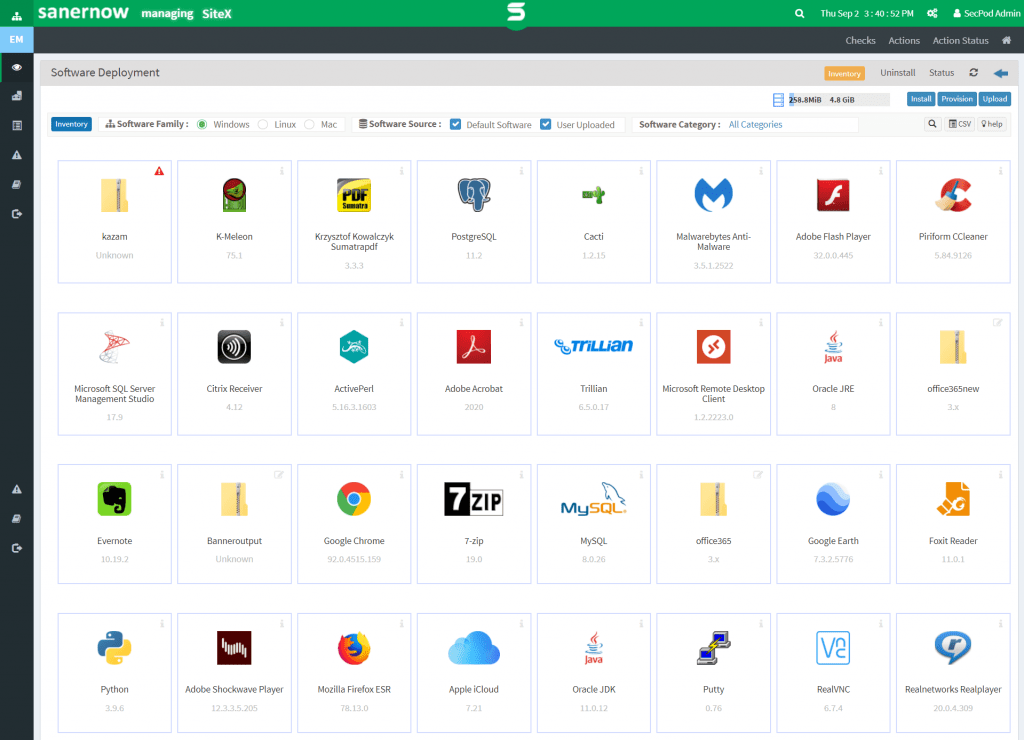 Implementing robust Application & Device Control
In the IT landscape, SanerNows empowers IT admins to combat the security challenges of rogue applications and devices. You can block malicious applications and devices and implement robust application and device control.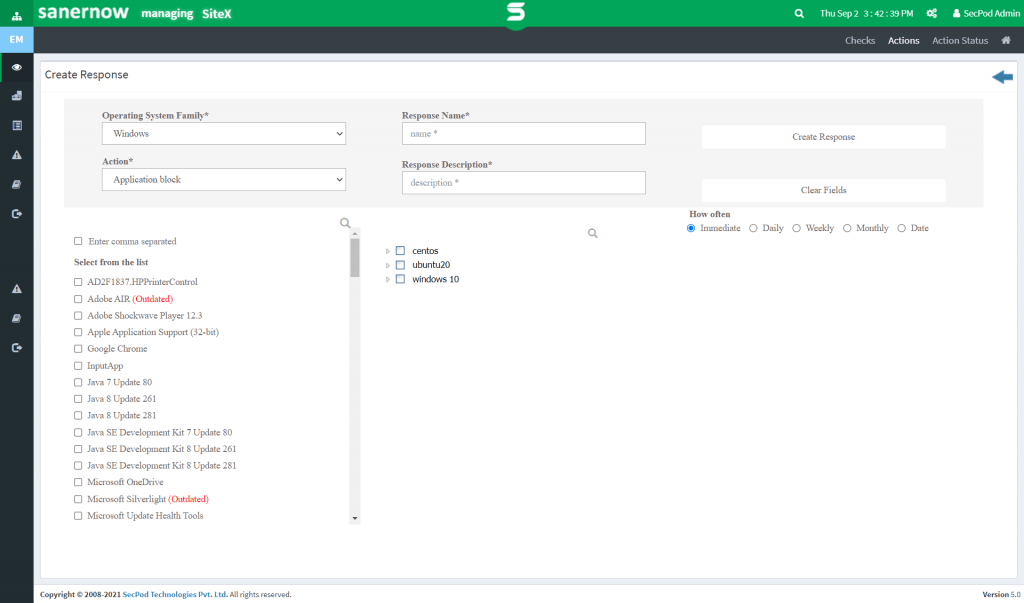 Remote System tune-up for Optimum Performance
You can remotely tune-up your enterprise endpoints and ensure their performance is efficient. With SanerNow, you can perform registry and system cleanup and troubleshoot system performance issues.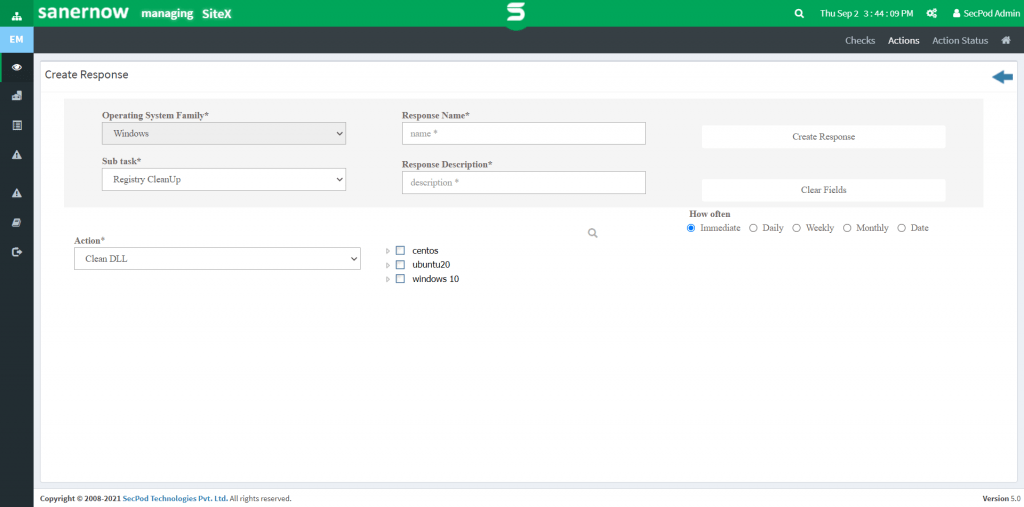 Apply strong Security Controls and strengthen Security Posture
You can tighten your endpoints' security by applying the range of security controls offered by SanerNow; You can manage firewall policy settings, quarantine devices, check antivirus updates, and more.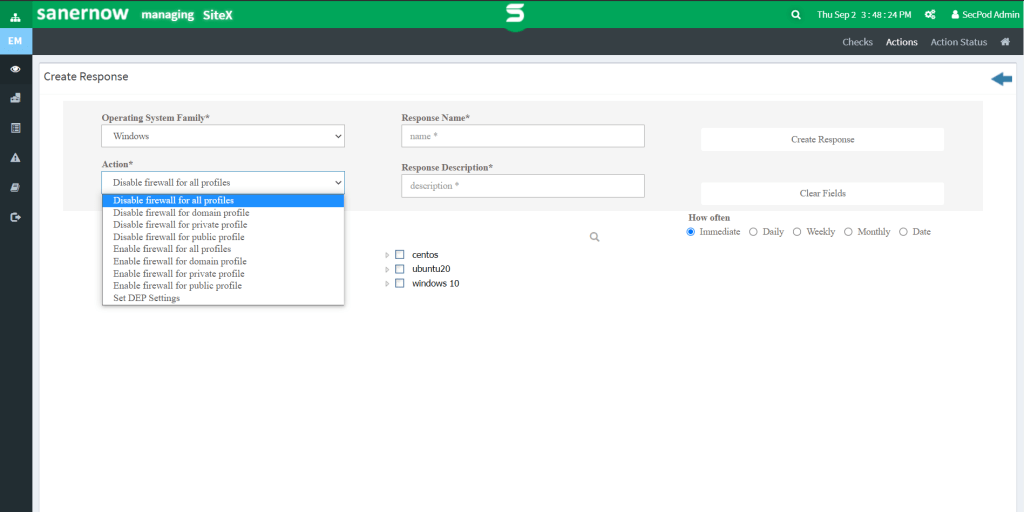 The changing IT landscape needs a modern solution that will embrace the evolving endpoint management challenges. SecPod SanerNow's robust endpoint management capabilities make it all seamless and keep endpoints under control.
If you haven't seen SanerNow endpoint management in action yet, schedule a demo now.