Data breach responders work to recognize the source of the breach, use knowledge and technique to prevent/ fix a breach. But the data breach analogy ends there. A data breach responder cannot assure that another breach will not happen, as the possibility of the occurrence of a breach exists. To ensure another breach doesn't happen, a vulnerability management solution is essential.
Data breaches do not describe victim firms, "but how they respond to the breaches does". Hence the field of incident response is the wrong side up. This is another reason why installing an EDR or endpoint detection and response tool becomes an essential facet of every company's cyber security defenses. A patch management tool can help in remediating these.

The term "EDR" which initially originated as "ETDR" was coined by Gartner wherein EDR is
"[A]n emerging security technology market created to satisfy the need for continuous detection and response to advanced threats – most notably to significantly improve security monitoring, threat detection and incident response capabilities.  These tools record many detailed endpoint and network events and store this information in a centralized database for deep detection, analysis, investigation reporting and alerting.  Analytic tools are used to continually search the database to identify the tasks that can improve the security state to deflect common attacks, to provide early identification of ongoing attacks (including insider threats), and to more rapidly respond to detected attacks.
Core delivered capabilities of EDR include collecting endpoint telemetry and data, centrally storing the information, and performing endpoint post-collection analysis of the data and telemetry information for threat enrichment, anomaly detection and correlation purposes. EDR (Endpoint Detection and Response) tools also provide an interactive dashboard with search capabilities, which can generate alerts and mitigation responses based on specific threat indicators, patterns, and behaviors."
(Source: Gartner)
The Purpose of EDR (Endpoint Detection and Response) Tools?
EDR tools play a role in
improving an organization's capability to detect and respond to threats; both insider and outsider
improve an organization's irregularity or momentum and flexibility to contain any prospective attack in the future
support an organization in overall to manage data threats more efficiently
Besides being able to gather and store important data such as system events, network activities and indicators of compromise (IoCs). Examine that data in real-time with wide-ranging forensic and analytic abilities,
EDR tools:
EDR tools act jointly with traditional signature-based antivirus solution, which is not enough to safeguard against data breaches anymore – Can add on traditional signature-based technologies for more extensive behavior-based irregular detection and more dynamic visibility across endpoints. APTs or Advanced Persistent Threat Attacks are refined, targeted and never-ending funded attacks, targets malware that evades traditional signature-based readymade antivirus products. An EDR tool seals this void by providing insights into an APT attack and internal lateral movements of attackers while simultaneously executing system/ application scans such as monitor and accommodate the use of stolen identifications across internal network.
Installing an EDR tool can help smoothen and calm the multiple constituencies affected by any data breach – If a cyber-attack happens on top of government instructed notifications, the need to organize other significant notifications will also arise. The incident response team installing an EDR tool after the occurrence of a data breach is a fruitful and recognized means of impressing the corporate constituencies.
EDR tools permit corporate IT departments to pay attention to managing their business operations. Business operations can be free from distractions of staying up-to-date with data breach trends and development – The best EDR developers have a thorough understanding of the latest malware exploits, they are threat research and development establishments who are completely dedicated to collecting the latest data breach intelligence.
EDR tools can work together with other security measures – EDR tools are gratis to many other security measures and solutions including DLP solutions. Security information and SIEM products etc. Adding an EDR tool to an IT security system does not discard the need for encryption, two-factor authentication, and other conventional security measures.
The Future of EDR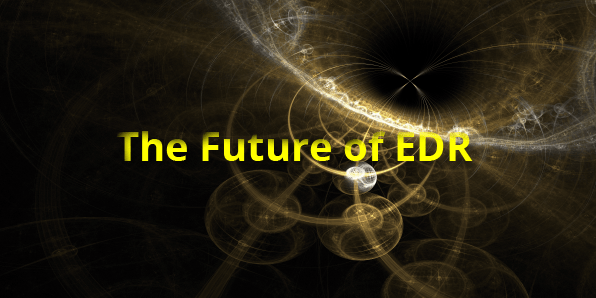 Incident response experts have observed the birth of a new marketplace of devoted incident response solutions. It is EDR tools over the years. Conventional data breach protection tools do not detect or quickly encounter sophisticated data breaches. EDR tools are here to pull on the loose end.
The inventive real-time intelligence feeding of EDR tools installed enclosed in an attack vector. Including database servers, user workstations and domain controllers, will become the standard for corporate cyber-security.
EDR tools or technologies offer an affluent depth of performance based anomaly detection and visibility. In data relevant for detecting and mitigating progressive threats of all variations. EDR solutions can improve enterprise visibility and become a handy tool for combating insider threats. Running internal investigations and refining regulatory responses. If the immediate collective threat information is provided and the dwell time of targeted attacks is lessened.
By giving proactive continuous monitoring and recording of all activity on endpoints and servers. EDR tools decreases the need for after the fact data collections. EDR tools can also reduce the cost, complication and time of standard internal investigations. It also reduces regulatory response while speeding the identification of the root causes. Attack vectors of data breaches simultaneously with root causes of other types of unlawful behavior.
The competition remains powerful among existing and future innovators in the EDR marketplace.
SecPod Saner is a powerful contender in the space.
– Rini Thomas