With siloed solutions and multiple dashboards, the task of end-to-end vulnerability management has become complex, cumbersome, and costly! And SanerNow Unified Dashboard is the answer.
The task of end-to-end vulnerability management with multiple tools becomes complex, cumbersome, and costly. A single unified dashboard that provides a holistic overview of the network and acts as the central point through which the different steps of vulnerability management are performed. So, this is the missing piece of the end-to-end vulnerability management puzzle. To simplify this process a good vulnerability management software can come in handy.
Benefits of Unified Dashboard
Centralized Visibility: A unified dashboard provides a centralized view of an organization's cybersecurity landscape. Additionally, the company's security teams gain real-time visibility into the overall security posture with data from various devices. This centralized visibility helps promptly identify potential threats, vulnerabilities, posture anomalies, and compliance deviations.
Streamlined Operations: Managing multiple security tools is complex, time-consuming, and cost-ineffective. A unified dashboard simplifies operations by bringing together different security functionalities and features into a single interface.
Holistic Risk Assessment: Unified dashboard enables a comprehensive analysis of the organization's risk landscape, identifying potential gaps, vulnerabilities, and areas of improvement. Further, it helps in prioritizing security measures and resource allocation based on a unified view of risks.
Enhanced Decision-making: The comprehensive view provided by a unified dashboard enables better decision-making. Security leaders and executives can access meaningful and actionable insights about the organization's security posture, trends, and performance metrics. This data-driven decision-making helps in aligning security strategies with business objectives and identifying areas of improvement. 

SanerNow Vulnerability Management Software can provide a unified dashboard for this purpose.
SanerNow Unified Dashboard for End-to-End Vulnerability Management
With a precise view of your organization, the newly revamped SanerNow Unified Dashboard paints a comprehensive look into your organization's security posture. Further allowing you to visualize, detect, prioritize, and remediate security risks in a single console.
The new dashboard includes:
Visibility:
The visibility section of the dashboard is mainly split into two parts:

a. SanerNow Cyber Hygiene Score: The CHS score is SecPod's brand-new proprietary scoring framework that quantifies your organization's attack surface. Additionally, it helps you gauge the effectiveness of your cybersecurity measures.

b. Device Universe: This section provides visibility into the devices, applications, and users in your network, allowing you to visualize the what devices are in your network, what is installed on them and who is using the devices.
Detection:
This section gives you a binocular view of the different security risks in your network by giving you a count of software vulnerabilities, misconfigurations, posture anomalies, and missing security patches. Further, it also provides an overview of the severity and trends of the security risks and allows you to take remediation actions on the affected device instantly.

Prioritization:
Categorized based on different factors like high exploitation, severity, technical impact, etc., the prioritization section of the unified dashboard immediately visualizes the risk your network is in. This section lets you quickly decide which risks to remediate first, allowing you to minimize the attack surface and maximize the impact of your remediation actions.

Remediation:
The most critical risks in your network need immediate attention. A click of a button is enough to mitigate risks with SanerNow Unified Dashboard. So, with a unified dashboard remediate risks instantly!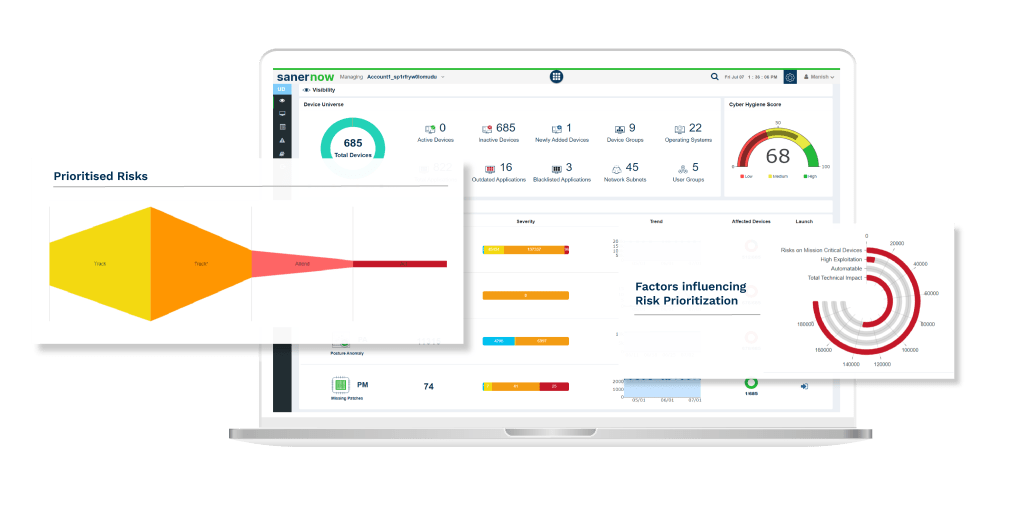 Conclusion
Multiple dashboards from siloed tools bring a long list of disadvantages, like complex dashboards, integration challenges, and increased costs. Additionally, the steep learning curve of handling multiple tools further makes the entire end-to-end vulnerability management process lengthy and difficult.
With the impactful benefits of centralized visibility and holistic risk assessment, SanerNow Unified Dashboard streamlines vulnerability management in its entirety. Additionally, it improves the speed and effectiveness of your decisions, overcoming the limitations of siloed interfaces and multiple tools.