As an initiative to celebrate International Women's day at SecPod, we brainstormed and gathered a lot of ideas. Starting from planning on dress codes, welcoming women with bouquets, asking men to host us a party to conducting themed photoshoots, everything seemed regular and usual to us. Looking at all the passionate women around who are working hard to deliver effective solutions for Cybersecurity, we decided to interview a few and get their experience on "being a woman in the field of Cybersecurity".
To begin with, we went to one of our most diligent Technical Lead, Ms Pooja Shetty, who has been associated with SecPod Security Intelligence Team for more than 10 years. We all adore Pooja for her fun-loving nature. Amidst critical coding tasks, we always see her carrying a positive vibe which has helped her drive an enthusiastic team and meet deadlines without any stress. She says she enjoys solving problems since her childhood days and this motivated her in choosing a career in coding.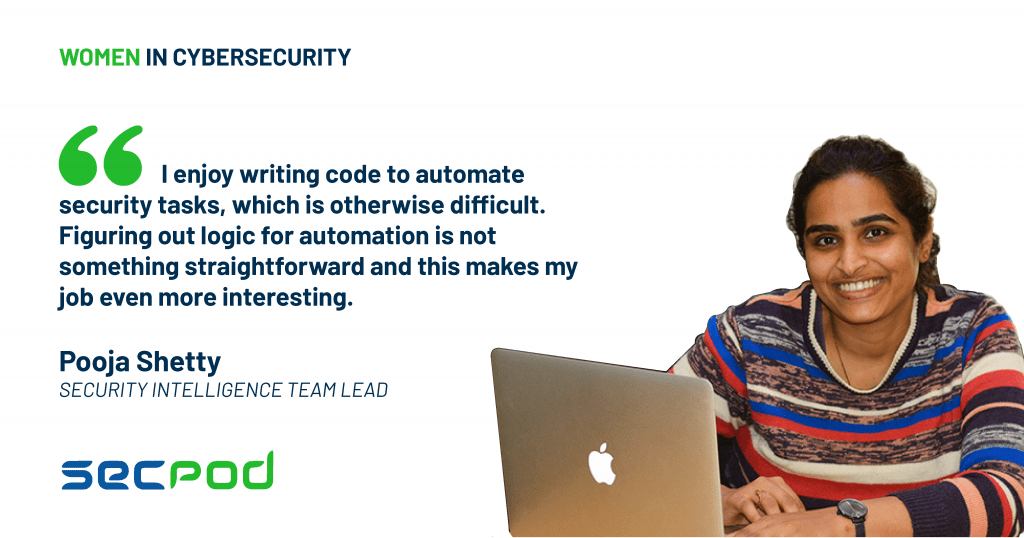 As far as endpoint management and security is concerned, automation is the key to making it a hassle-free process. Figuring out programming logic for automating tasks is not something straightforward, and Pooja feels that this makes her job even more interesting. On questioning how she balances raising her 4-year old son along with developing a security management product, Pooja says "Being a working mother, there were days I had difficulties managing both work and responsibilities at home. The support from my teammates and my commitment to work has helped me overcome these challenges". Pooja is truly an inspiring woman who stands as an example for all budding women developers at SecPod.
Moving from Pooja, we went to our friendly, soft-spoken, Senior QA Engineer, Ms Smitha Venugopal. Smitha is associated with SecPod for almost five years now, and she works assiduously to deliver cybersecurity products, ensuring high quality by thoroughly testing them in our network. It is crucial for products in cybersecurity to function well without flaws and Smitha helps us achieve it without any compromise.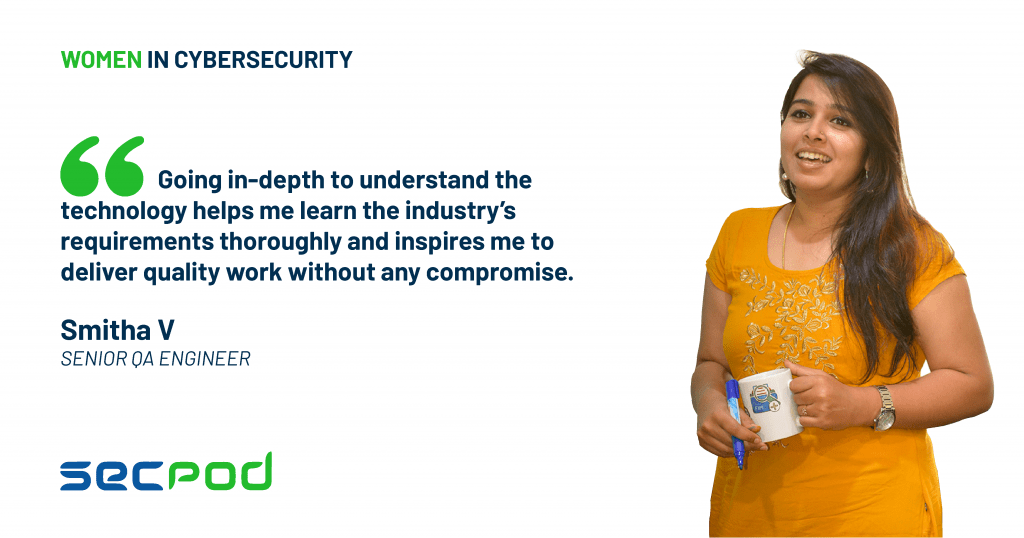 Smitha feels that while exploring the evolvement of technology in cybersecurity, she can explore her interests and strengths towards working in this field. All the new learnings in CyberSecurity fascinates her the most and inspires her to traverse a lot. Smitha says "Going in-depth into understanding the technology helps me understand the industry's requirements and makes us deliver products, suiting enterprise needs". We felt glad looking at the commitment she carries for her work and went looking for the next person.
We found that the next person we were looking out was working from home and we decided to interview her over a call. Ms Preeti Subramanian, our ever-charming Director and Chief Technical Architect is the one I am talking about. While talking to her over the call, we heard her 10-month-old baby mumbling and making cute noises. Preeti is the mastermind behind the development of our SanerNow platform and she has dedicatedly worked towards building a comprehensive solution to cater to the needs of endpoint management and security.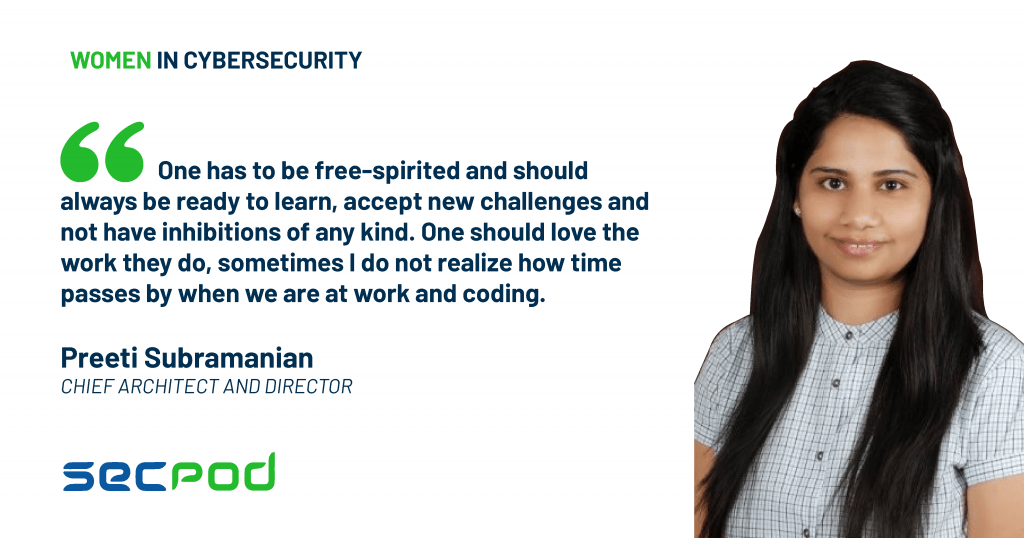 Preeti says that software programming serves her pursuit for providing solutions to complex security problems arising in the world. She believes that the organizations across the globe have a critical need to withstand the malware attacks and safeguard their intellectual properties. An efficient IT security management and Cyber hygiene should be a daily routine rather than a quarterly/monthly/yearly audit exercise. Security in real can be achieved only when one understands this fact. The exigency for creating simple yet alluring solutions for securing the IT environment is what drives Preeti in this field.
Preeti says "One has to be free-spirited and should always be ready to learn, accept new challenges and not have inhibitions of any kind. One should love the work they do, sometimes I do not realize how time passes by when we are at work and coding." We felt astonished to see successful women like her who maintain a good equilibrium between their career and personal life. Preeti will undoubtedly remain as a role model for many young women professionals in the world.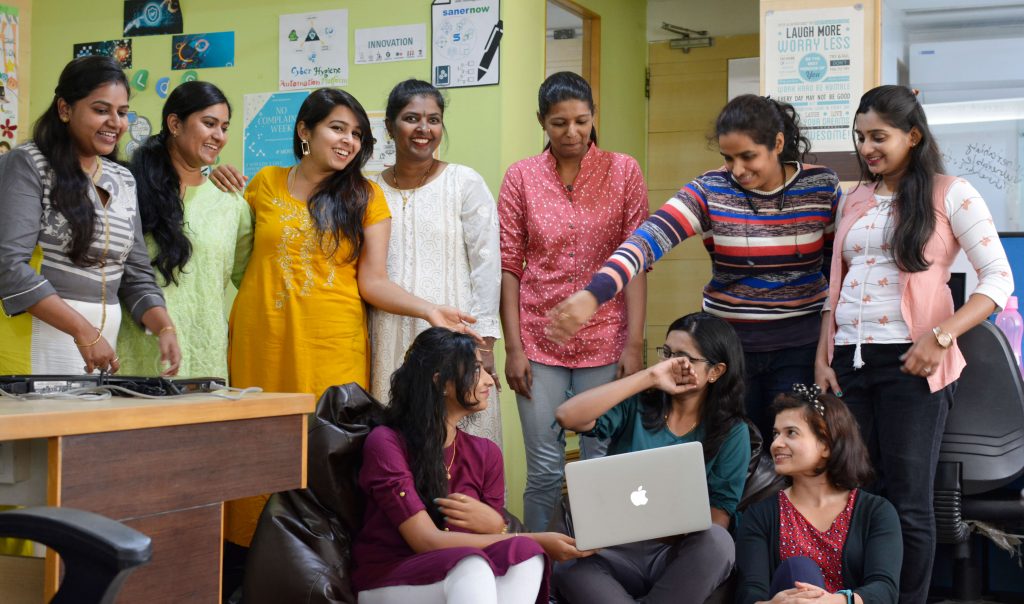 Having shared the thoughts of a few efficient women at SecPod who momentously work towards empowering cybersecurity, I couldn't miss thanking all the men working with us who created a wonderful co-working space encouraging us to do the best we can.
Wishing all the lovely women a very Happy Women's Day from SecPod Technologies!