According to a study by Ponemon Institute, 55% of enterprises say they spend more time manually navigating through the various processes involved in patch management than actually patching vulnerabilities.
On average, it takes 12 days for IT teams to coordinate applying a patch manually across all devices. 61% of businesses suffer due to manual processes for applying software patches. Nearly two-thirds of all companies say it is too difficult to determine the priority level of applications.
Security vulnerabilities appear in most applications and operating systems over time. It is the primary role of the software vendors to preserve the integrity of their products by providing regular patches. This offers the highest chance to defend against potential threats by addressing the vulnerabilities with the help of patching.
Patching is one of the fastest ways to address the vulnerabilities in IT assets. The method allows enterprises to fix the most common security vulnerabilities on all operating systems and third-party applications.
One of the significant reasons for overlooked vulnerabilities even after releasing necessary patches is the manual process. It is essential to eliminate the time available to exploit a vulnerability, and automated patch management will do that.
Several large organizations having an established patch testing process with built-in timings might fail to apply the available patches on time. Such organizations need automated patching which increases the effectiveness of a vulnerability management program.
Regular manual patching methods are tedious and cause a delay in patching, resulting in overlooked vulnerabilities. With the rising rate of vulnerabilities in modern IT networks, manual patching is no longer realistic for IT security teams. Automation in patching enables an IT security team to receive relevant patches from the application owners and automatically execute the software changes. It makes the most positive impact on the cyber security of the computing network using the right tools and technologies.
Adopting an Automated Patch Management Process
The significant step involved while adopting automated patching is understanding the number of vulnerabilities. It is also necessary to know the existing IT resources, technology stacks, etc.
The cost of patching tools and technologies should satisfy the needed internal VLANS, third-party applications could enable environments of enterprises. These findings are essential for determining the patch management software that addresses vulnerabilities. There is a definite need for automated patching for an enterprise with thousands of devices in a modern IT network.
Most of the vulnerability management software in the market support automated patching processes. They allow companies to fix vulnerabilities on software applications using relevant patches and remediate them immediately. System admins can ensure software applications are up-to-date and perform smoothly.
It is a poor strategy to manually install patches for the rising vulnerability rate. Instead, a strategic automated approach is necessary as it minimizes the IT resources needed to patch and remediate vulnerabilities. More importantly, it is both security-focused and cost-effective.
Reduce Lion's Share of Patching Work
IT security experts have several priority tasks to perform within a specified time. They spend enormous time on manual patching techniques or on-premises patch management solutions. It needs to be addressed as IT admins must work on other priorities besides patching. Automated patching helps reduce most of the work required to apply patches for a rising rate of vulnerabilities. Whenever the vulnerabilities increase in a network, the manual patching process becomes monotonous. Therefore, vulnerability management tools can do the job of retrieving, applying the patches, and reporting the status.
How does it Work
Automated patching involves multi-functional agents installed on all devices in the network. New devices are also added to the patching software with necessary compliances. Security teams do not need to configure or patch applications manually and go between servers and devices. Agents scan the devices in the network for missing patches and report the status. Considering the vulnerabilities for major operating systems like Windows, Linux, and Mac, agents directly communicate with their respective support servers, retrieve the patches, and remediate them. While dealing with other third-party applications, agents use patch repository servers to address the vulnerabilities.
How SanerNow Automated Patch Management Works
SanerNow patch management provides an end-to-end solution to all your patching needs. It is backed by the world's largest vulnerability database of more than 160,000 vulnerability checks. SanerNow platform has integrated patch vulnerability management, offering real-time continuous scanning for missing patches, missing configurations of operating systems and applications. It also provides information on the hardware upgrades. It scans for vulnerabilities and remediates them with relevant patches.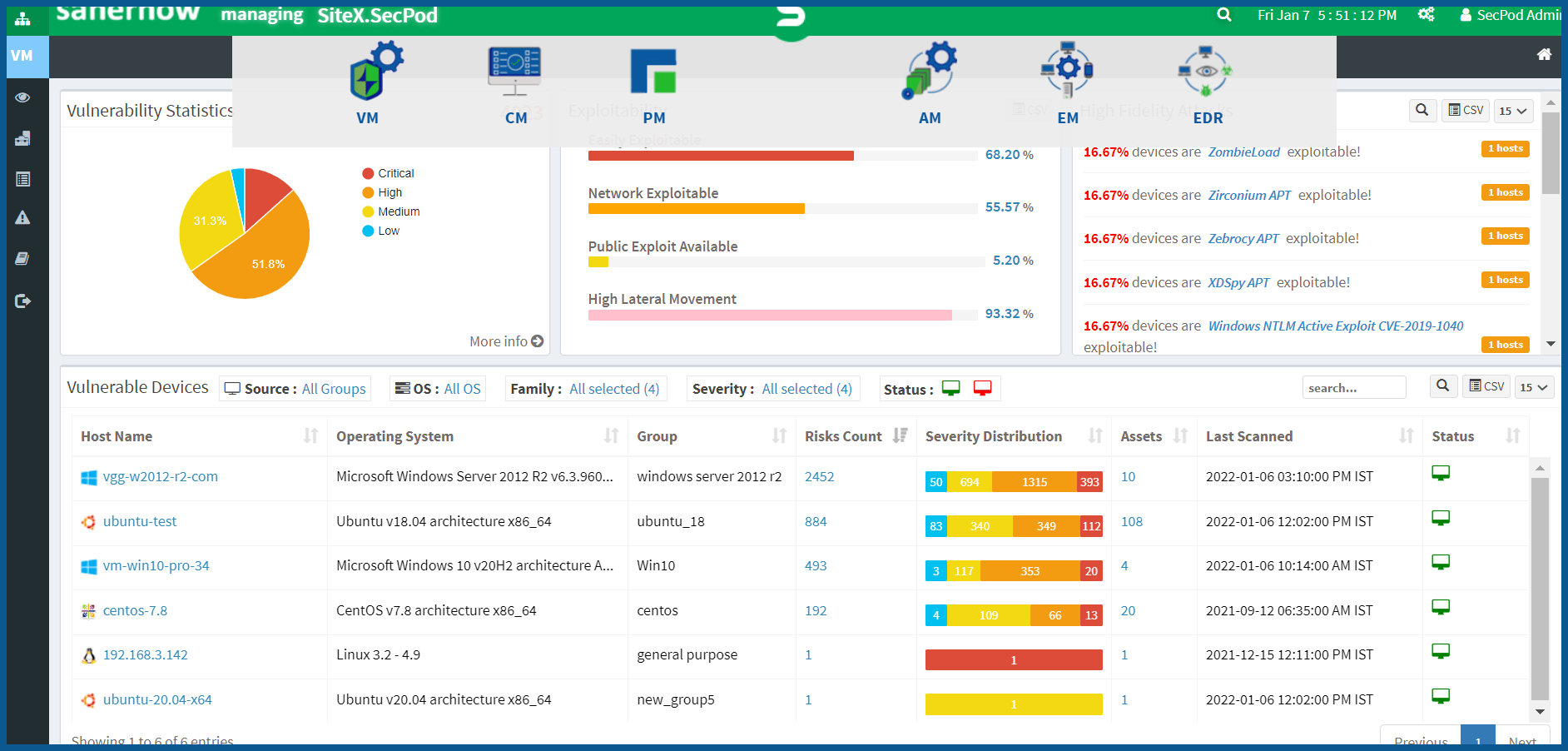 SanerNow patch management works on an agent-server model through which lightweight multi-functional agents perform all patching activities as per the information provided by the patch repository server. The platform also offers comprehensive reports on vulnerabilities, which helps IT, security experts to remediate them using patches.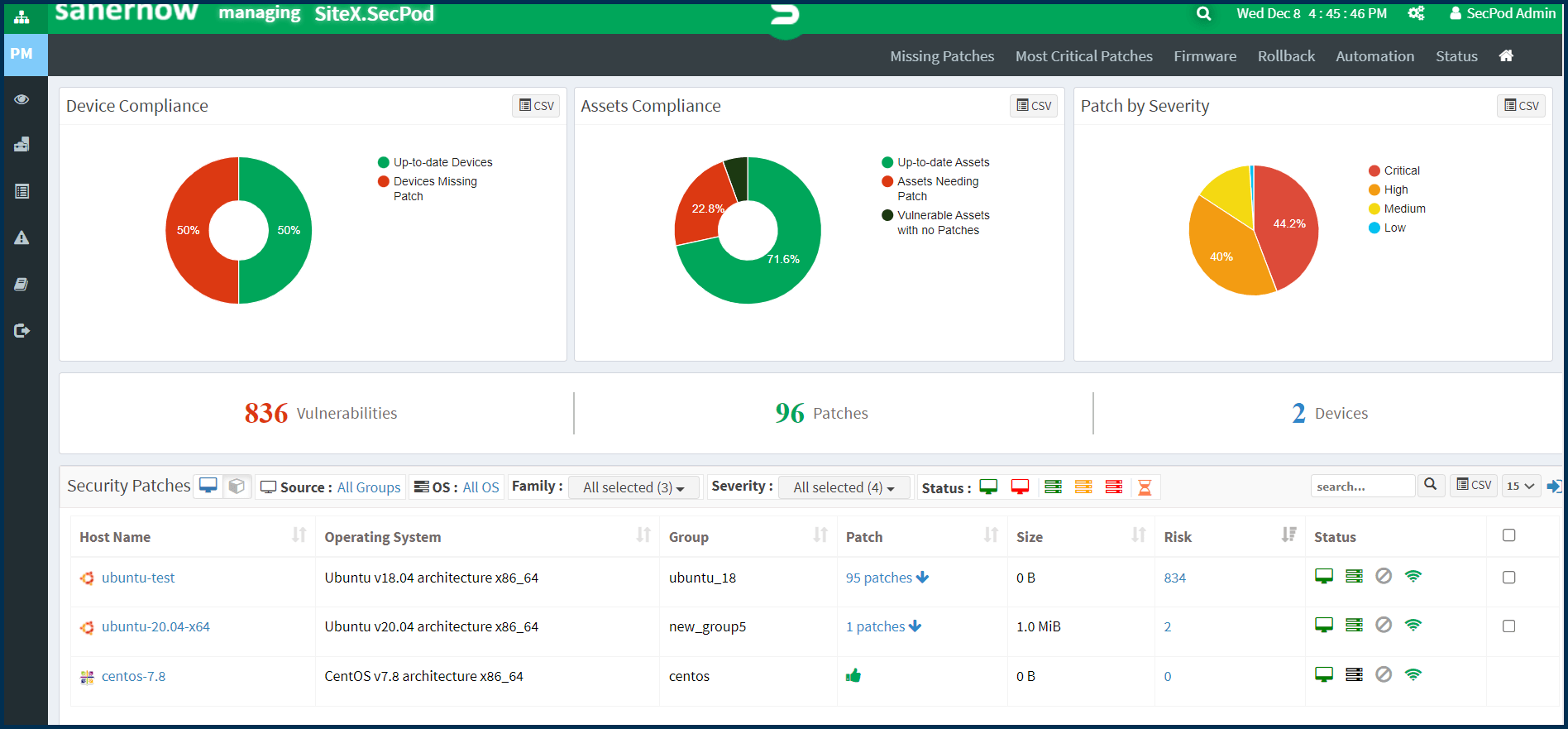 Explore SanerNow's vulnerability management capabilities at the comfort of your place by scheduling a quick demo for Free.