'To patch or not to patch' is the perplexing dilemma that every security admin goes through almost every day. Patching and applying security patches is the fundamental aspect of increasing an organization's resilience from malware, ransomware attacks enacted by hackers. To a non-security professional like an IT admin, patching might seem like a seamless task, but things aren't like sunshine in the spring for a security admin. There are instances where the security admin does not have robust tools to detect, assess, and patch vulnerabilities. Even in the era of Industrial Revolution 4.0. backed up data science, machine learning, and AI, most organizations, even lack a dedicated security team to carry out vulnerability and patch management on time.
How can Security Updates and Patches give an Information Security Admin Sleepless Nights?
The System Administrator Work is almost 'never-ending' as software vendors encounter security flaws among their products now and then. By the looks of it, this is the reason why we see monthly patches from top-notch vendors like Abode, Netgear, and Microsoft. Moreover, monthly patches also play an important role in maintaining and enhancing the user experience. System Administrator Work involves keeping an eye on these updates almost every day and uncovering vulnerabilities lurking in the shadows of digital infrastructure. If the digital infrastructure is massive, the 9-5 hours for a security admin evolves into a complete full-time escapade that adds fuel to gasoline.
Most of the patches today are usually sent to devices via OTA. System Administrator Work demands applying patches to tens of hundreds of devices to protect them from bad actors. If a security admin misses out on patching a single device in a connected network, then days, months, or years later, attackers can gain control of the devices and create havoc.
Even if the patches are available in a few hours of deployment, ensuring that all devices use the latest patches is what the security admin does. Even CISA recommends users take advantage of automatic updates. However, it is up to the IT/security admin to update them in large-scale businesses as updates are usually disabled. This bizarre issue could put a hold on patching and also while running a routine setup.
Challenges in Securing Devices in Hybrid Work Models
To add more challenges to a security admin's plate, WFH/hybrid workforce brought remote working culture where devices are spread across different locations. To meet the demands of productivity, WFH/Hybrid Working Module has proved to be crucial. However, keeping these remote devices safe has been quite challenging. Moreover, WFH, irrespective of its convenience, brought a massive magnitude of opportunities for leaking data, theft which further put the business at risk. A System Administrator Work would require them to look beyond the conventional aspect of protecting on-premise devices by integrating new strategies to safeguard these remote devices.
Out of 10 respondents, four highlights the challenge of managing the IT infrastructure since the pandemic. As mobilization is becoming a norm in the workforce across the world, there are chances that a hybrid workforce is a future. By the looks of it, this will open doors to more challenges in months or years to come.
Patching is a Never-ending Race for Security Admins
When vendors release patches every month, updating them also poses a great challenge for security admins. While installing these patches, either the server or devices need to restart. Furthermore, this leads to service outages that can range from minutes to hours. There are chances that the patches may bring in some never-heard-before changes to the software that might not go well with the end-users. In this scenario, security admins have to run tests before installing them across devices. They are usually time-bound and meticulous in carrying out their job; one mishap can lead to a chain of catastrophic events.
It is the security admins that keep the wheels of an organization running. However, most System Administrator Work among organizations compel them to stay up late and can't even take a weekend off. They keep the wheels of protection running and complete operations without having to wake up the patients, like the cavalry of the digital space!
How to escape the haunting Patching Nightmare with SanerNow?
Organizations continue to be at risk as most of the devices aren't patched on time. SecPod SanerNow ditches the conventional patching practices which yield no benefits to security admins in this digital-first era. SanerNow, the first-ever fully integrated and automated Patch Management, is uniquely designed to deal with the growing complexity of vulnerabilities today. It supports a plethora of third-party applications and major OSs like Windows, Linux, and MAC.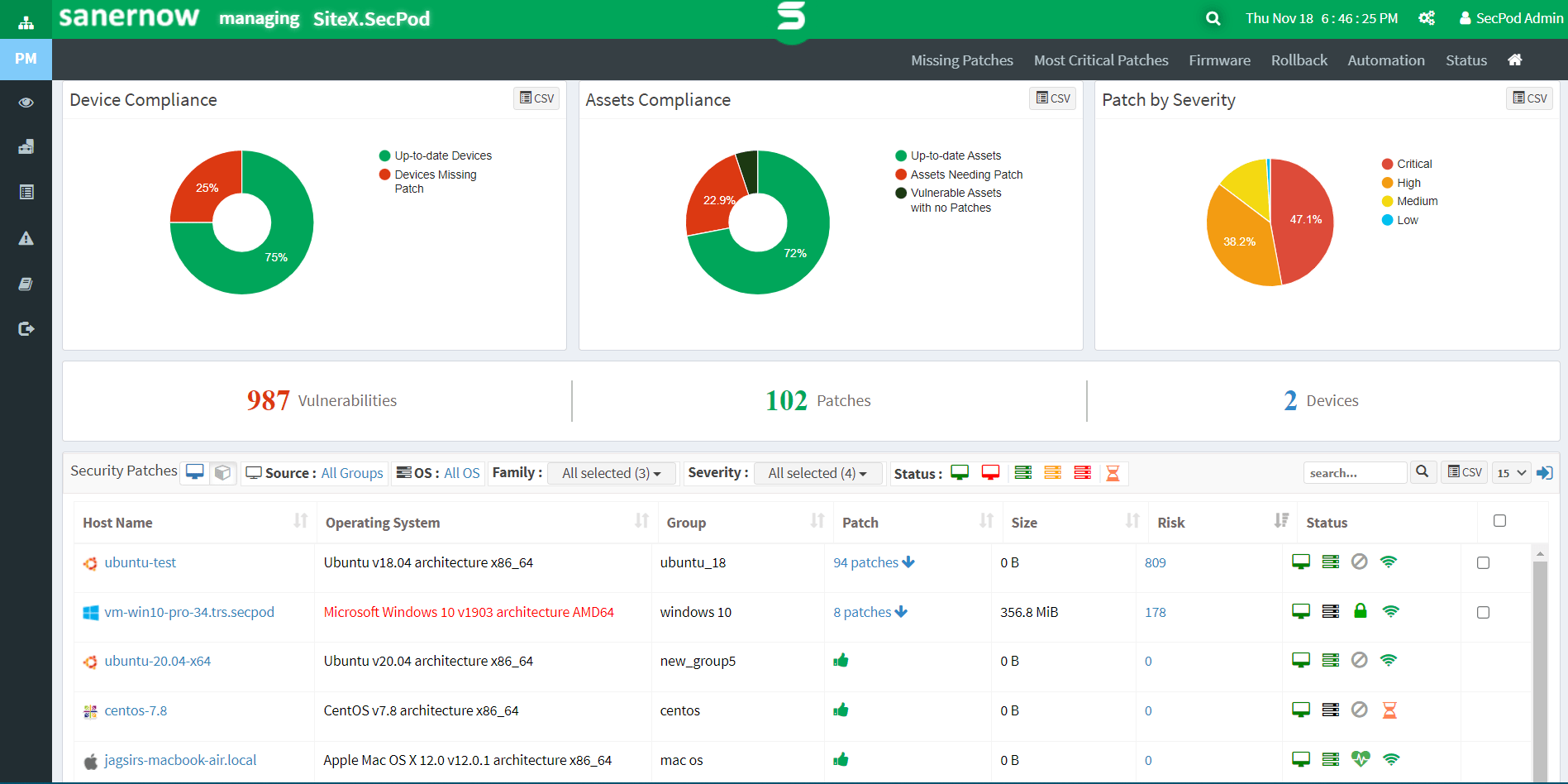 SanerNow makes it easier for security admins to address and remediate vulnerabilities while adding hours of serenity to System Administrator's work-life balance. Say goodbye to the patching nightmare as SanerNow Patch Management offers:
End-to-end Automation of Patching
With SanerNow Patch Management, you can automate your entire patching endeavour from scanning to downloading, prioritizing, testing, and deployment. Automation reduces the chances of human errors and prevents manual patching.
Instant support for Latest Patches with Seamless third-party Applications and cross-platform Patching
Patches all the major OSs like Linux, MAC, and Windows alongside over 350+ most used third-party applications. You can also drag and drop applications from the dashboard and remotely install them on several devices. This makes the hybrid workforce model a less hassle-free feat.
One-click rollback for Patches that are Incompatible
After a patch is installed, there are chances that the software might go berserk. Single-click rollback makes it easier to go back to the previous 'stable' version. You can expect near-zero downtime with SanerNow Patch Management.
Auto-generated Extensive Reports and Audit Logs
The auto-generated reports would provide you with an insight into critical patches, patch status, patch aging, among others. All of this is possible from the SanerNow console.
You can get your hands on new patches from all the supported vendors in less than 24 hours, pre-tested, and ready for deployment.
Cloud-based Patching on Remote Endpoints
SanerNow platform can be hosted on both cloud and on-premise variants. This feature enables organizations to deploy patches across hybrid work environments without much effort easily.
Integrated Vulnerability Management
Along with managing patches, SanerNow also makes it easy to manage vulnerabilities. SanerNow Patch Management comes with a ready-made vulnerability management integration which makes detection, assessment, prioritization, and remediation of vulnerabilities faster from a single console.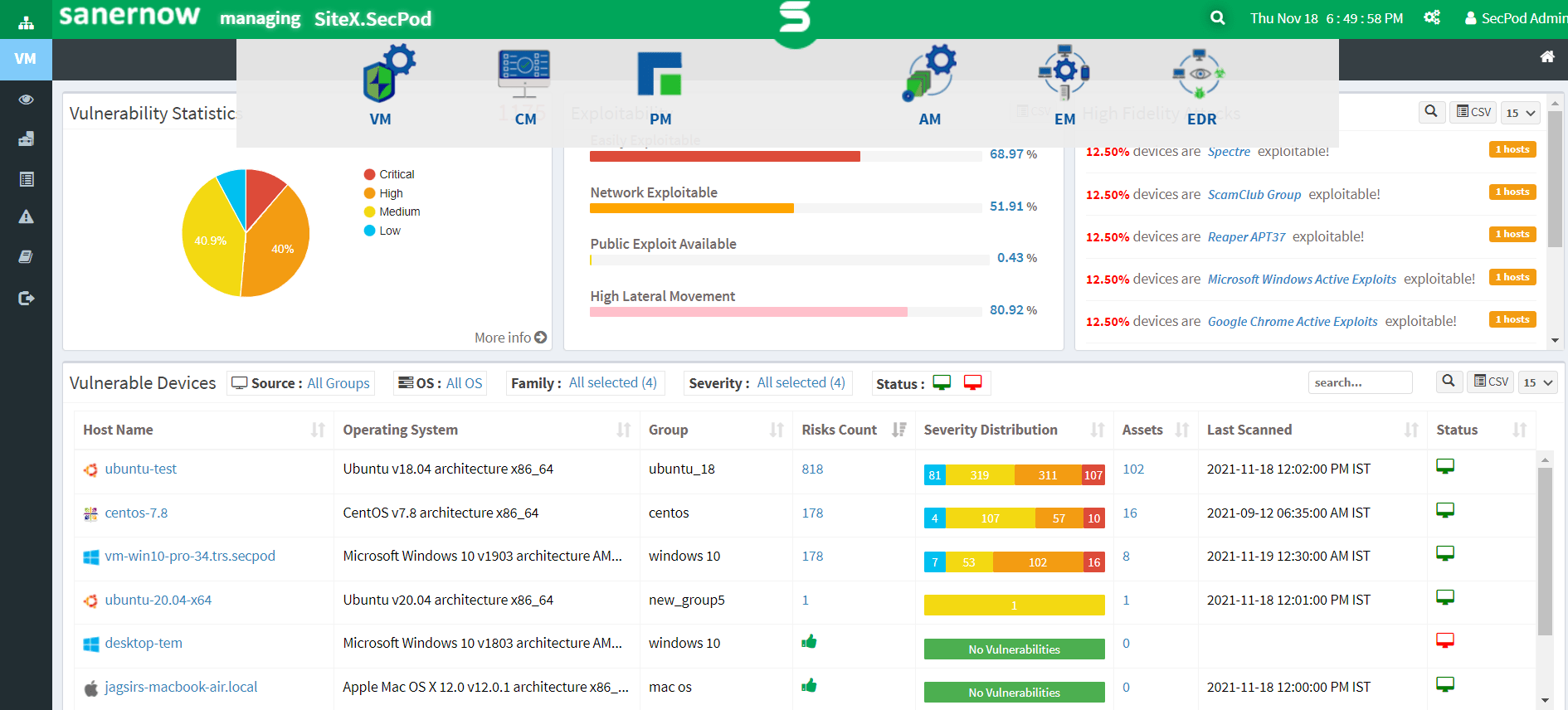 Patching made seamless with SanerNow
In the 'not so distant past,' maybe in the brink of the 'connected era' which continuously shaped, re-shaped the way organizations function, when people were confined within the walls of their homes. These salient warriors, the unsung heroes, and Security Admins ensured that the organization's cyber health was top-notch. With countless sleepless nights, occasional nightmares, they fought hard day-in and day-out, sometimes overtime, to ensure that the digital infrastructure consisting of connected devices and endpoints was miles away from vulnerabilities.
As Security Admins give yourself a well-deserved sleep in the night by scheduling a free demo with SanerNow!