Enterprises are constantly challenged to protect their data and assets from malicious attacks requiring many efforts to identify and address vulnerabilities. According to research conducted in 2022, 70% of businesses worldwide fell victim to a Ransomware attack, and only 38% of global organizations claim they are prepared to handle a sophisticated cyber-attack. This blog will explore the best among the top vulnerability scanners enterprises should consider for security.
However, vulnerability scanners have emerged as essential tools for enterprises seeking to protect their IT assets since cybercriminals can breach vulnerabilities within a company's IT infrastructure if those weaknesses go unnoticed. Since a vulnerability scanner forms the base of your vulnerability management solution, you must be smart while evaluating and selecting the best scanner.
How to Choose a Vulnerability Scanner?
Choosing a suitable vulnerability scanner is essential to effectively identify and remediate security risks in your organization's systems and applications. You will heavily rely on the selected scanner to help prevent daily attacks. So how do you know if the scanner you chose is effective?
Here are some tips for choosing the best vulnerability scanner,
Vulnerability Coverage: Check if the vulnerability scanner supports various operating systems and Third-party applications you use in your IT environment. This is because many organizations have a mix of assets with different operating systems and many third-party applications. Also, check if the vendor has strict service level agreements covering new vulnerabilities, including zero days.
Accuracy: The higher the accuracy, the higher the advantage of getting results. Effective scanners provide mechanisms to reduce false positives. The accuracy of vulnerability scanners directly impacts an organization's ability to identify and mitigate security risks effectively.
Scanning Frequency and Speed: Consider how often you need to perform scans and how quickly the scanner can complete a scan. For any Organization, having a rapid vulnerability scanning tool is a huge advantage and will reduce downtime. If your vulnerability scanner takes much bandwidth during scans, you will have to compromise on the productivity of your systems and users.
Reporting: This is an essential feature of vulnerability scanners that aids organizations in understanding their security risks and taking actions to secure their assets. Ensure you obtain clear and insightful reports, which give you an understanding of your risks and take action to mitigate them.
Integrated Remediation: Showing the vulnerabilities is not enough if the scanner doesn't provide a remediation solution. Ensure the selected scanner has integrated remediation and provides a solution for every vulnerability detected.
Ease of Use: A scanner with a simplified, user-friendly interface simplifies identifying vulnerabilities, enabling security teams to navigate the scanning process and interpret the results effectively and quickly.
Integration with Other Applications: Vulnerability scanner
inspects vulnerabilities in software and systems, it needs to be flexible in integrating with other tools and technologies used by enterprise users.
Top 5 best Vulnerability Scanners
1. SecPod's SanerNow:
SanerNow's vulnerability management tool can scan, detect, prioritize, and remediate vulnerabilities based on severity level, business context, high-fidelity attacks, standard guidelines, and more. SanerNow is one of the fastest automated vulnerability scanners, which takes less than 5 minutes. Moreover, it has one of the world's largest built-in vulnerability databases, with 175,000+ vulnerability checks. It supports all major operating systems and over 450+ third-party applications and is user-friendly.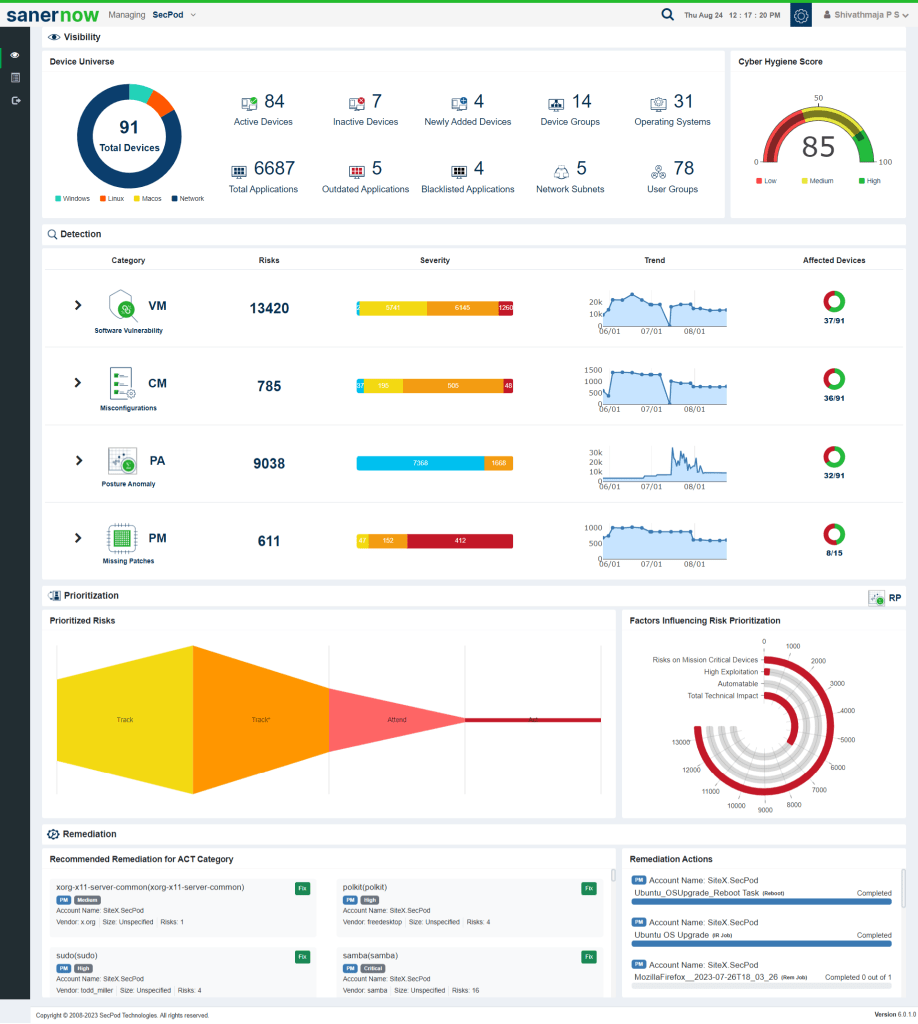 2. Greenbone OpenVAS:
OpenVAS is a full-featured vulnerability scanner. Its capabilities include unauthenticated and authenticated scanning, high-level and low-level internet and industrial protocols, and performance tuning for large-scale scans. Its support for the operating system is limited.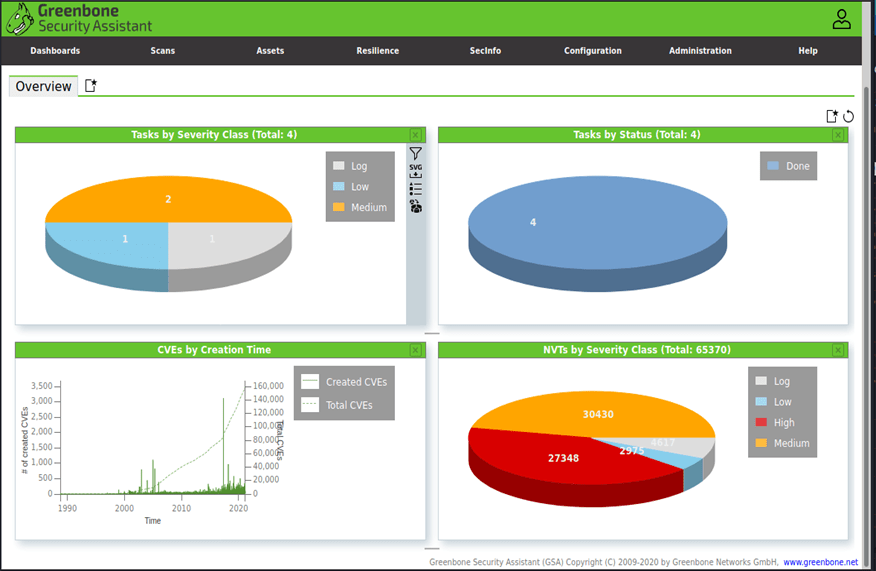 3. Tenable Nessus:
Tenable Nessus identifies, remediates, and validates protection against vulnerabilities. However, it has limited features in the free version. The limitation is the number of IPs it can scan and needs some advanced features available in the pricier paid versions.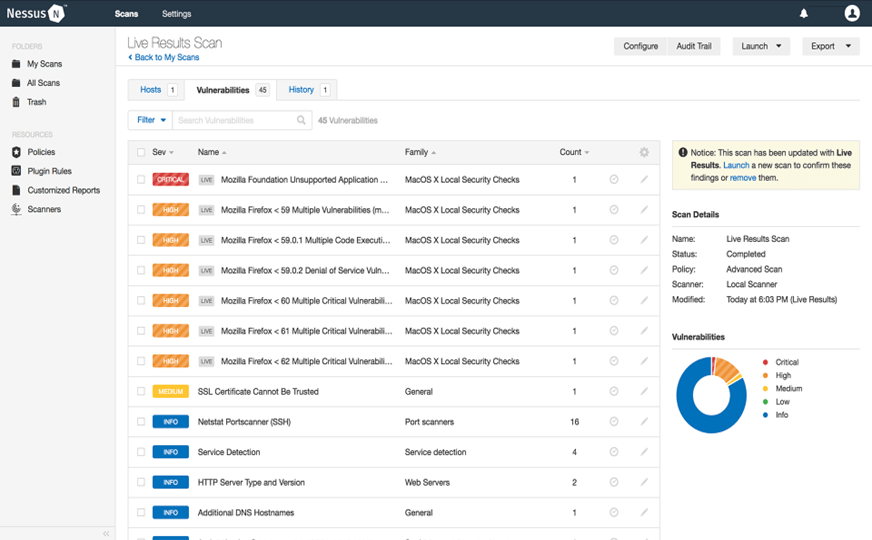 4. Qualys VMDR:
Qualys VMDR provides regular vulnerabilities scan to detect security weakness in your assets, including common vulnerabilities and exposures (CVEs). But, the solution is a lot more expensive compared to others in the market.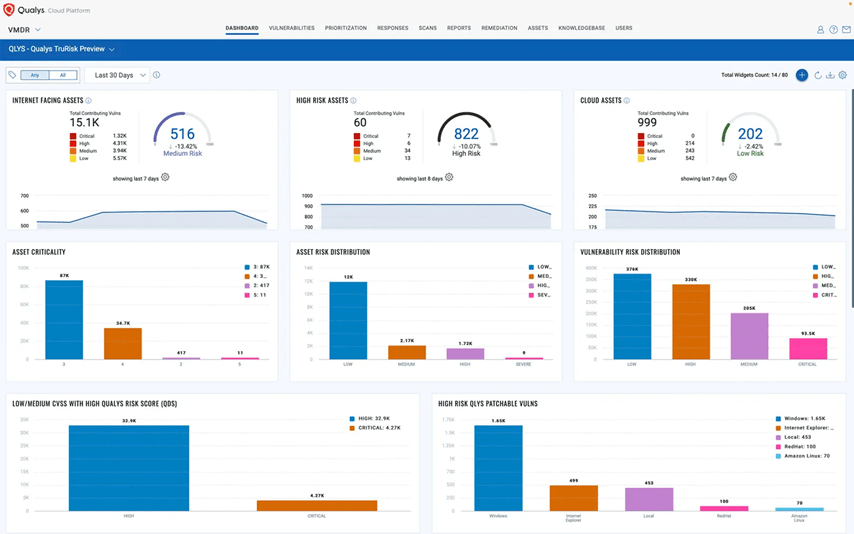 5. Rapid7 Nexpose:
Rapid7's Nexpose detects vulnerabilities as soon as they enter your IT network with adaptive security. Integrates with visualization and cloud infrastructure solutions like VMWare and AWS to understand changes to your network. However, Rapid7's Nexpose interface can be complex for users unfamiliar with cybersecurity tools.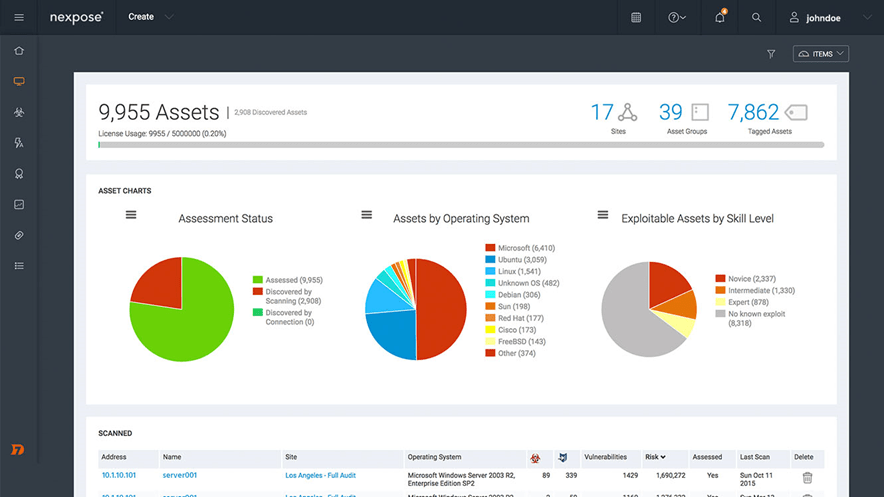 These are the Top Vulnerability Scanners for Enterprises in 2023.
Conclusion
However, as the threat landscape evolves and attackers become more aggressive, investing in a reliable and trusted vulnerability-scanning tool becomes essential to protect sensitive data. Also, remember to choose a tool that aligns with your organization's needs and consider demos or free trials to find the best-fit scanner for your organization.