From Being Regular Office Goers to Handling the Sudden Situation of Working from Home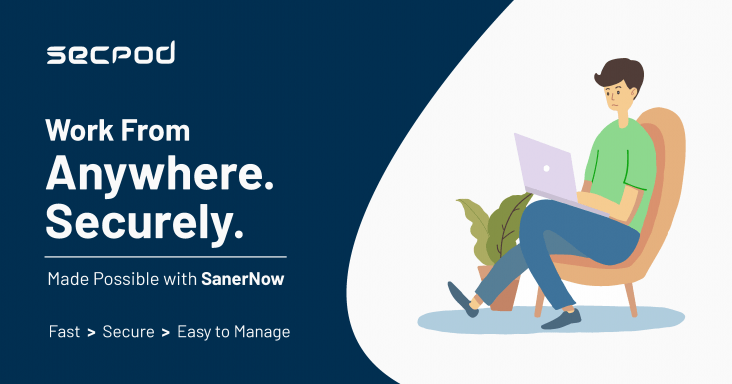 COVID-19 has spread across the globe and has forced organizations to embrace work from home culture. We too were faced with a similar situation last weekend when the authorities insisted IT organizations allow employees to work from home. We are a team who are accustomed to working at our office premises, and hence several factors ran in our mind while considering this crucial choice.
During the days before the pandemic escalated, our team was excited and was planning a crucial release of the latest SanerNow version – 4.4.0.0. Since this is an important release, the team had been working tirelessly for months, to roll it out on time.
Of the many factors, our primary concern was the digital security of our team, especially with BYOD (Bring Your Own Device) scenario.
If we enabled work from home, it was crucial for us to:
Ensure that the endpoints do not connect to any public Wi-Fi
Restrict users from leaking confidential corporate data from their devices
Monitor and prevent the installation of any malicious/unwanted software like torrents, gaming software etc.
Assist the team with software requirements, ensure only approved software assets are installed
Carry out cyber hygiene measures like continuous vulnerability assessment and patch management to secure systems from new threats
We, of course, use SanerNow to protect our endpoints from being attacked. It was only an extension of an idea to deploy SanerNow on those employee personal devices that are going to be newly connected to our network.
SecPod SanerNow, the go-to solution enterprises need today!
With the help of SecPod SanerNow, we were able to take care of all the concerns to enable work from home in a matter of minutes. The Saner agent installed on our end-user computers made endpoint security management hassle-free. We now instantly detect any incidents occurring on the endpoints and act upon it immediately.
SecPod SanerNow allows organizations to:
Scan the system regularly and get a clear view of the hardware and software installed
Detect vulnerabilities and remediate them
Identify missing patches and deploy them
Deploy any required or allow only authorized software
Identify non-compliant systems and enforce compliance on them
Detect deviations in system services/processes and provide fixes
Block unwanted applications, USB devices and other peripheral devices
Identify when the system is connected to public Wi-Fi
Record all the system activities
This, therefore, enables organizations in effectively managing and securing their enterprise endpoints.
Today we have successfully released what we planned with the whole team safely working from home, all this with the help of SecPod SanerNow.
Are you one of the organizations concerned about how to secure your enterprise endpoints when your teams are working from home?
SecPod SanerNow is the go-to solution for you.
Secure BYOD as well!
Some enterprises might be using desktops and they will have to allow the employees to work in their personal computers.  You need not panic even if you allow BYOD for remote work. All these devices need is a light weighted Saner agent which will take care of all the functions of endpoint management and security without any ado.
Download SecPod SanerNow and deploy Saner agents in a few simple steps and kick start endpoint security management on the go.
Safeguard your enterprise by preventing cyberattacks with SecPod SanerNow.