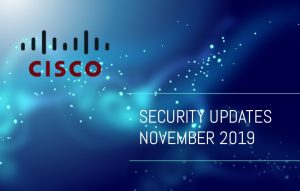 ---
In the release of Cisco Security Updates November 2019, A new set of vulnerabilities were identified and fixed by Cisco, the most critical of which could allow a remote attacker to take control of the system. Likewise, security updates are now available for Cisco's products which include eight advisories rated high in severity and seven rated medium. One of the high severity bugs allows an unauthenticated attacker to remotely execute code with root privileges.
---
The Cisco Security Updates November 2019 have addressed vulnerabilities in the following products:
Cisco Small Business Routers

Cisco Web Security Appliance

(WSA)

Cisco Wireless LAN Controller

Cisco Webex Network Recording Player

Cisco TelePresence Collaboration Endpoint (CE), Cisco TelePresence Codec (TC), and Cisco RoomOS

Cisco Prime Infrastructure (PI) and Cisco Evolved Programmable Network Manager (EPNM)

Cisco Web Security Appliance


Cisco Webex Meetings

Cisco Managed Services Accelerator (MSX)

Cisco Industrial Network Director (IND)
---
High Severity Vulnerabilities
---
Seven medium severity vulnerabilities were fixed by Cisco. The vulnerabilities are tracked as CVE-2019-15969, CVE-2019-15960, CVE-2019-15967, CVE-2019-15959, CVE-2019-15974, CVE-2019-15973 and CVE-2019-15270 and allow an attacker to conduct cross site scripting and eavesdropping attacks, execute code and scripts, escalate privileges, and redirect users to a malicious page. CVE-2019-15974 and CVE-2019-15969 allow unauthenticated attackers to conduct phishing and cross-site scripting attacks.
---
Impact
These vulnerabilities allow an attacker to execute arbitrary code and commands, conduct denial of service, open redirection, eavesdropping, and cross-site scripting attacks and also elevate privileges.
---
Solution
In the Cisco security updates November 2019 released to address these vulnerabilities. We strongly recommend all the users to install the necessary updates as soon as possible to stay protected.
---