Security Predictions – What's In Store For 2016?
2016 Security Predictions
Every cyber experience that we encounter, be it success or failure is a learning lesson. A learning lesson to be precautious and a lesson as to what to expect in the future. Let's take a look back at the year 2015 to get an insight about the forthcoming period.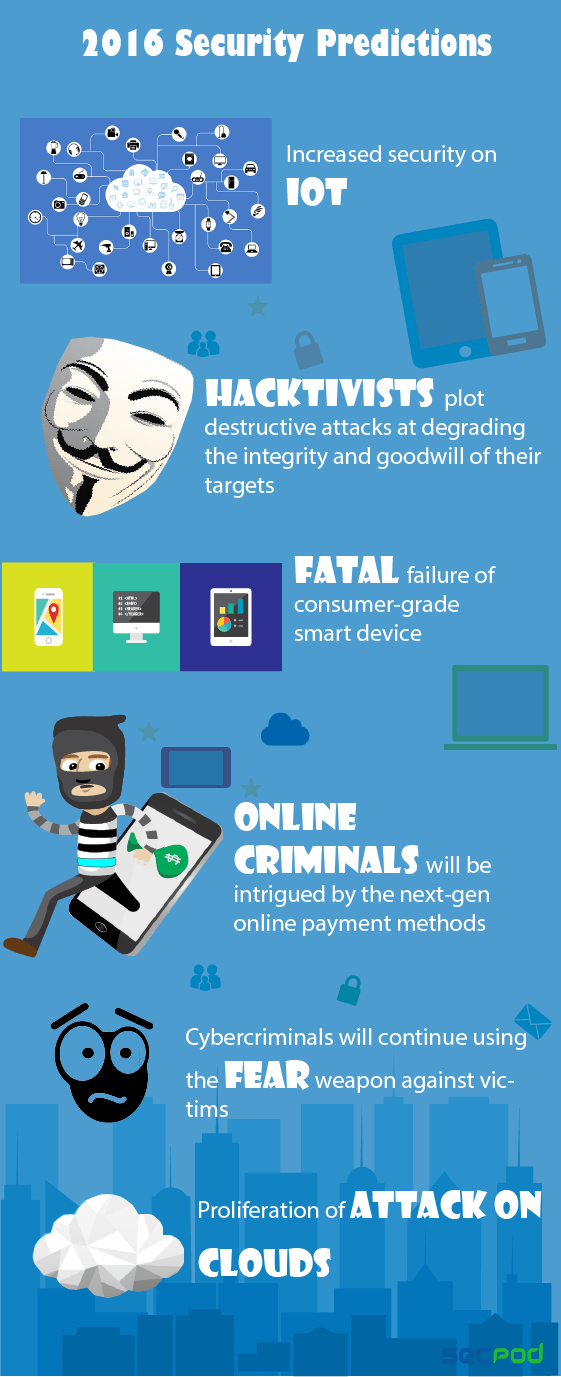 What we saw then
In the past era cyber extortionists relished the fact that victims are worried about threats and risks. Fear was and will always play a vital role to any extortion scheme. The more personal the schemes get, the easier it gets to convince the victims.
Things are just getting too personal. Why do we say so? For a really long time, cyber criminals unlocked their targets in a very creative manner with advanced techniques and technologies. But the past year has shown us that cyber criminals can function without these methods. All they require now is a psychological understanding behind each scheme.
What we see now
Hacktivists plot destructive attacks at degrading the integrity and goodwill of their targets. With a concrete motivation for stealing information data breaches will be undertaken to mine data, mostly with a motive to expose corporate practices or to attain confidential information over profitable gain.
What we can expect to see
Next generation endpoints and technologies are seen as possible targets. The accelerated growth of advanced devices will drive attackers to use unpatched vulnerabilities as a path to explosive attacks. Possibility of consumer-grade smart device failure will be fatal.
In the mobile world, online criminals will be intrigued by the next-gen online payment methods. From e-wallet payments to credit cards, safer payment options remain a challenge to the security world. Mobile malware form third-party app stored in China are anticipated to grow widely.
The expectation on cloud attack rate is expected to escalate. Malwares will be specifically built to crack these systems. Mobile devices will compromise on apps since most of the mobile apps highly rely on clouds. This is a path for hackers to attack clouds remotely across corporate grids.
2015 was considered as the year of Internet of Things (IoT). But it was the same year that IoT was hacked. 2016 is believed to be the year where IoT takes a turning point. "According to Gartner, the number of connected devices in use worldwide will grow from five billion in 2015 to 25 billion by 2020". Vulnerability of IoT devices will increase leading to more security requirements.