Organizations are witnessing a steep increase in heterogeneous endpoints across their IT landscape. Managing and securing those are emerging as one of the prime and complicated tasks. Many Organizations opt for a variety of security tools to deal with various endpoint security and management tasks. However, they need to realize that these tasks are endless and mostly involve multiple processes. It involves several security and management tasks starting from vulnerability identification and remediation, detecting an indicator of attack and compromise, ensuring security compliance, hardening system configurations, and much more. 
The siloed and isolated security solution may be renowned for its specific endpoint security or management capabilities, but its performance decreases when correlated with other independent security solutions. They are proving out to be quite a nightmare due to their compatibility issues, security lag, and not to mention they require a lot of time and effort to merge and correlate several outputs. These real-time security gaps can give rise to several cyber attack opportunities and business intelligence threats. Is there any way to solve it?
To solve such issues, organizations need a comprehensive and proactive solution to end-to-end endpoint security and management needs.
Such a proactive approach, when combined with security automation, orchestration, and response, can do wonders for your endpoint security posture with the following results:
Centralized view

Rapid detection

Minimum response lag

Powerful use cases

Event triaging

Efficient cost and time management

Streamlined collaboration and workflows
SecPod SanerNow, an integrated platform to manage and secure your endpoints
SanerNow is an all-in-one endpoint security and management platform that orchestrates and automates cyber hygiene across enterprise endpoints. With the industry's fastest capabilities, smart light-weight agent, and a centralized cloud-based console, SanerNow will help you continuously monitor and secure your endpoints from emerging cyber-attacks. With SanerNow, you can, 
Manage vulnerabilities with continuous scanning, accurate detection, prioritizations based on severity, and instant remediation through patching

Automate patch management for all major OSs and a vast collection of third-party applications

Gain complete visibility and control over the organization's hardware and software inventory

Manage endpoint health, troubleshoot system issues, implement application and device control, and deploy software

Regulate security compliance and harden system configuration by abiding by major Industry benchmarks, including HIPAA, PCI, ISO, and NIST.

Detect indications of attacks and compromise, and send instant responses.
SanerNow leveraged with SIRP will provide you next level endpoint security and management automation and orchestration across the diverse security landscape. 
What will users achieve from the integration?
SanerNow customers will be able to experience the best of both worlds with SIRP's security orchestration and automation capabilities. The integration will allow security analysts to utilize SanerNow's unique endpoint security and management features with SIRP's triaging, data collecting, response, and collaboration capabilities.
How will the integration work?
SanerNow endpoint security and management solution communicate with SIRP with a REST API. The below flowchart will help you understand the integrated security workflow.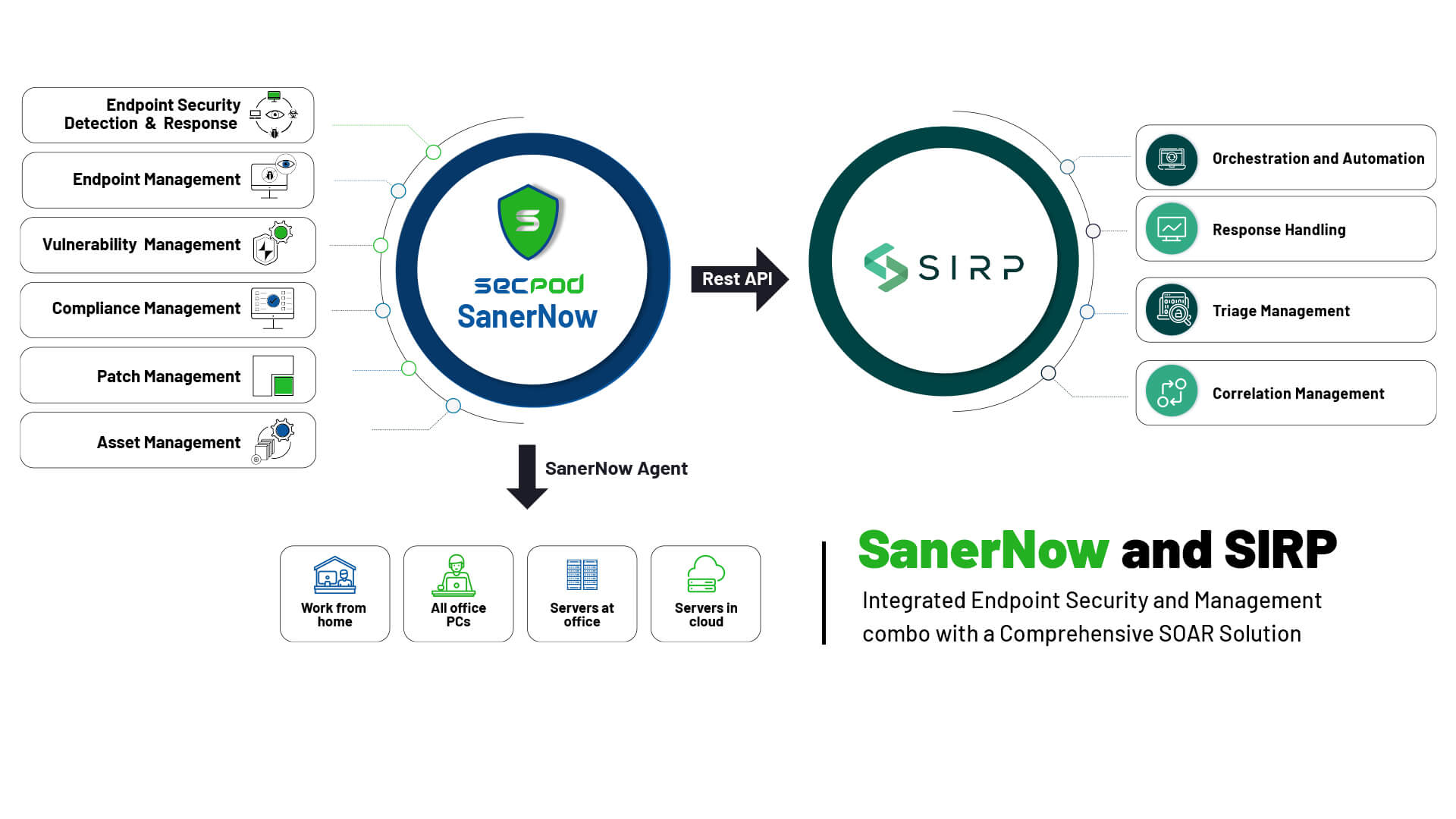 You are required to install SanerNow agents across your endpoints. These agents continuously scan and detect any security drift across your endpoints. Then SanerNow agents communicate with the SanerNow server for further instructions. SIRP then collects SanerNow's security and management data and reports, automates, prioritizes, compares, correlates, and triage the results with existing heterogeneous security solutions.
Integration Features:
Monitor and secure your overall endpoint health with accurate security intelligence gathered by SanerNow and the risk-based SOAR capabilities of SIRP

Measure threats in real-time and proactively secure your IT assets with SanerNow agents via SIRP, either on-demand or play.

Co-ordinate remediation efforts recommended by SanerNow across all your endpoints locally and globally through SIRP.

Convenient triaging of machines for further forensic investigation and analysis whether you require it automated or on-demand.
Challenge
The security landscapes are getting challenged daily with ever-increasing cyber-attacks. The attacks are getting powerful while leveraging the latest technologies like machine learning, artificial intelligence, and much more. Continuous technology innovations are opening up various possibilities for attackers to invade the business network. It is getting more challenging for a security administrator to build and maintain an isolated security solution.
Solution
An end-to-end integrated endpoint security and management solution with security orchestration, automation, and response address these challenges. SanerNow's collected endpoint data alert can be sent to SIRP via a straightforward REST API connection.
Use Case 1: Vulnerabilities Identified
Consider an example in which SIRP sends an on-demand REST API request to SanerNow to scan a group of endpoint devices. SanerNow instructs Saner Agents installed across the endpoints to run a scan immediately. Let us suppose the scan results reveal several vulnerabilities ranging from Low, Medium, High to Critical severity. Securing the endpoint workflow is discussed below:
(1) SanerNow analyses every scanned vulnerability against its accurate security intelligence. The security intelligence is regularly kept up-to-date and creates a data map of recommended patches and other remediation procedures for each endpoint that identifies vulnerabilities.
(2) SanerNow shares this curated Security Intelligence data of identified vulnerabilities and patches available with SIRP.
(3) SIRP re-evaluates severity based on rules and workflow information to ensure that the endpoint's remediation will have minimal interruption to users and other dependent business units.
(4) SIRP share the remediation information for the endpoints and the prioritization defined along with it to SanerNow.
(5) SanerNow sets the appropriate schedules as per the remediation information and communicates it with each Saner Agent installed in the endpoints group. The remediation will mostly include the application name, patching schedule, patch versions, and much more.
(6) Saner Agents execute the remediation jobs at the appropriate schedule. The remediation mainly involves patching/rollback of Operating System updates, updating applications installed with patches released by software vendors, and so on.
(7) The results of remediation jobs in each endpoint device are conveyed to SanerNow, which in turn gets relayed to SIRP.
Benefits:
The essential benefits of this integration are:
Proactively manage your endpoint security and management continuously across a heterogeneous landscape with the best of both SanerNow and SIRP capabilities.

Drastically reduces threat response time and security gaps, reducing the probability of subsequent threats to defeat our defenses.

Extend automation beyond what was previously possible. SIRP can now automate SanerNow vulnerability detection and remediation on a case-to-case basis (fine-grained up to individual endpoint devices or particular threat instances or combine both those attributes for individual cases)

A single console that takes care of managing multiple security tools. With a user-centric approach to designing intuitive UI, rest assured that security professionals will be less confused all day long at work.

Easily correlate different types of data efficiently aids in forming valuable inferences about the security of your IT infrastructure. With SIRP integration providing SOAR capabilities, the SanerNow platform goes a step beyond to increase the productivity of IT administrators and security professionals.
Simplify your complicated endpoint security and management tasks by combining SanerNow and SIRP. Enhance the benefits of security automation, orchestration, and response capabilities.