Information Security being a concern, for organizations globally, needs right steps to protect intellectual property and sensitive data from falling prey to unauthorized access, data breaches, and other security threats. The lack of these steps can leave organizations vulnerable to attacks, many organizations rely on external security solutions to strengthen their security posture.
As per our promise of preventing cyber-attacks, we take every possible security step to safeguard our client's valuable information and build their trust in our products and solutions.
We are happy to announce that we have achieved SOC-2 Type I compliance in accordance with the American Institute of Certified Public Accountants (AICPA).
SecPod's security & compliance principles guide how we deliver our products and services, enabling people to simply and securely access the digital world.
What is SOC-2?
It is an auditing procedure developed by AICPA that ensures service providers securely manage clients' data against attacks.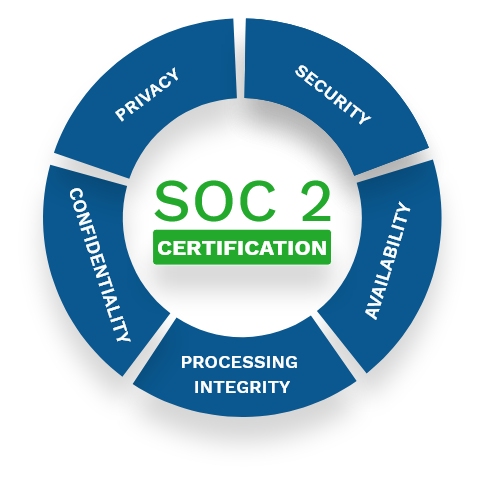 It follows five principles to manage the privacy of client's data:
Security: Prevent unauthorized access; this can be achieved by enabling multi-factor authentication, network/application firewall, and intrusion detection.
Availability: Accessibility to services following agreed terms of use.
Integrity: To check if the software would achieve its purpose at the right time.
Confidentiality: Many organizations would use the same security service provider, ensuring that access and disclosure of information are restricted to their own organization and persons.
Privacy: Disclosure of personal information in correspondence with the organization's privacy policy.

What did we require for getting SOC-2 Type I Certified?
To meet SOC-2 requirements, SecPod had to prove that we followed strict security architecture and policies encompassing the above five principles. If we support external pen-testing apart from internal pen-test.
How do we identify customers' verified information, and what procedure is followed when any client leaves the organization?
We started our SOC-2 compliance journey from mid of 2021, and we went through different audits and requirements. This certification will help us serve our current and future clients with proper security and ensure that their data is always protected.
About Our Auditor
SecPod Technologies Pvt. Ltd. was audited by Prescient Assurance , a leader in security and compliance certifications for B2B, SAAS companies worldwide. Prescient Assurance is a registered public accounting in the US and Canada and provide risk management and assurance services which includes but not limited to SOC 2, PCI, ISO, NIST, GDPR, CCPA, HIPAA, CSA STAR etc. For more information about Prescient Assurance, you may reach out them at [email protected]
Customers and prospects can request access to the audit report by sending us an email to [email protected] or sending an inquiry through our contact page.