Experience the Ease of Application and Device Control with SanerNow

Implement a Strong Application and Device Control on Heterogeneous OSs
Leverage strong device and application control to secure your Windows, MAC, and Linux endpoints across the organization network.
Seamlessly Secure Remote Devices from a Centralized Console
Control and defend all your endpoints from a single centralized cloud console. Manage all endpoints, whether they are remote or on-premise.
Block Anything Malicious with One Powerful Agent
The lightweight agents continuously scan endpoints for any suspicious activities. Upon detecting such activities, the agent raises a red flag and blocks the applications or devices that prove to be a threat to the organization's network.
Enforce Strong Security Policies and Shield Endpoints from Intruder Attacks
Create and implement strong application and device control policies across your enterprise endpoints. Enforce these regulations as a strict rule with SanerNow and prevent users from using them again in the network.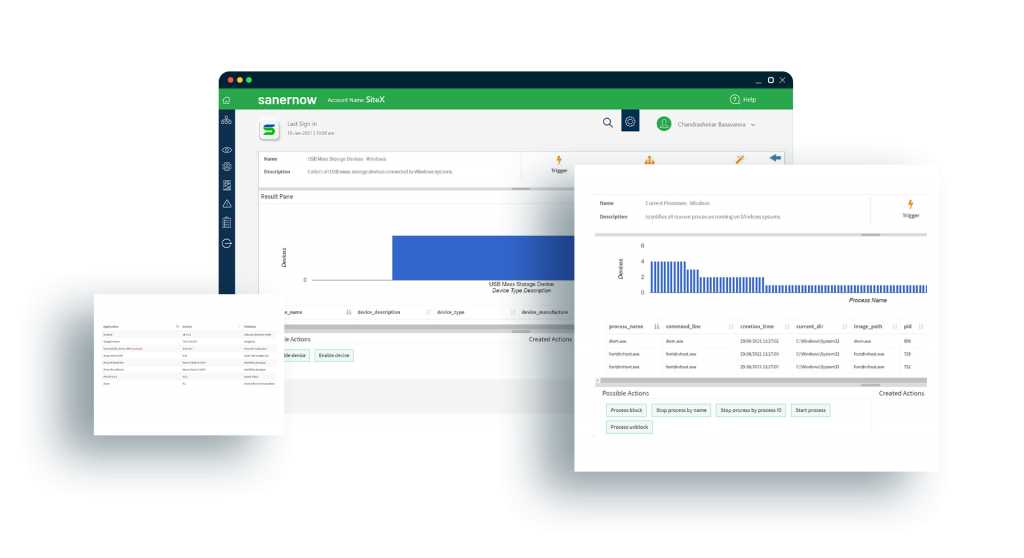 Right Set of Features to Make Application and Device Control a Breeze
Seamless Device Blocking Experience
Safeguard your organization's network and endpoints by blocking the devices which may cause any data breach. From the list of USBs and peripheral devices plugged into the enterprise endpoints, you can choose to disable or block the devices depending on the organization's policies.
Impeccable Application Control Software
Monitor the list of applications installed across your endpoints and detect the malicious ones. With SanerNow, you can instantly block them with a single click and avoid any security hazards.
Instantly Start-Stop Service and Processes
With 360-degree visibility into your endpoint activities, any services and processes can be stopped or started simultaneously in an instant.
Stop Unauthorized Portable .exe Files from Being Executed
Portable .exe files s usually difficult to find as they do not take up any physical space in the hard drive. Make tracking and blocking of portable .exe applications hassle-free by detecting and blocking them in the endpoints to defend your network.
Block Devices and Apps on Heterogeneous OSs
Blocking of devices and applications can be carried out on all heterogeneous OS endpoints, including Windows, MAC, and Linux.
Get Extensive Reports, Audit Logs, and Insightful Dashboard
Get complete visibility on all the details of the endpoints in your network with an interactive dashboard. These insightful reports can be automated and scheduled to your mailbox.
Impeccable Application Control
Giving permissions to few applications on endpoints might prove to be risky for few industries. For example, BFSI organizations cannot afford few applications like opening personal mails or access to certain websites in their endpoints as it increases data breach and cyber-attack risks. Hence, blocking suspicious applications is crucial. Take total control of your remote endpoints and block these malicious applications.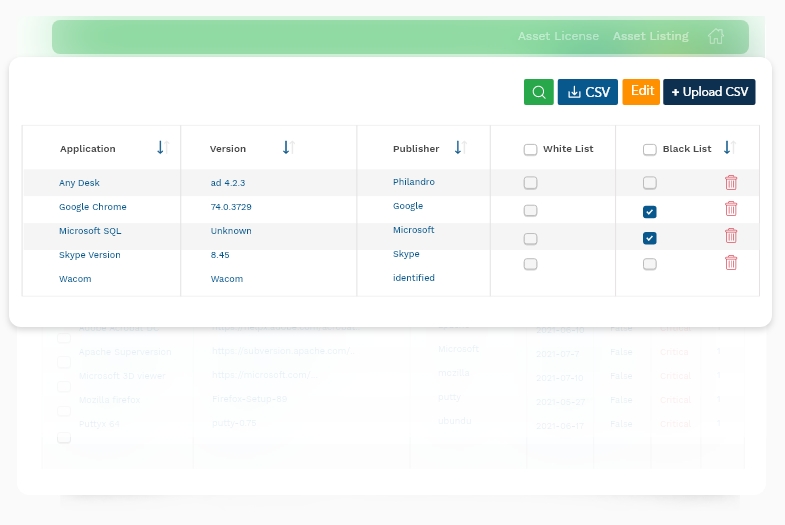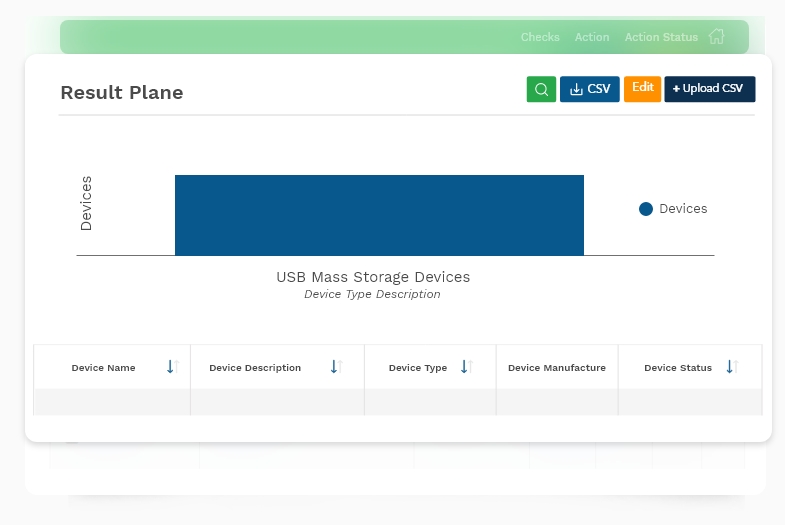 From the list of USB and other peripheral devices plugged into the enterprise endpoints, choose to disable or block the devices according to the organization's requirements. This device control helps prevent the theft of sensitive business data and defend the network from unsecured devices. These devices can be blocked and unblocked at the same time across all endpoints from a single interface.
Start / Stop Service Processes Across Endpoints from a Single Console
SanerNow offers you a 360-degree view of the endpoints that makes the IT admin's life easier. Track the services and processes that are running and active in the endpoints. You can choose to either start or stop these services and processes according to your IT management requirements.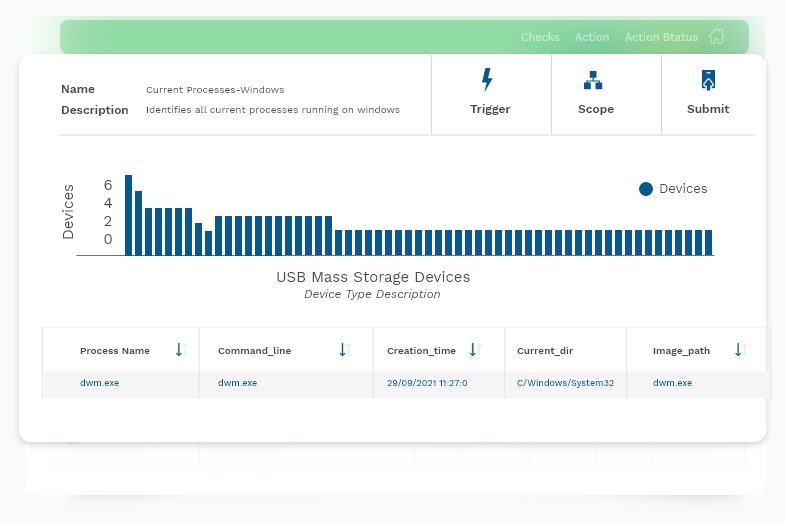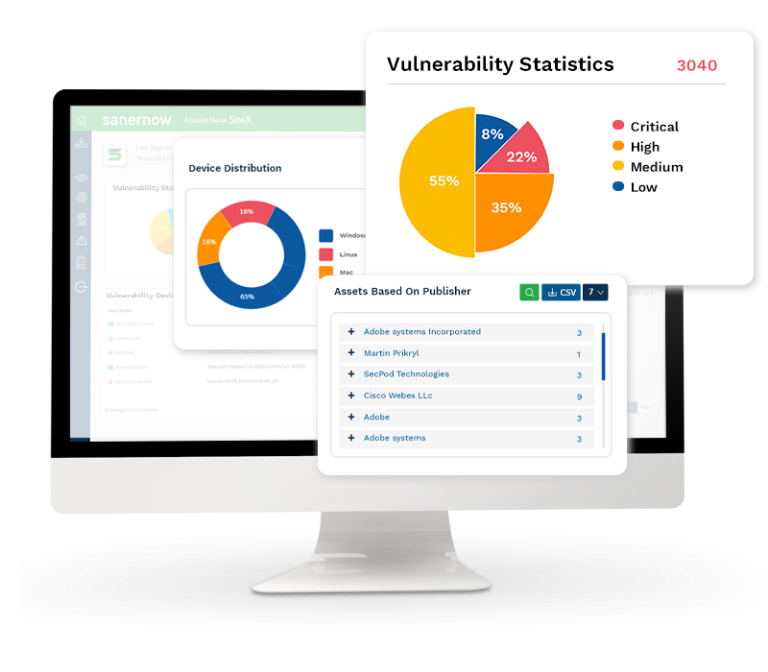 Boost Cyber Immunity & Productivity of Your IT
Get free access and try it yourself.